Tracey Emin shot to fame when My Bed (1998) was displayed at London's Tate Gallery in 1999 as one of the shortlisted works for the notorious British art award, the Turner Prize. The sheets stained with bodily secretions, the used condoms, and the menstrual-stained underwear all sent the critics into uproar, and a media furore ensued, with Emin at the centre. While some describe this work as a "ready-made", the artist has always maintained it was one of her first sculptures, and, whenever it is reassembled for a new showing, it is done so with meticulous care. In fact, Emin's early career years saw her create a number of large-scale sculptures, typically conceived with specific exhibitions and venues in mind—for example, The Perfect Place to Grow (2001), comprising plants and a birdhouse, itself reminiscent of both a garden shed and a beach hut, bringing to mind Emin's tumultuous childhood and teenage years in Margate, a seaside town on the south-east coast of England. The rickety wooden rollercoaster, It's Not the Way I Want to Die (2005), similarly recollects the rides at the resort's dilapidated theme park, Dreamland.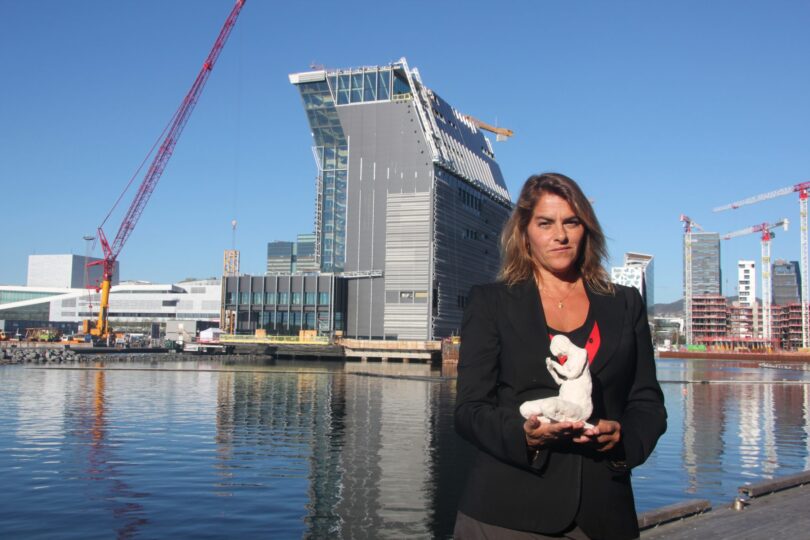 While the materials used for these early sculptures are generally "poor" ones—fragments of wood, found objects, sheets, old clothes cut up and stitched back together—Emin has more recently "graduated" to the "adult artist" material of bronze, and, it seems, there is no stopping her. Although, at first, this new medium was used for private and intimate exploration and experimentation, it has recently taken flight into some monumental public artworks, two of which are being unveiled this spring: the seven-meter-tall, 15-tonne, kneeling, female figure, The Mother, sited on the edge of the Museum Island in Oslo, Norway, and the more vulnerable, reclining, sexualized female figure, I Lay Here For You, placed deep in the woodland at Jupiter Artland, near Edinburgh, Scotland—a permanent commission to be unveiled as part of Emin's postponed solo exhibition when the venue opens for its annual summer season.
Both of these works premiered in Emin's 2019 exhibition, "A Fortnight of Tears", at White Cube Bermondsey, in London, and both have been scaled-up from hand-sized clay figurines, still bearing the imprint of her touch, in what have now become troughs and peaks, like those of autumnal furrowed land. Her first foray into working with bronze as a medium was at a foundry in New York some years ago. "My friend showed me some reliefs by another artist," she says. "I forgot which artist it was, but it was really amazing to look at and then I decided and tried to make some reliefs. And it's actually really difficult to do. And also I was kind of scared to make them in relief and it's why they are more like drawings in a strange way, they are drawings in bronze"[1]. Emin spent three years working with the Modern Art Foundry in New York, learning the traditional lost-wax method of bronze casting.
Starting out small, Emin's first public art project, Roman Standard (2005), was a tribute to Liverpool's famed Liver Bird, commissioned by the BBC ahead of the city's year as European Capital of Culture in 2008. Emin describes the sculpture—a tiny bird perched high on a pole—as a point of contemplation. "Most public sculptures are a symbol of power which I find oppressive and dark," she says. "I wanted something that had a magic and an alchemy, something which would appear and disappear and not dominate"[2]. A couple of years later, a patinated bronze baby's sock appeared on the steps to the British Pavilion at the 52nd Venice Biennale. This was a precursor of her Baby Things project (2008), for which a series of "lost baby items" were scattered around the town of Folkestone—a little along the coast from Margate—of which Emin explains: "They are meant to be overlooked, ignored by some, discovered by others. A wry inversion of Duchamp's objet trouvé, they appear as things peeled from a private life, lost in a public space"[3].
Despite this success, in 2013 Emin still maintained: "I've been making bronze sculptures for a long time. My sculptures are wholly unsuccessful and uncommercial. No one is even the remotest bit interested in them. So it's almost like my hobby"[4]. Nevertheless, she became enthused about making in the medium because: "I'm good at it"[5]. Of her small bronze figures, set in dialogue with animal figurines on bronze plinths, she said: "I've never seen anything like these bronzes before—and when I make something, and I've never seen anything like it before, I usually know that I'm on to something"[6].
At the same time, Emin also claimed that, much as she would like to make big figures, "I just can't do it, my hands don't do it"[7]. By 2016, however, she was able to make digitally-printed enlargements of her small clay figures, and since then, she has been experimenting radically with scale. "One reason," she says, "is being close to Louise Bourgeois and seeing how she could go from small to giant. You can't just make anything big—it was about finding the right form"[8].
When she revealed her large-scale bronzes in "A Fortnight of Tears", Emin expressed her satisfaction with the translation of the immediacy of her touch, saying: "It was painstaking, but worth it"[9]. Her involvement in the process was borne out by Jerry Hughes, the manager of AB Fine Art Foundry in East London, with whom she had been collaborating, who described her capacity for "hard graft", both throughout the casting process, but also with the full-sized polystyrene models of the sculptures sent to her studio, specially covered in plaster and jesmonite, in order to allow her to imprint more of her own touch. "It's hard, mucky work," said Hughes, "but it's this mark-making that you get on the finished works"[10].
Claire Feeley, Head of Exhibitions and Audience at Jupiter Artland, also emphasizes Emin's hands-on approach at the foundry: "She has really slimmed down her studio since the early 2000s and is involved in absolutely every aspect of the making. She's had a relationship with the foundry for a long time, for some smaller pieces, but I Lay Here For You is really the first time she's worked at such scale, so the process of casting is a whole different kettle of fish. The craftsmanship is absolutely remarkable". She goes on to describe Emin's process as "an emotion that's in her body that she works through while making the work—it means she's completely uncuratable! She's starting to remind me of the Brontë sisters right now—there's some Wuthering Heights coming through" [11]. Feeley also really flags up the way in which Emin has taken the more traditional and robust material of bronze and used it to make these incredibly vulnerable sculptures. "You see photos of I Lay Here For You and it looks like a figure, but there's something deeply uncanny when you encounter it physically because it's three times life-size. Particularly as you approach it through the peaceful woodland, where she's sited it, you catch a glimpse of it, and it looks quite abstract. It's just lying on the floor, exaggerating the human body. If it were life-size, it wouldn't work"[12].
Currently, I Lay Here For You is the only bronze planned to be included in the Jupiter Artland exhibition. Feeley questions whether or not Emin might choose to include some maquettes and smaller vitrine works, but, "since the bronze figure is the only fully-formed human form, and the central encounter, a solitary form in the forest, she might well keep this as the sole bronze"[13].
Similarly, in Oslo, The Mother will stand alone. Emin won the commission for this public artwork in an international competition, up against such acclaimed Scandinavian artists as Olafur Eliasson and Ragnar Kjartansson. For her entry, Emin submitted a small box, in which she put a little maquette and some watercolours of the figure on the island. "Apparently when they opened it up and took it out of the box, they fell in love with it,"[14] she says of the jury's response. Emin created the figure as a mother for her greatest artistic inspiration, Edvard Munch, whose own mother died of tuberculosis when he was just five years old. "I'm sure this made him a bit psychologically unhinged," Emin says. "Especially in terms of women. His desire to be unconditionally loved must have been incredible. My mother will be looking out to sea as if she's protecting not just all of Munch's works in the [new Munch] museum, but, at the same time, she'll be welcoming people". The figure, also, is old, based on Emin's own mother Pam, who died in 2016. "It's not a beautiful young woman, it's my mum. It's a figure of a woman of about 80," says Emin. "But it doesn't matter about the age, it's a metaphor for the universal mother that looks after us all, wherever she is. Haven't you ever loved someone who is old?"[15]
In their assessment of Emin's submission, the jury commented: "With its immediate and visceral artistic approach it appears both intimate and majestic, vulnerable and grandiose"[16]. This would, in fact, make a fitting epithet for Emin's entire bronze oeuvre.
First published in Sculpture Magazine, 02/09/21
[1] 'Interview with Karol Winiarczyk' in Tracey Emin | Egon Schiele: Where I Want To Go, Leopold Museum, Vienna, 2015, page 18
[2] https://pallant.org.uk/whats-on/tracey-emin-roman-standard/ [accessed 7 July 2021]
[3] Jennifer Doyle, 'Lost and Found' in Tracey Emin: Love is What You Want, Hayward Publishing, 2011, page 33
[4] Coline Milliard, 'A Q&A with Tracey Emin', in Modern Painters, May 2013, page 84
[5] Jonathan Jones, Tracey Emin: Works 2007-2017, Rizzoli, 2017, page 29
[6] Coline Milliard, 'A Q&A with Tracey Emin', in Modern Painters, May 2013, page 84
[7] Coline Milliard, 'A Q&A with Tracey Emin', in Modern Painters, May 2013, page 84
[8] Jonathan Jones, 'How Tracey Emin is giving Munch the mother he never had', in The Guardian, 2 January 2020
[9] Louisa Buck, 'Tracey Emin makes her mark with marvellously monumental bronzes at White Cube', in The Art Newspaper, 7 February 2019
[10] Louisa Buck, 'Tracey Emin makes her mark with marvellously monumental bronzes at White Cube', in The Art Newspaper, 7 February 2019
[11] Personal correspondence
[12] Personal correspondence
[13] Personal correspondence
[14] Jonathan Jones, 'How Tracey Emin is giving Munch the mother he never had', in The Guardian, 2 January 2020
[15] Personal correspondence
[16] Jury's assessment, https://www.themuseumisland.com/en/artist/tracey-emin/ [accessed 7 July 2021]