27/10/22
Interview: Kate Groobey
Kate Groobey (b1979, Leeds) combines painting and performance to break down barriers between her audience, her protagonist and herself as performer. For her latest series, Female Stallion, which comprises six large canvases with their associated soundtracks and performances, her muse is her wife, the writer and poet Jina Khayyer, and her purpose is to create a safe, feminine and queer space, which might ideally make people feel inspired, stronger and more empowered.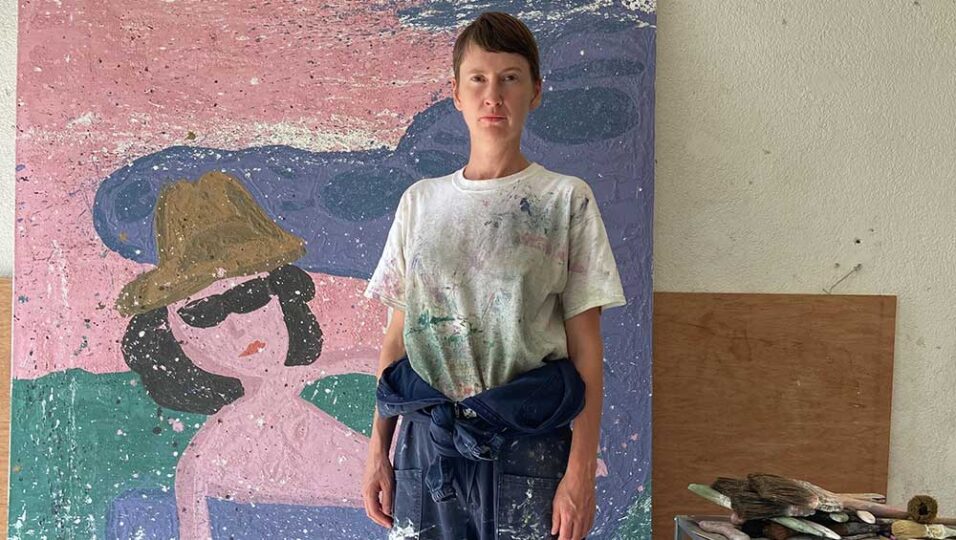 Groobey, who studied at the Ruskin School of Drawing and Fine Art, University of Oxford, and the Royal College of Art, London, was the first woman to win the prestigious Daiwa Foundation Art Prize in 2018. The ensuing residency in Japan provided plentiful inspiration for her work, as have her many other encounters with different cultures and languages. It is perhaps unsurprising that the mouth – and lips and tongue – are common motifs and focal points in her paintings.
In her performances, the protagonist literally steps out of the canvas, as Groobey dresses as, embodies and becomes her character. Both the performances and the paintings are full of vigour, and her unencumbered gestural style is energetic and dynamic.
In this Zoom interview for Studio International, Groobey talks about her process, her inspirations and the importance of painting as a means of communication.
Read the interview here