15/06/20
Interview: David Downes
When it became apparent that something big was approaching – that is, when deaths from Covid-19 started sweeping not just through China but also Italy – landscape artist David Downes saw a once-in-a-lifetime opportunity to document this global pandemic, producing a work a day (or every other day), in the manner of a war artist. Mixing reality with surreality, familiar places with imagined representations of the virus – "Covids", as Downes calls them – he has a growing series of pen, ink and acrylic drawings. Once there is more freedom of movement and he can return to his studio, Downes hopes to work some of these up to larger scale on canvas. He also has plans for an exhibition.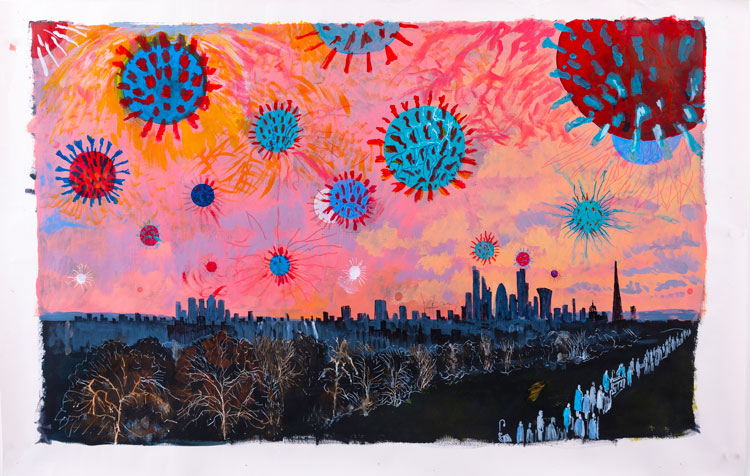 Downes, who was born in Sutton Coldfield, Birmingham, in 1971, completed an MA in communication design at the Royal College of Art, London, in 1996. His first major contract, in 1999, was a commission from the BBC to record the corporation's most important architecture at the turn of the century. He has since had numerous other prestigious commissions, including painting the Thames Diamond Jubilee Pageant from the roof of the Savoy Hotel in 2012, and, last year, creating a giant mural for the launch of a new ITV period drama, depicting the fictional coastal town of Sanditon, based on Jane Austen's final, unfinished novel.
Having been diagnosed with high-functioning autism at the age of 32, Downes is an active supporter of the National Autistic Society and has been a vice president since 2012.
As I call Downes, one morning during lockdown, he is just about to start work on another large drawing, working from a spare room in the house he shares with his girlfriend and their dog, Winston, in Manningtree, Essex.
Read the full interview here