16/11/19
The Role of Reinterpretation in Annie Zamero's 'Royal Revolutions'
'Reinterpretation,' writes the anthropologist John H Hamer, '[…] is the way in which people seek to relate and adapt their changing experiences by using the past as a marker for interpreting the present.'[1] Annie Zamero's work is all about reinterpretation. It was described in the New Art Examiner as 'follow[ing] the example of Picasso, amongst others, to make a radical reinterpretation of earlier iconic works'[2]. Indeed, Zamero combines aspects of Old Master, Baroque and Rococo paintings with imagery of contemporary icons of power – royalty and politicians – typically portraying them as if viewed in a fairground mirror, distorted to the point of abstraction. Zamero creates caricatures – or political cartoons – but seeks to elevate them to the level of fine art, in part by adding this historical gravitas, but also by her clearly defined methodology – which involves far more than simply taking a likeness to the extreme by exaggerating prominent characteristics. 'They're not really cartoons – some of my studies are quite serious character studies,' she told Jude Cowan Montague on Resonance FM[3].
Zamero is fluent when she talks about her work. She describes the process of photographing herself or others dressed in the costume of her chosen character so as to increase her sense of identification with the subject. 'Doing a caricature,' Zamero says, 'is much harder than doing an exact likeness. That's the easy bit. Then you need to make the decision about what features you're going to play with. If you choose too many, you can't recognise the person – it's a very fine balance between changing it and losing the likeness.'[4] Once she has finished the 'proper' drawing, Zamero redraws it – without looking – to see what she can create spontaneously, allowing a sense of naivety in the cartoon-like forms.
Zamero's work embodies satire, which, she is keen to point out, is no mere bagatelle. According to the Oxford English Dictionary's definition, satire is: 'the use of humour, irony, exaggeration, or ridicule to expose and criticise people's stupidity or vices, particularly in the context of contemporary politics and other topical issues'. Accordingly, Zamero uses humour as a vehicle for more serious matters, 'a more digestible way of saying something that's difficult, or perhaps unacceptable'. She adds: 'I think humour generally helps us cope and digest the world' – and goodness knows we need that right now.[5]
Take, for example, Zamero's painting of Donald Trump, Trump Lights Up the Darkness, after the Spanish painter Francisco Goya's The Inquisition Tribunal (1812-19). Goya was a liberal opposed to the absolutist policy of Ferdinand VII of Spain, which included such things as bullfights, madhouses, flagellations and auto-da-fé, as depicted here. Zamero adopts and dresses Trump in the tall, peaked cap, with its associations both with the dunce's cap (alluding to Trump's alleged lack of intelligence) and also to the Ku Klux Klan, referencing his racist comments and policies, and the terrifying contemporary rise of the Far Right in the US and beyond.
Zamero has also depicted the former UK Prime Minister in Tony Blair Turns Catholic, after Spanish painter Diego Velazquéz's Portrait of Innocent X (1650). For many, this original Spanish work is best-known for the series of some 45 distorted variants, the 'Screaming Popes', made by Irish-born painter Francis Bacon in the 1950s and 60s, described by the French philosopher Gilles Deleuze as 'an example of creative reinterpretation of the classical'. In Zamero's rendition, Blair is shown not screaming but laughing, in a colour palette which blends that of Velazquéz and Bacon with its rich, regal purples and reds. It was painted at the time when Blair turned Catholic, since his doing so created a certain amount of publicity concerning his motives and why he might deem himself in need of absolution by the Pope. 'I thought that as Tony was rather a megalomaniac,' Zamero says, 'he may not be content with being accepted by the Pope, but instead would like to be one himself, which is why I dressed him in the Pope's clothes'.
Still more critical is her painting of Blair's number two, Gordon Brown, entitled The Accountant, after Two Tax Gatherers (c1540) by the Dutch Renaissance painter Marinus van Reymerswale. This time, in both Zamero's work and the original, the writing man wears a heart-shaped hat of the style worn by fashionably-dressed women in the mid-15th century. The contemporaneous personification of Avarice by Pieter Bruegel the Elder in his drawing from 1556 (now in the British Museum) is similarly a woman wearing a heart-shaped hat – might this iconography therefore also be applied to Zamero's depiction of the former Chancellor?
Zamero's work has been featured in the press on a number of occasions, with The Evening Standard calling her 'controversial' – an adjective she embraces, noting that controversy at least sparks interest and starts a conversation. The paper further describes her painting Take One, made for the wedding of Prince Harry and Meghan Markle, as a 'panegyric offering'. The painting, after The Triumph of Zephyrus and Flora (1732) by the Italian Rococo painter Giovanni Battista Tiepoli, depicts the Prince and his bride in an airborne carriage, drawn by a royal horse. Prince Harry wears his military uniform; Markle, on the other hand, has nothing more than a bath towel, in reference to her role in the television series Suits, for which she was apparently often told by the director to be thus clad for hot, steamy scenes. The clapperboard similarly references Markle's acting career, which is, as Zamero phrases it, 'a small sting', since it is generally acknowledged that the now Duchess of Sussex is trying to leave her former career behind her.
For the union of Prince William and Kate Middleton, on the other hand, Zamero created The Royal Couple, after Vincent van Gogh's Peasant Turfing (1885). The reference is clear: Middleton is being likened to the 'peasant' that she was – ie. a commoner, not royalty – something which, at the time, was very much a hot topic. The digging also acts on a metaphorical level, intimating, perhaps, that she was seen to be digging for gold by marrying into such wealth. Similarly to Zamero now, Van Gogh was, during this period, intent on creating character studies that really caught the essence of the workers he depicted. In Peasant Man and Woman Planting Potatoes (also 1885), a man and woman work together, he turning the earth with a spade, she planting the potato seed. In Zamero's painting, it is instead the Duchess of Cambridge who holds the spade. Conversely to the idea of her being the mere commoner, this might also be a symbol of her having the upper hand in the relationship? Of female power in general? Of the hard graft that women must do daily – and frequently thanklessly? Of course, if one goes down the route of sexual metaphor, it is indeed more accurate for the woman to be 'opening the ground' for the man to 'drop in the seed'…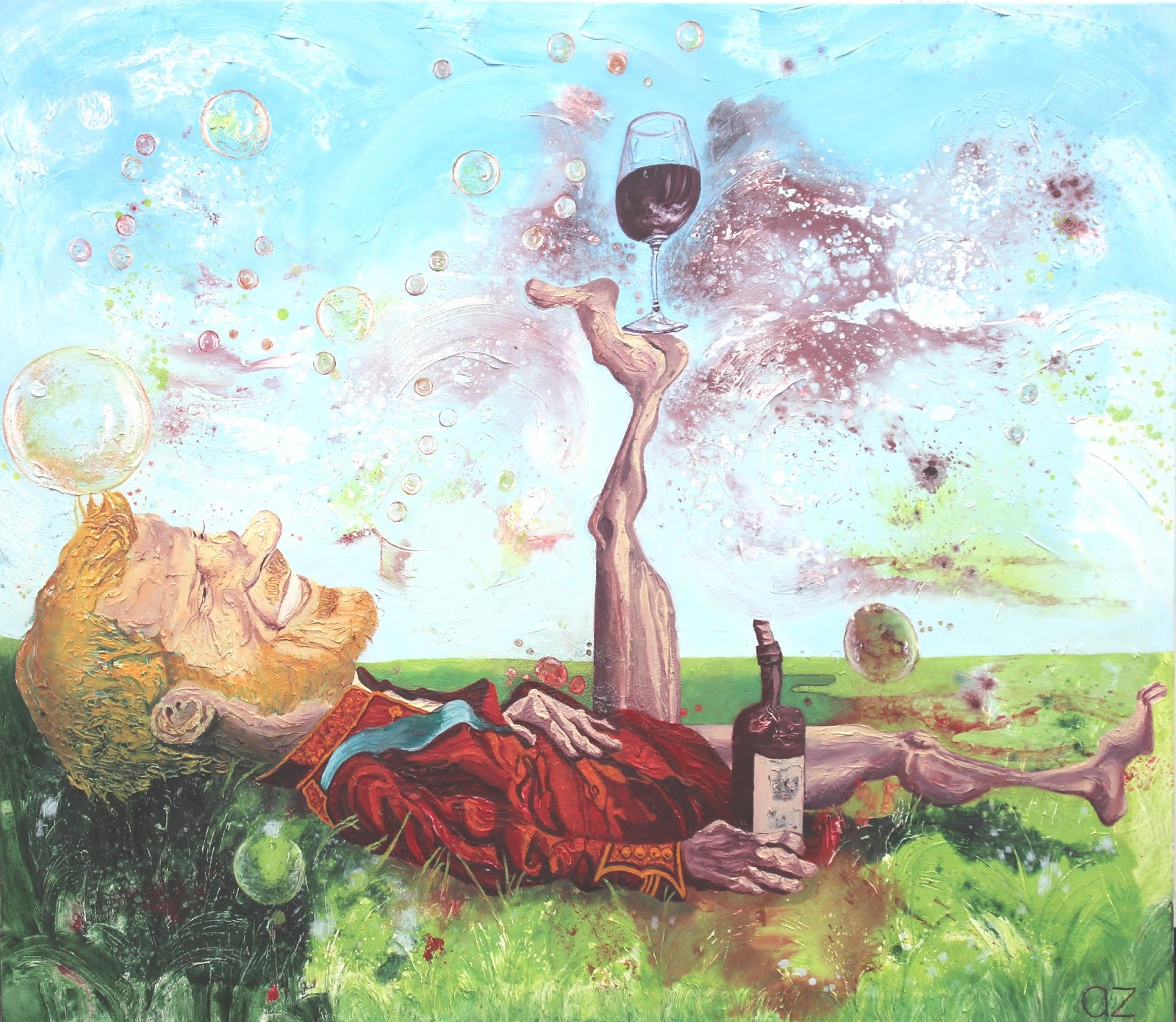 Other works referencing the royal family include Bubbles, depicting Prince Harry lying supine on the grass, one foot raised, balancing a glass of red wine – of which it appears he has already enjoyed a few (not least due to the lack of trousers!). The painting, made just before the Prince became a father, and referencing his bachelor days of hard partying, is after the French Post-Impressionist Georges Seurat's A Sunday Afternoon on the Island of La Grande Jatte (1884), one of the most reinterpreted and parodied paintings ever. It has been repurposed in Playboy, on Broadway, in films (including Ferris Bueller's Day Off and Muppet Babies), on television (The Simpsons and The Office), and even in a topiary park in Columbus, Ohio. The Marxistphilosopher Ernst Bloch, however, wrote of Seurat's picture that is was 'one single mosaic of boredom, a masterful rendering of the disappointed longing'[6] and Linda Nochlin likewise dedicated an essay to describing it as an 'anti-utopian allegory'[7]. Once more, timing-wise, Zamero is spot on, honing in on an aspect of his life, which Prince Harry is trying to leave behind him. Also playing with this theme of (endless) recreation (to the point of ennui?), Zamero's painting One's Day Off depicts the Queen, after Jean-Honoré Fragonard's The Swing (1767). Today this is a 'chocolate-box' painting, which, even at the time, was seen as whimsical, and became the target of Enlightenment philosophers, demanding a more serious art to show man's nobility. Fragonard's painting depicts numerous men, all of whom have been omitted by Zamero – one pushing the swing; another, concealed by foliage, watching. What, at first glance, appears an innocent image of a woman at leisure, thus becomes risqué, with the swing itself a conventional symbol for infidelity. With the young woman kicking her legs apart and sending a shoe flying, there is even an element of the erotic. Again, questions abound. Did Zamero intend any of this iconography to be carried over into her painting of Queen Elizabeth, or are we, without this 18th-century cultural context, left to interpret as we wish, and see simply a powerful head of state having a moment of freedom and frivolity? There is so much left open to reinterpretation that the viewer might almost create a new narrative on each return to the work.[8]
The American anthropologist Melville Herskovits claimed that the basis for any act of reinterpretation is psychological. He also noted a level of intentionality owing to the individuals' previous 'cultural conditioning' which causes them to interpret change in terms of what they already understand.[9] That is, people act on what they bring with them from their past in an effort to affect a reinterpretation, but these parameters are never set in stone, because new encounters bring about new (ie. different) histories and therefore new potential futures. Returning to Hamer, with whom we set out, this ambiguity is seen as the very strength of reinterpretation. He concludes: '[T]hat which is new in form or meaning never meshes totally with the old and this lack of goodness of fit sets a precedent for doubt and critical evaluation of old forms or meanings'.[10] And it seems to me that this triggering of critical thought and evaluation is precisely what Zamero hopes to engender through her use, firstly, of satire, and, largely as an outcome of this, of reinterpretation.
---
[1] John H Hamer, 'Identity, Process, and Reinterpretation. The Past Made Present and the Present Made Past', Anthropos 89, 1994, p181
[2] Charles Thomson, 'Modernism, Postmodernism, Remodernism', New Art Examiner volume 32 no 1, September/October 2017, pp20-27 [newartexaminer.net/modernism-postmodernism-remoderism/, accessed 17 August 2019]
[3] The News Agents, 3 November 2018, mixcloud.com/Resonance/the-news-agents-3rd-november-2018/ [accessed 17 August 2019]
[4] Ibid
[5] Ibid
[6] Ernst Bloch, The Principle of Hope, volumes 1-3, 1954, 1955, 1959, cited in Linda Nochlin, 'Seurat's Grande Jatte. An Anti-Utopian Allegory' in Mary Tompkins Lewis (ed), Critical Readings in Impressionism and Post-Impressionism: An Anthology, 2007, p253
[7] Linda Nochlin, 'Seurat's Grande Jatte. An Anti-Utopian Allegory' in Mary Tompkins Lewis (ed), Critical Readings in Impressionism and Post-Impressionism: An Anthology, 2007, p253
[8] Buckingham Palace wrote a complimentary letter to Zamero concerning this painting, when declining an invitation to an exhibition where it was on display. One wonders whether the Queen herself ever saw the image and, if so, how she (re-)interpreted it.
[9] Hamer, 1994, p182
[10] Ibid, p188
Images © the artist
Full exhibition catalogue here