18/10/17
Essay for Victoria Rance: The Night Horse and the Holy Baboon
Victoria Rance: The Night Horse and the Holy Baboon
Sculptures, drawings, photographs and animations 2007-2017
Cello Factory, London
23-30 October 2017
A cast of black-and-white
characters cavort across the screen: Rat Man, Long-Eared Bat Person and Loki, a
mysterious shape-shifter and epitome of the Trickster. It is Fasnacht – a night of wearing masks and
releasing one's innermost repressed psychological realities. In Carl Jung's
theory of archetypes, the Trickster is an anti-intellect figure, entertaining
and mischievous, yet bearing a deeper wisdom about the world. Fasnacht invites
the Trickster to come out and play, and, in Victoria Rance's short film, come
out and play he does.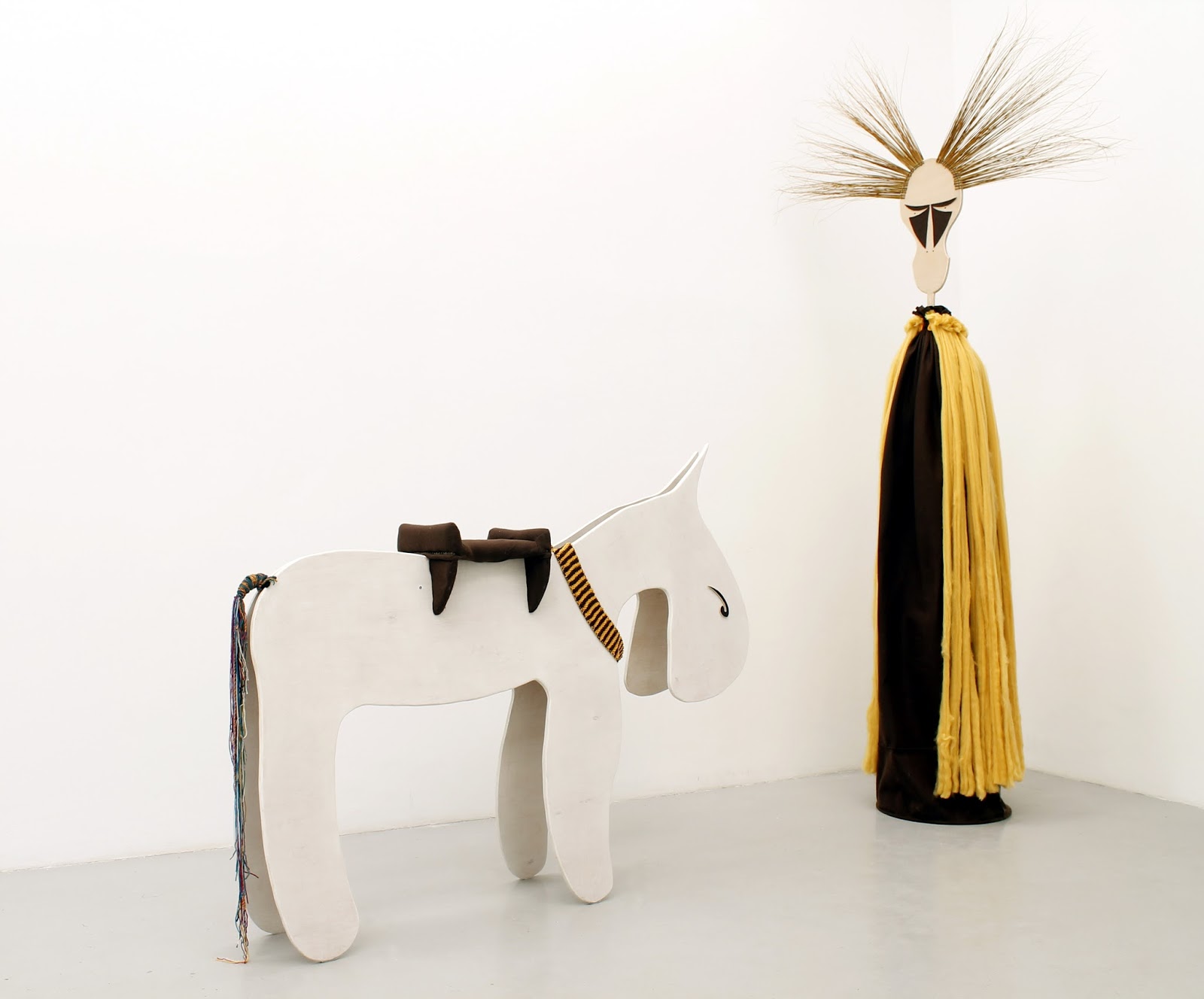 Much of Rance's work deals with
archetypes and the wearing of masks, exploring what Jung describes as the compromise
between what one likes to be and how one likes to appear – the persona as it stands in contrast to the personality. Her cast of recurring
characters, besides Loki and his friends, includes Medusa, Perseus, Nuit (the
goddess of the sky), and, most recently, the Night Horse and the Holy Baboon.
Her Sculptures to Wear include caterpillars,
a worm, and wasp spiders – a striking variety of arachnid that disguises itself
as a more harmful species to evade a common predator.
Full essay and catalogue available here
Image:
Victoria Rance
The Night Horse and the Holy Baboon
2017
installation
wood, steel, felt, wool, palm, plaster, polyester
H 354cm