Portrait of the Artist: Käthe
Kollwitz
Ikon Gallery, Birmingham
13 September – 26 November 2017
"I was determined to be an artist
from the outset, even though I had the disadvantage of being a girl."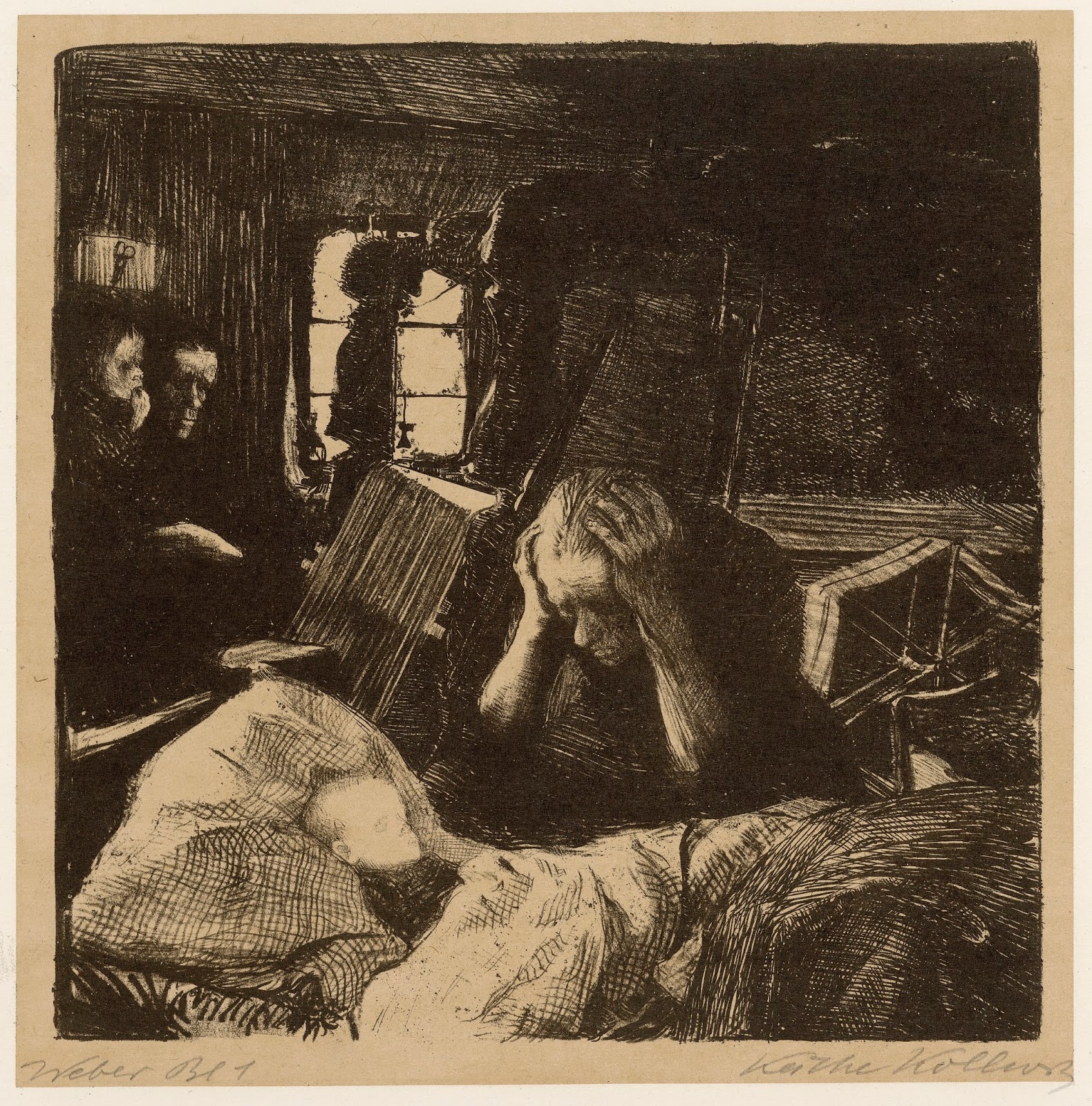 Her gender was not Käthe Kollwitz's
only disadvantage, as a graphic artist (at a time when
this was the least prized – and least well paid for – of the visual arts),
living in the "bohemian" workers' district of Prenzlauer Berg, Berlin, and surviving two world wars. This
aside, she enjoyed, from the outset, the support of her family, husband, and friends. Thanks to
this, her determination, and, in no small measure, her talent, Kollwitz (1867-1945) met with great success. Today
she has four museums dedicated solely to her work and, in her native Germany,
there are 40 schools that bear her name. In 1920, she became the first woman to be elected to the Prussian Academy of Arts, an honour
brought with it a full professorship, albeit that she rejected the title owing to her communist
leaning for egalitarianism. Her work was shown in New York in 1922, she was the
subject of many books and articles, and the first big monograph on her work was
published as early as 1923. Despite her prints being widely reproduced in China
and Russia, she is sadly little known in
the UK, where only three of her drawings – and not all that many of her prints
– are held in public collections. This enlightening and carefully selected exhibition
has been put together in collaboration with the British Museum – comprising 36
works from its collection, plus four loans – by Frances Carey, the former deputy keeper of prints and drawings. Marking the 150th anniversary of Kollwitz's birth, it will tour to the Young
Gallery, Salisbury; the Glynn Vivian Art Gallery, Swansea; the Ferens Art
Gallery, Hull; and end up "home" at
the British Museum in 2019.
Read the full review here