18/11/16
Interview: Anthea Hamilton
Anthea Hamilton
Reimagines Kettle's Yard
Hepworth Wakefield
15 September 2016 – 19 March 2017
Turner Prize 2016
Tate
Britain
27 September 2016 – 2 January 2017
Interested
in choreographing space and objects and creating curious juxtapositions by, for
example, using unexpected everyday objects as plinths, Anthea Hamilton (b1978,
London) was the perfect invitee to reimagine the carefully ordered Kettle's
Yard collection in a contemporary manner for the Hepworth Wakefield, during
the renovation of the Cambridge house. Hamilton's approach, which involved collaborating
with several British and international artists with whom she has either worked previously,
or whose work is important to her, echoes the way that Jim Ede assembled the
collection, with objects and artworks acquired through his friends and
acquaintances.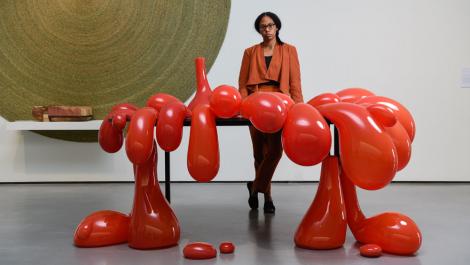 Hamilton spoke
to Studio International at the opening of the exhibition, explaining her
methods, her affection for kimonos, and how this opportunity has fed into her
practice as a whole, including influencing her installation Lichen! Libido!
Chastity!, for which she has been nominated for the Turner Prize 2016.
Read this interview here