27/06/16
Interview: Simon Brann Thorpe
In 2004, Simon Brann Thorpe was in Western Sahara working on
a documentary project about landmine victims. Appalled by the political
situation and taken by the refugees he met, he determined to return. Thus Toy Soldiers was born. Published to
great acclaim in book format last summer, Brann Thorpe is now looking to
exhibit the images internationally.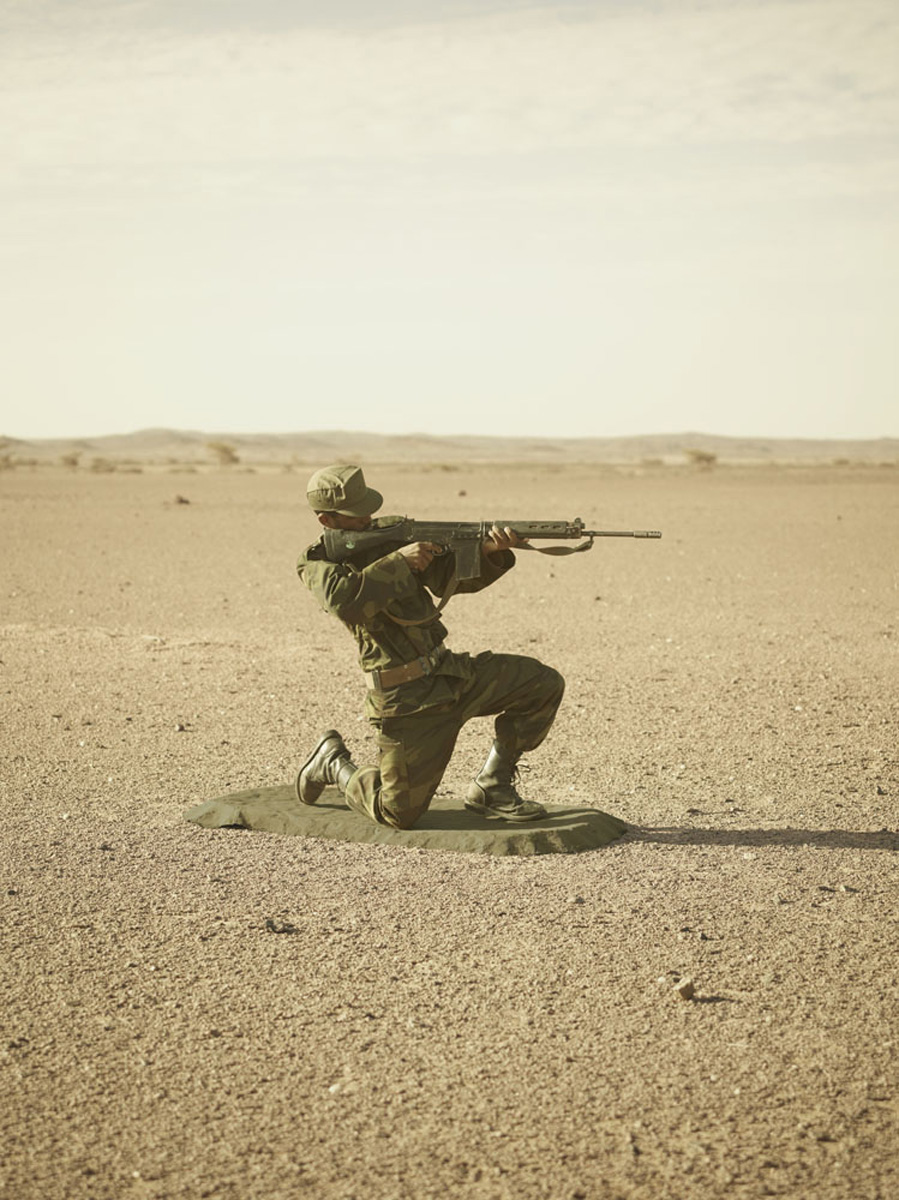 Anna McNay: Your first
experience of the war in Western Sahara was in 2004 when you did a project
about landmine victims. How did you get from there to your Toy Soldiers project?
Simon Brann Thorpe: The landmines project was my first ever
experience with conflict. I never even played with toy soldiers as a child. I
was completely taken by the people in Western Sahara. The region is a former
Spanish colony. Now it is a disputed territory, sandwiched between Morocco, to
the north; Mauritania, to the south; Algeria, to the east; and the Atlantic on
the west coast. When the Spanish left, Morocco laid claim to the territory and
invaded from the north and, at the same time, Mauritania invaded from the
south. The indigenous population of Western Sahara – called the Sahrawi – was
effectively split and half of the population fled into Algeria, where they
still exist. Mauritania withdrew in 1979, which left the Polisario, or
political resistance movement against colonialism, fighting the Moroccans.
There was a ceasefire in the 1990s, but over 100,000 refugees still live in
refugee camps in southwest Algeria. When I visited the region, I visited these camps.
A 2,700km-long sand berm divides the regions. It was built by the Moroccans and
is heavily landmined on both sides. The region to the east is known as the
liberated zone and that is where Toy
Soldiers was shot.
I was really taken by the invisibility of the situation and
the fact that the West has been entirely incapable of any form of resolution.
The UN has a mandate in Western Sahara and they monitor the ceasefire. They are
meant to be bringing about a referendum, but nothing is happening. The refugees
have been there for 40 years now, struggling for self-determination. My
reaction to the situation is visceral. Toy
Soldiers came about because I really wanted to go back and do another
project on this issue, but I didn't just want to go and do portraits of
refugees, as that has been done millions of times, as have landscapes. I came
up with the idea one day in the shower. I knew I wanted to work with the
military – not because I wanted to give the issue a military context, but
because it's very symbolic of the struggle.
Read the rest of this interview here