19/02/16
Portfolio: Maya Chowdhry
"I'm
an activist and an artist," explains Maya Chowdhry. "Both are equally important
to me: art is one way I'm an activist." Integral to all her work – be it
written or visual, installation or digital – is that the audience becomes
involved in some way. "Through this interaction people become activated to do
something, an action that contributes to changing the world for the better."
Her
recent work, Ripple, produced for
GFEST in collaboration with Sarah Hymas, comprises three sculptures, made from
paper collage, that link with an app, allowing the audience to hear poems in
English, Urdu and Bengali. The piece explores the impact of climate change,
provoking questions, while simultaneously giving the audience an aesthetically
pleasing lyrical experience. It was recently short-listed for a 2015 Dot Award, given to a writer of fiction, creative non-fiction or poetry to develop a new work using the web and digital technology in imaginative and collaborative ways.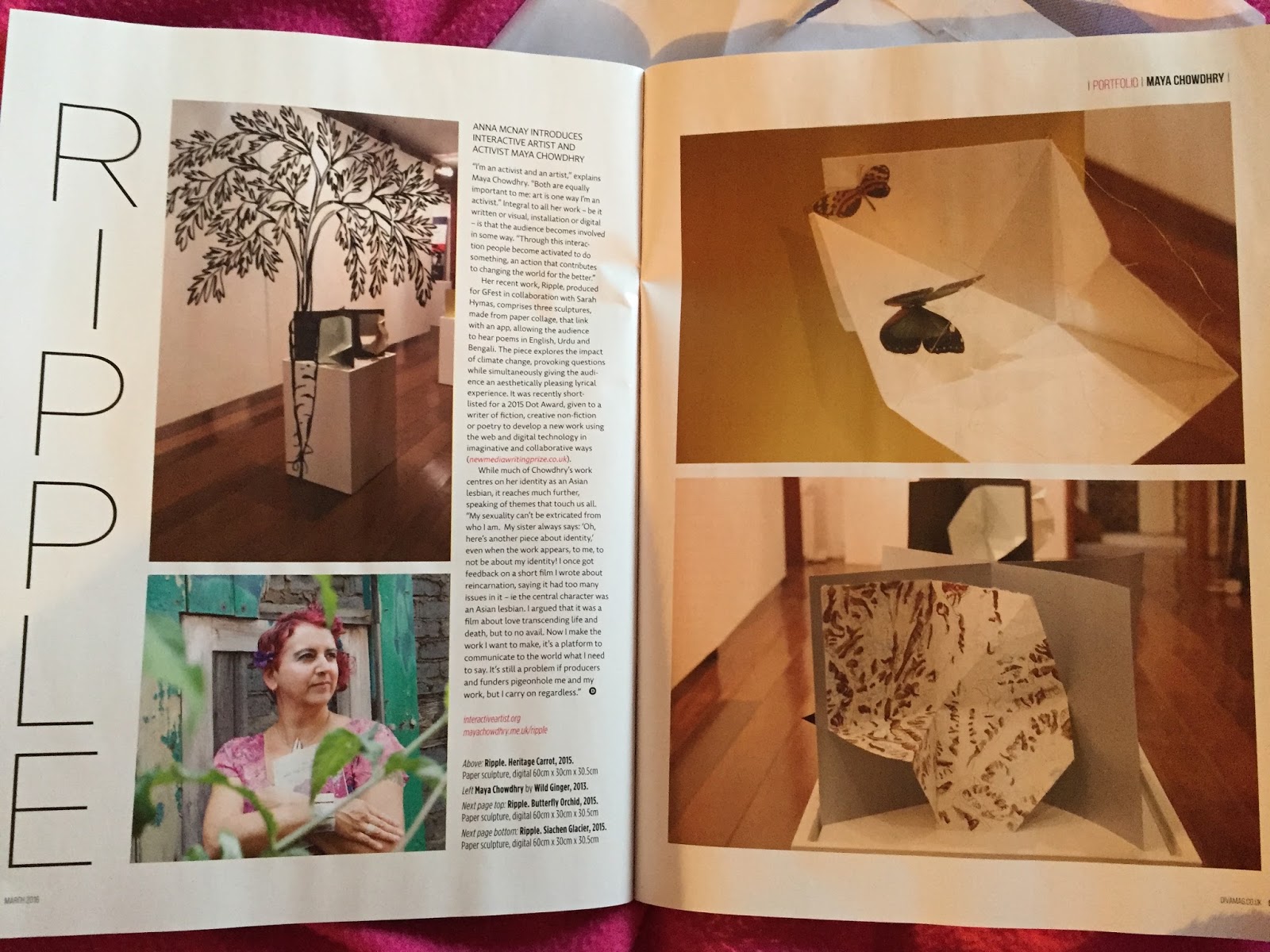 While much of
Chowdhry's work centres on her identity as an Asian lesbian, it reaches much
further, speaking of themes that touch us all. "My sexuality can't be
extricated from who I am. My sister always says: 'Oh, here's another piece
about identity,' even when the work appears, to me, to not be about my
identity! I once got feedback on a short film I wrote about reincarnation
saying it had too many issues in it, ie. the central character was an Asian
lesbian. I argued that it was a film about love transcending life and death,
but to no avail. Now I make the work I want to make, it's a platform to
communicate to the world what I need to say. It's still a problem if producers
and funders pigeonhole me and my work, but I carry on regardless."
http://mayachowdhry.me.uk/ripple/
See the full portfolio in the March 2016 print issue of DIVA magazine