19/01/16
Champagne Life
Saatchi Gallery
13 January – 9 March 2016
Things are changing for female artists.
For women generally, too, but the art world might just be the place where this
first becomes visible. Although female artists are still markedly undervalued
at auction, and have been described as "the bargains of our time" by Iwan Wirth
(owner of leading international gallery Hauser & Wirth), 34-year-old artist
Virgile Ittah suggests that this is the carry-over from last century and that,
thanks to the work of their predecessors, young female artists today stand on a
much more equal platform with their male counterparts.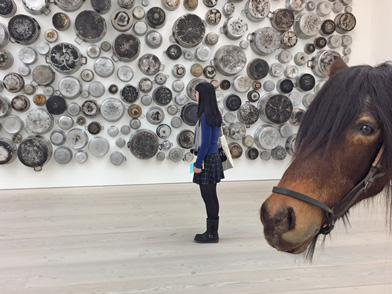 Last year saw a series of solo
retrospectives for female artists at both Tate galleries in London – Barbara
Hepworth, Sonia
Delaunay and Agnes
Martin – and women are increasingly taking lead roles as gallery directors,
curators and collectors, changing the way that contemporary art history is being
written. To celebrate its 30th anniversary, the Saatchi Gallery is hosting its
first all-women exhibition, showcasing the work of 14 emerging international
artists. The exhibition is described not as offering "an overarching vista of female
artistic practice", but rather playing "an important role in approaching issues
of the glass ceiling that applies to the art world as much as to the world at
large". Whether or not this ceiling has yet been smashed remains to be seen
over the next few decades, but judging by the confidence that imbues the works
on display, this generation of female artists is certainly on the up.
Read the rest of this review here