27/03/14
The Silver Bo(x)
Campaign
The number of children born annually with an intersex
condition is as hard to pin down as an agreed upon definition of the condition
itself, but, with an estimated one in every 1,000-2,000 children becoming the
subject of specialist medical attention, and many of these going on to be
operated on in order to 'correct' the 'defect', the condition is more common a
phenomenon than either autism or cystic fibrosis.
While binary gender classification assumes – and
asserts – that babies should be born at one or other end of a continuum for
sex, this is simply not the statistical truth. Regardless, the
medical community continues to view hermaphroditism as something which can be
'solved' (Disorders of Sex Development – DSD) by 'corrective' surgery or by
choosing which gender to raise an infant based on the extent of their physical
development within – maximally – the first 18 months of life. Such an
irreversible operation on a non-consenting baby's genitalia is surely a
horrific abuse of human rights? The current legal situation in the UK, however,
which insists that we are allocated either male or female gender on our birth
certificates and passports, merely fosters the tyranny.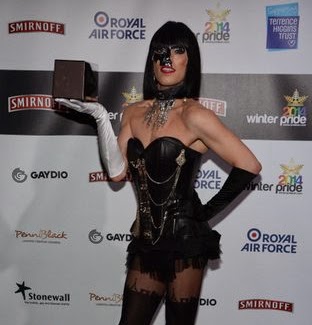 Many countries around the world (Germany, Australia, New
Zealand and India included) now recognise in law the existence of Intersex
human beings, accordingly allowing for a third gender (x) to be marked on legal
documents, with the individual, in each instance, having the choice of which
box to tick. In an attempt to bring the UK in line with these, London-based
visual and performance artist, XXXora, herself born with ambiguous sexual
organs and raised as a boy before choosing, for herself, a female persona, has
launched a petition to the government called the Silver Bo(x) Campaign.
Speaking to DIVA, XXXora explains: 'I have set The
Silver Bo(x) Campaign up myself because I am sick of there being such injustice
and abuse of Intersex human rights, currently completely invisible under law. I
am seeking the support of anyone who recognises that none of us has a choice
over the body we are born into and that we must respect all human beings,
regardless of their sexual organs. It frustrates me so much that the UK has
still not sorted this barbaric and archaic mess out and so I have been
compelled to mobilise this campaign for Intersex human rights. If we sell
ourselves as a democratic and "civilized" society, we will finally have to accept
scientific evidence over political agenda and give every human being legal
equality, regardless of the sexual organs they are born with.'
Within the first week of its launch, the Silver Bo(x)
Campaign was signed and supported by numerous notable figures in the arts, including
Frances Segelman (sculptress to the Queen) and Sir Derek Jacobi. The
campaign needs 100,000 signatures and an MP to back it, in order to be
considered for debate in Government. 'I have planted the seed,' says XXXora, 'it
has now sprouted and I will continue to nourish it until harvest.'
Please sign the petition and spread the word by visiting:
https://www.change.org/en-GB/petitions/uk-government-the-silver-bo-x-campaign-stop-the-systematic-genital-mutilation-of-non-consenting-intersex-infants-and-recognise-in-all-legal-capacities-human-beings-born-with-ambiguous-sexual-organs

Please also see:
http://www.divamag.co.uk/category/feature/special-feature/the-silver-bo(x)-campaign.aspx