11/08/13
10
The Conference
Centre, St Pancras Hospital
12 July – 12
September 2013
"Imagination is like the sea. You cannot say how many cups
of water are in it – it's endless." This was my introduction to the group show
currently on display in the Conference Centre at St Pancras Hospital – a chance
encounter with a member of hospital staff, who, seeing me standing by Simon
Croft's mirror works, Normal, Natural and Real (2013), came over to ask if I was one of the artists,
expressing his awe, and saying how he was "mesmerised" by the works on display.
With such eloquent expression, really, he ought to be writing this review, but
sadly he had another job to get back to! Nonetheless, his enthusiasm for the
works on show certainly opened my mind to enjoy them even more than I otherwise
might have.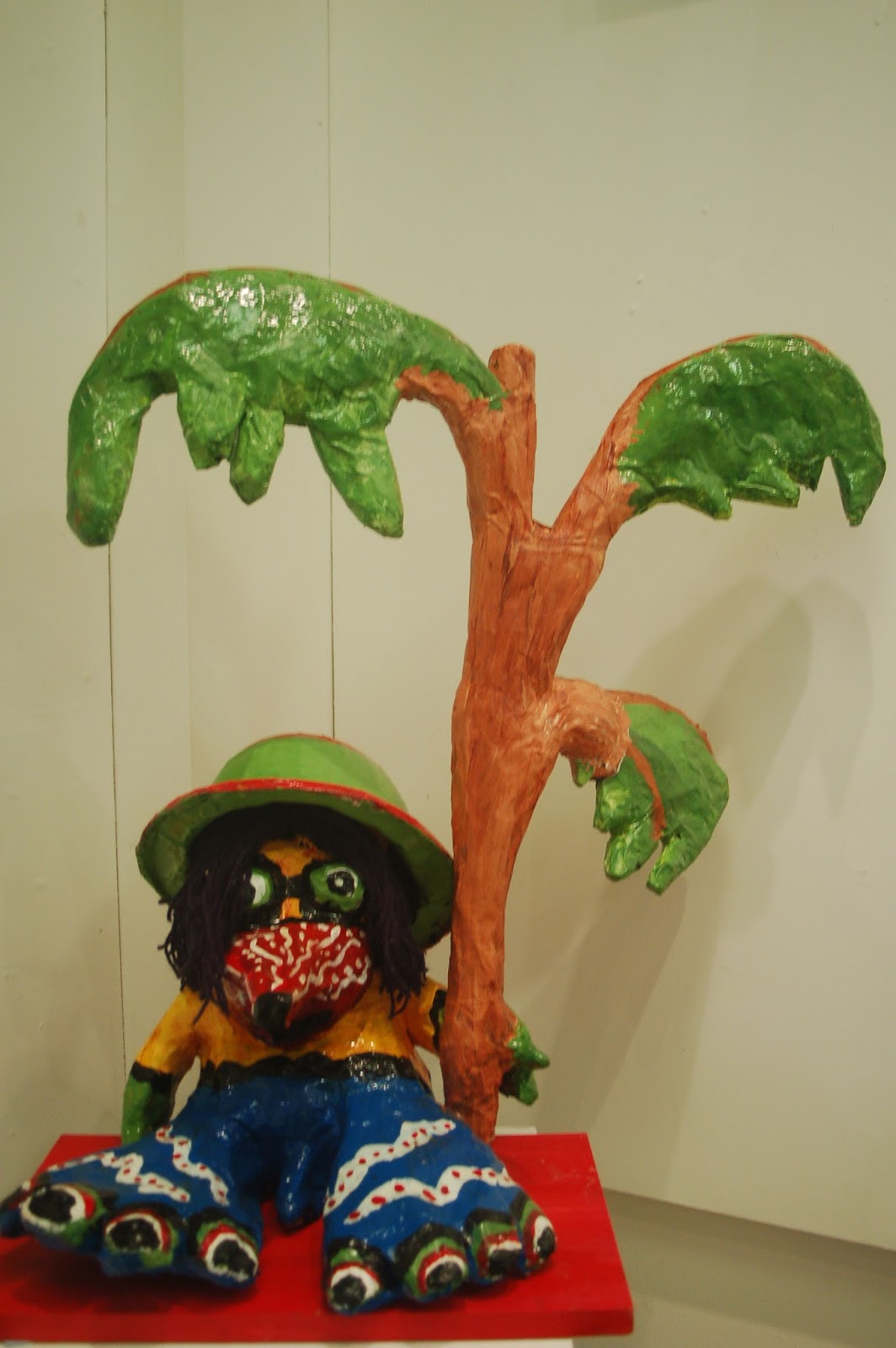 The exhibition is a celebration of ten years of the Arts
Project, which, together with the North London NHS Charitable Fund, has curated
125 exhibitions, involving over 200 artists – both professional and amateur –
since 2003. And, indeed, the long corridor gallery space is filled with a sense
of celebration – bright colours, kitsch, beads, playful papier mâché animals
(by Sheona Josiah), an installation of golden Egyptian wonders (Gold of the Pharaohs, by Sue Kreitzman, 2013,
a personal homage to the curator Peter Herbert), collage, ceramics, stonework, photographs,
paintings and prints. Portraits hang opposite landscapes, and various thematic
threads run throughout, inviting the visitor to pick one at will and start
unravelling…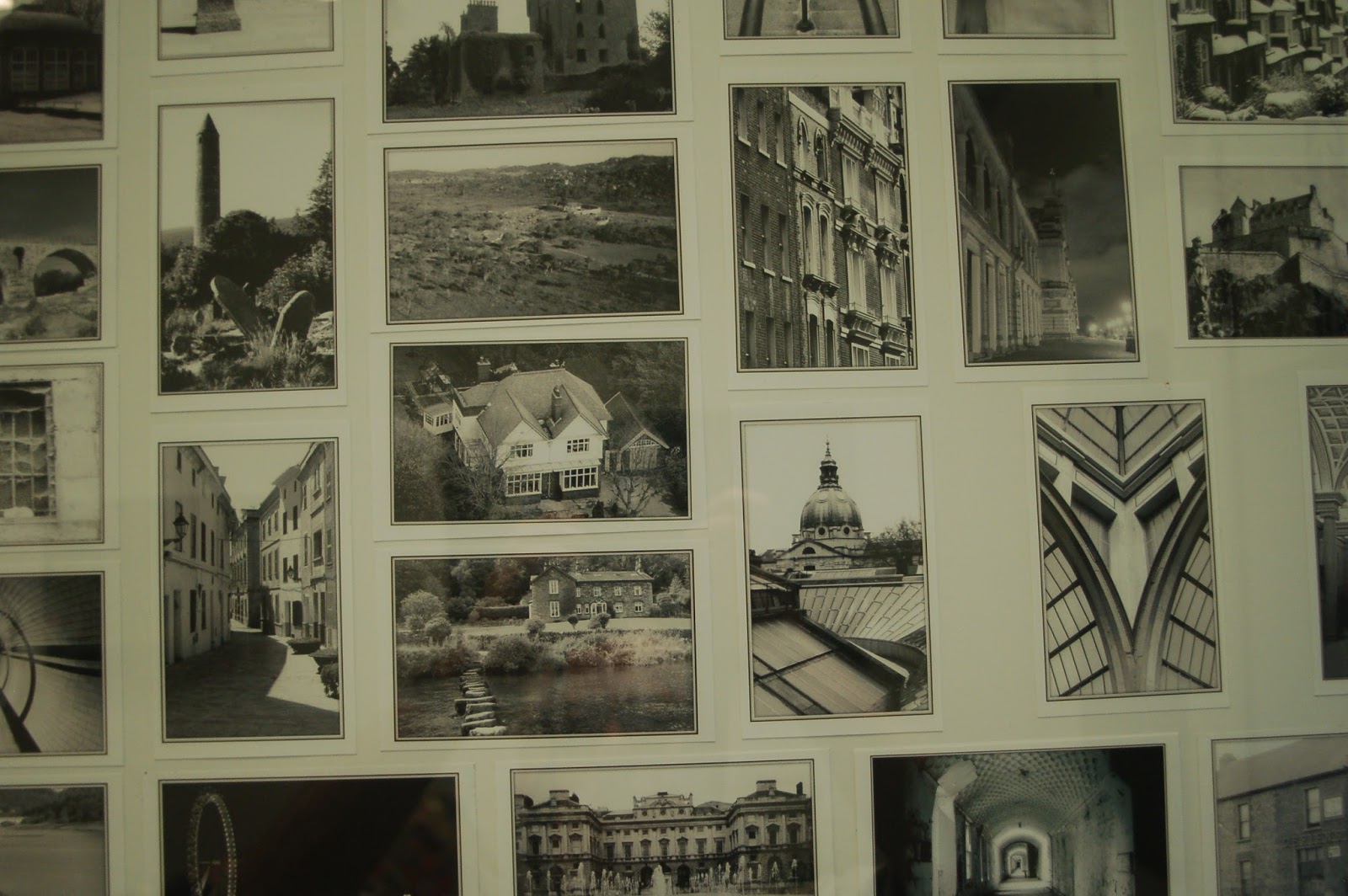 Places and memories figure significantly, with Dominic O'Ryan's
black and white photography montage, There
are Places I Remember (2013), creating a travellog of beauty, Paul
Herbert's blue and green acrylics, The
Homeland: New Zealand Portrait (2013) and The Homeland: New Zealand Landscape (2013), looking, with their
black outlines and stark, effective shapes, almost like woodcuts, and, closer
to home, Angela Inglis's photographs of Kings Cross (taken from her book, Kings Cross: A Sense of Place, 2012),
Ana Sedano's photograph Shard London (2012),
and Terry Humphries' small bluish oil painting, St. Paul's on the Thames.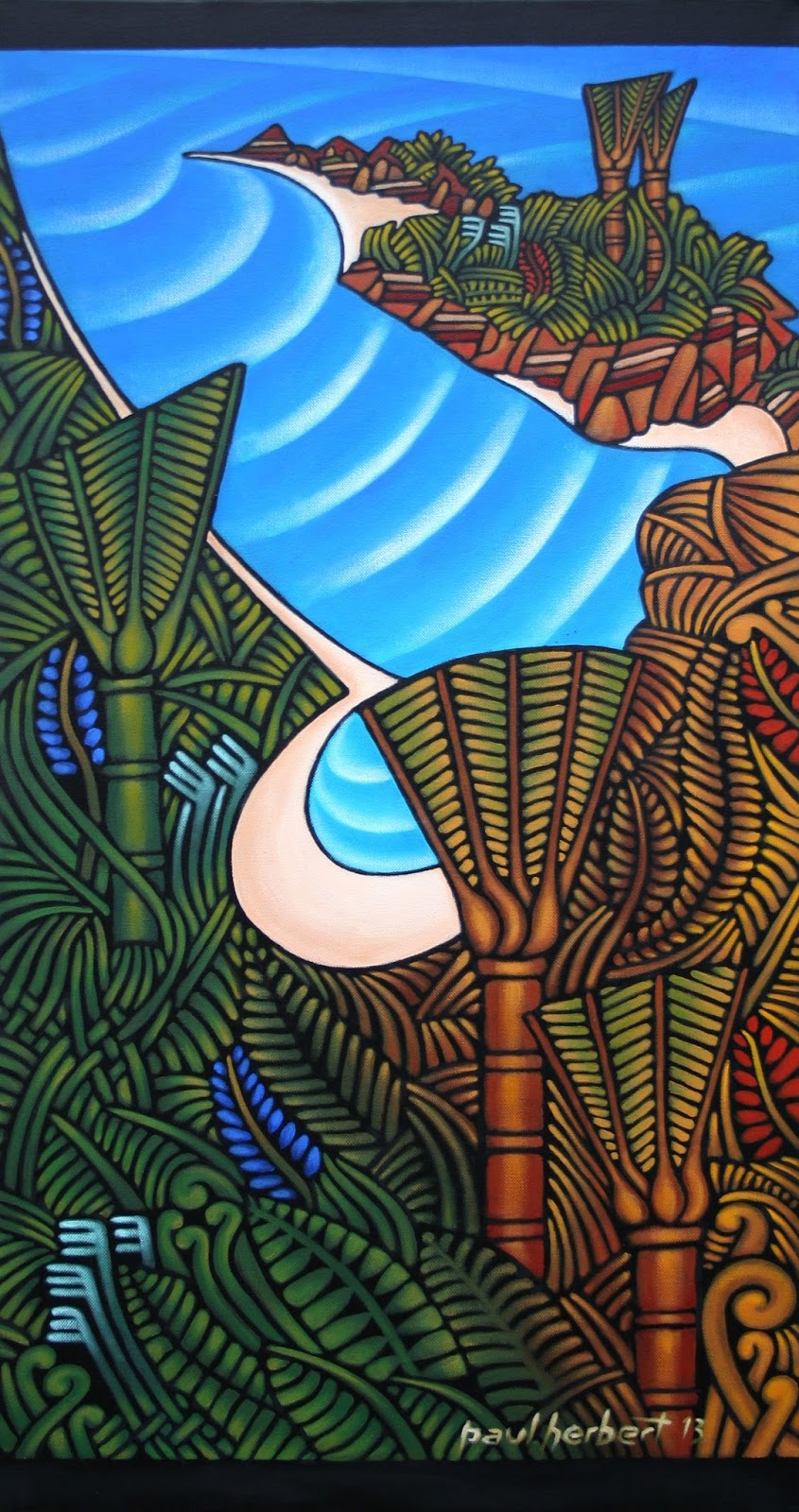 Landscapes do not just refer to those of location, either,
with Paul Dedelve's stunning photograph, Landscape
(2009), portraying the mere suggestion of the contours of a female body.
Echoing this, Sue Smith has created a white stoneware sculpture, Woman at Rest (2012), whose smooth
curves evoke hilltops and valleys, every bit as much as hips and shoulders.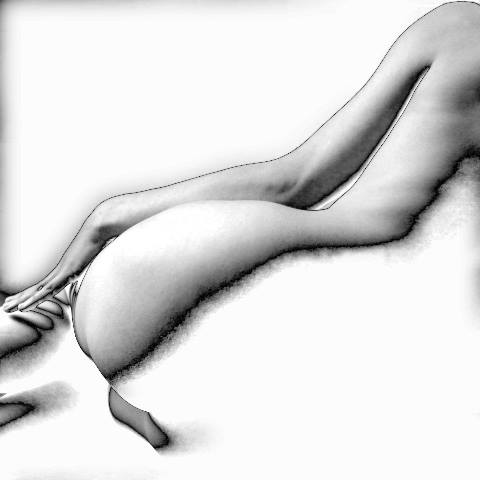 Matilda Moreton works with literal maps, printing historical
maps of the city of London on to ceramic tiles, and china mugs and plates,
whilst Catharine Barcham's dreamlike fused glass face masks opposite are
displayed in a case with a statement taken from Lawrence Gowing (1962), saying:
The map of the face made up of timeless,
mysterious, elusive human identities,
is one, which we can only explore through
our own understanding of ourselves,
and how we map our own lives.
Certainly the question of identity – common to Herbert's
curatorial efforts – is another thread of this exhibition, and a number of artists
raise questions as to how we see ourselves. These include Margaret Pepper,
whose Journey of Discovery (2007)
considers the uncertain territory traversed by the LGBT community; Phil Wildman,
whose collaged acrylics bring together features from a variety of sources,
compiling the emergent self; Ella Guru, whose painting depicts a woman looking
in the mirror and seeing a rabbit's face (Rabbitt's
Mirror, 2012); and Simon Croft, whom I mentioned at the start, whose three mirrors
overlaid with PVA words look at the ways in which language use brings about
judgments and affects the way that people, in particular transmen and women,
look at their bodies.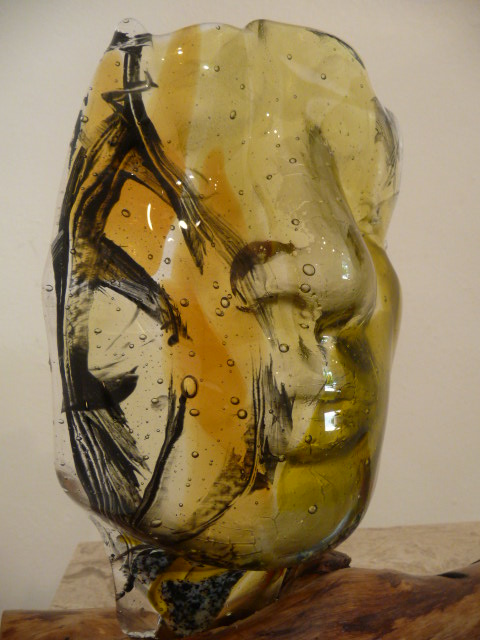 Overall, this exhibition is an eclectic and joyous
collection, appropriate for its celebratory purpose, and well worth a visit.
Images:
Sheona Josiah
© the artist
Dominic O'Ryan
There are Places I Remember
2013
detail
© the artist
Paul Herbert
The Homeland: New Zealand Portrait
2013
© the artist
Paul Dedelve
Landscape
2009
© the artist
Catharine Barcham
© the artist
For more information, see: https://www.facebook.com/ten.theartsproject