11/07/13
Broughton &
Birnie: Berlin, The Forger's Tale: The Quest for Fame and Fortune
WW Gallery
22 May – 13 July 2013
***extended to 20 July!***
It is 1930s Berlin. Georg Bruni, the son of two artistes in
a travelling circus, is a youth amidst the city's burgeoning cabaret scene. A
dubious character, his talent lies in producing accurate artistic forgeries.
Following the revelation that a purportedly rare Blue Period Picasso, sold by
Bruni to the obsessive Nazi art collector Fritz Niemand, is, in fact, one of his
fakes, Niemand puts a price on Bruni's head, and the delinquent flees to Paris.
Here he meets and falls in love with Fritzi Scholtz, apparently also on the run
from the Nazis. All is not as it seems, however, and, when Bruni's hat and
blood-soaked coat are found on a path by the Seine in late 1937, it transpires
that Scholz was in fact a Nazi assassin.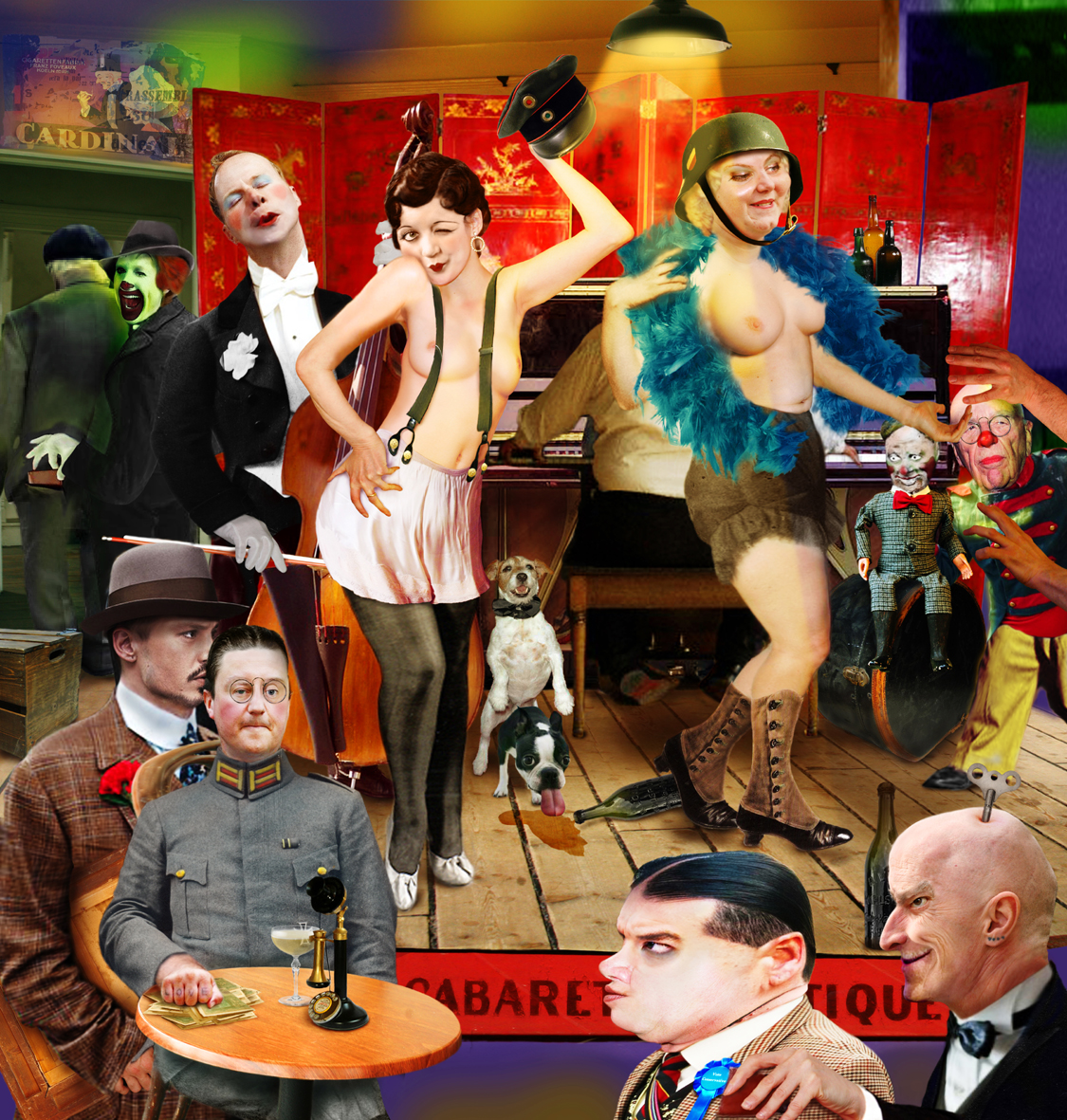 How much of the above is true is for you to decide, but,
regardless, a visit to WW Gallery during the run of artist duo Broughton &
Birnie's fantastic (in the true sense of the word) show, will take you back in
time to the Weimar Republic and on a whirlwind journey through the life of
Bruni, from the puppet film showing in the foyer's cinema kiosk, through the
collector's dimly lit, closely hung bureau, the glittering Regenerate Art Room
(an amalgamation of the International DADA Fair of 1920 and the Degenerate Art
Exhibition of 1937), and the small telephone kiosk replete with calling cards,
to the cabaret salon at the back, decked out with posters and masks, and, if
you time your visit appropriately, thrilling live performances.*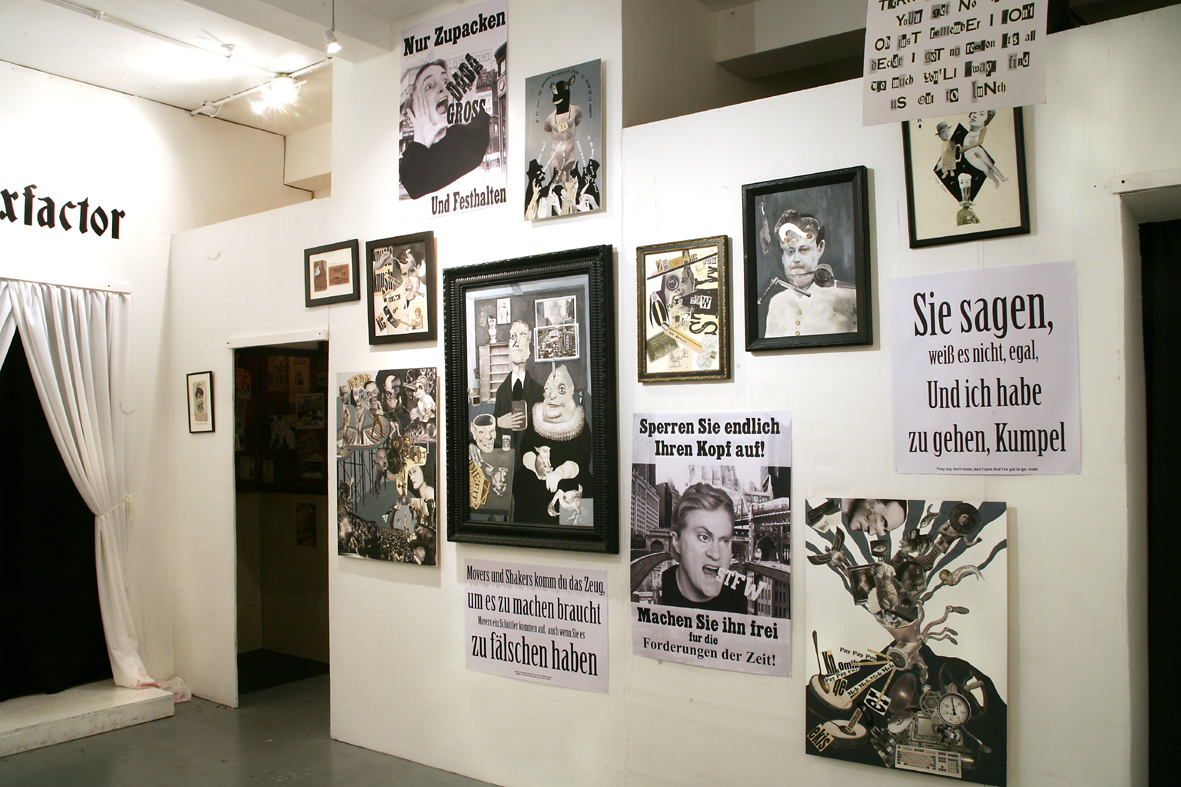 The detail of these installations is intricate, and you
really must allow yourself time to look closely at each and every work. For, as
you do, the web of fact and fiction will start to unravel, and you will see
what a brilliant masquerade all of it actually is. A laptop between the
stockinged legs of a Schiele model, a blackberry (phone) in the fruit bowl of a
Courbet still life, John Malkovich photographed in the company of Marlene
Dietrich… The Regenerate Art Room becomes the stage for an unlikely episode of
the X-Factor, daringly written with the swastika symbol, and Simon Cowell, Ant
and Dec, Alan Sugar, and Davina McCall all make an appearance amongst the text
speak comments (LMAO, OMG), punk band lyrics, and layered contemporary and
vintage images and banknotes.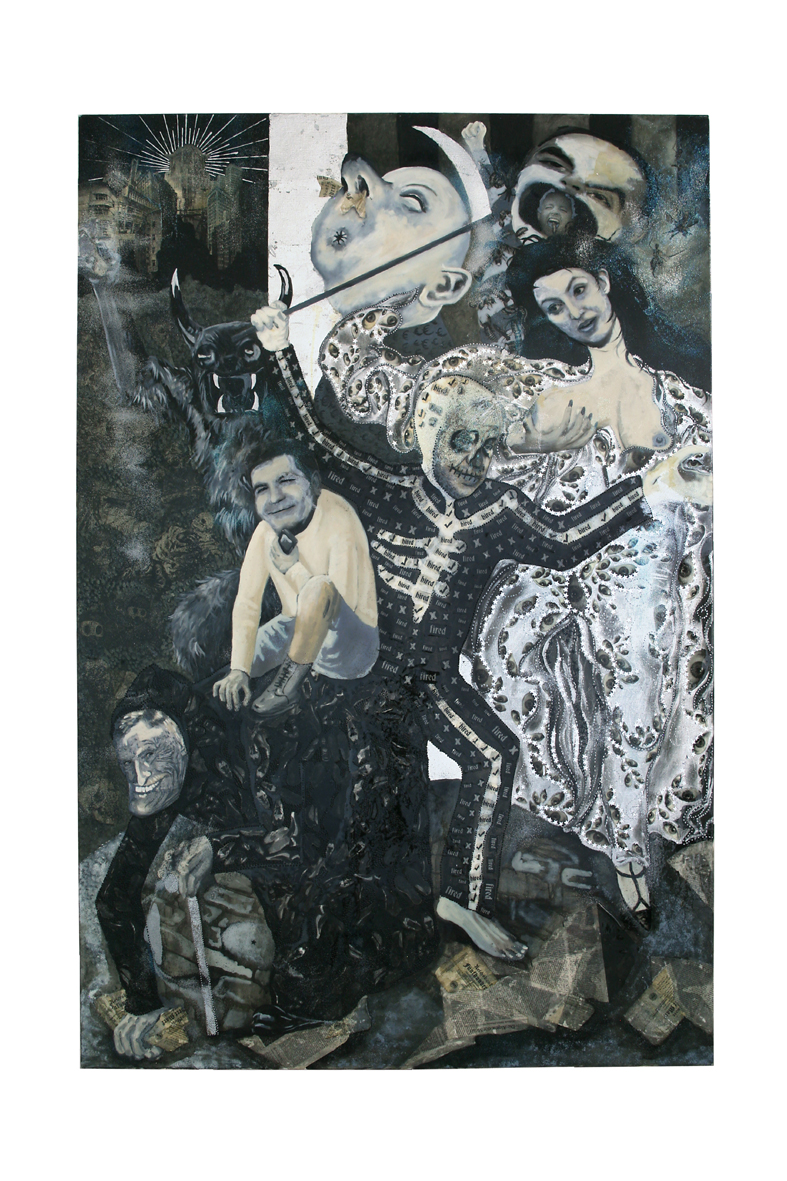 Politicians are not spared either, with David Cameron making
multiple appearances in various guises, including as a Nazi, and Boris Johnson,
recalling the instance of his being suspended on a zip wire in Victoria Park during
the Jubilee celebrations, hanging like a pig from the ceiling, a sash branding
him both "Antichrist" and "Anarchist".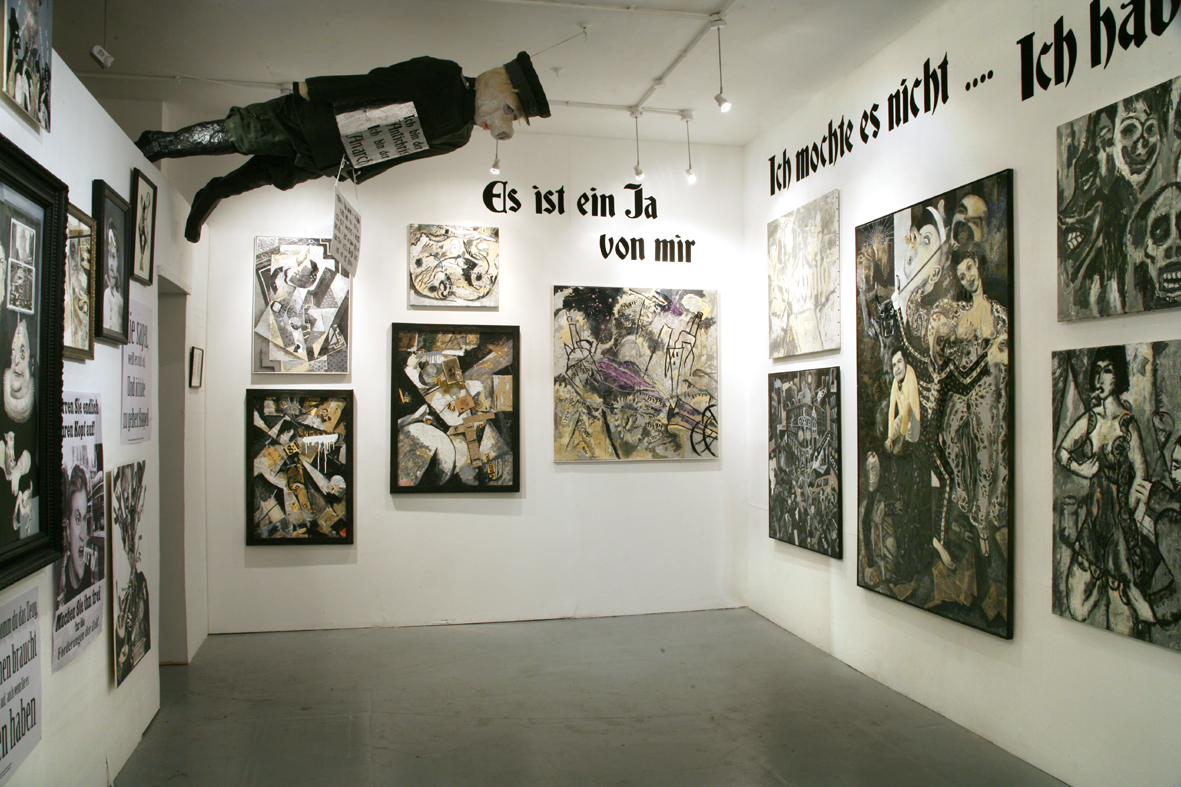 Broughton & Birnie, who have been working together for
over 10 years now, try to make their art out of whatever they can find. "It's
all about trying things out, experimenting, and having fun," they say. "That's
what keeps things fresh." And this enthusiasm can certainly be felt. This is an
exhibition not to be missed.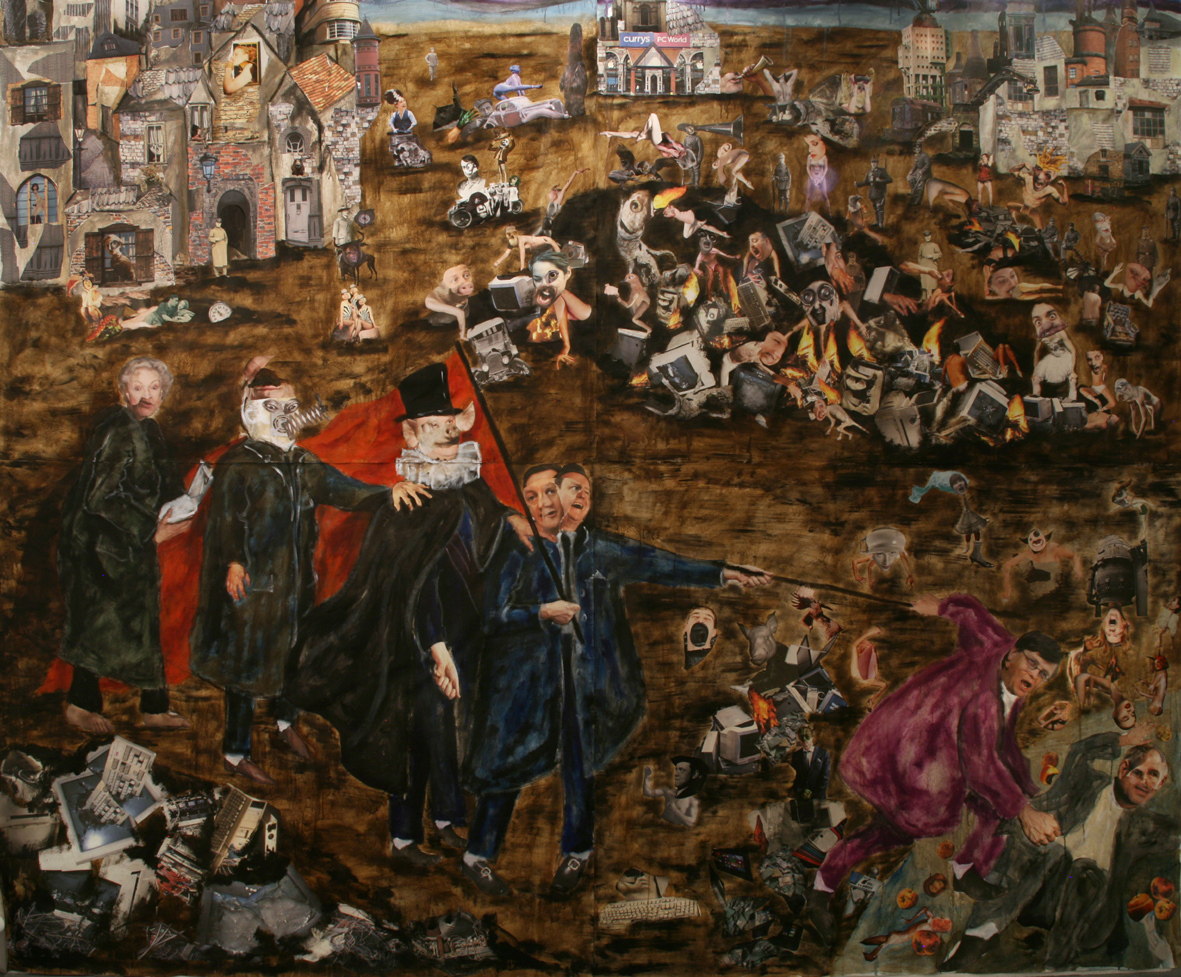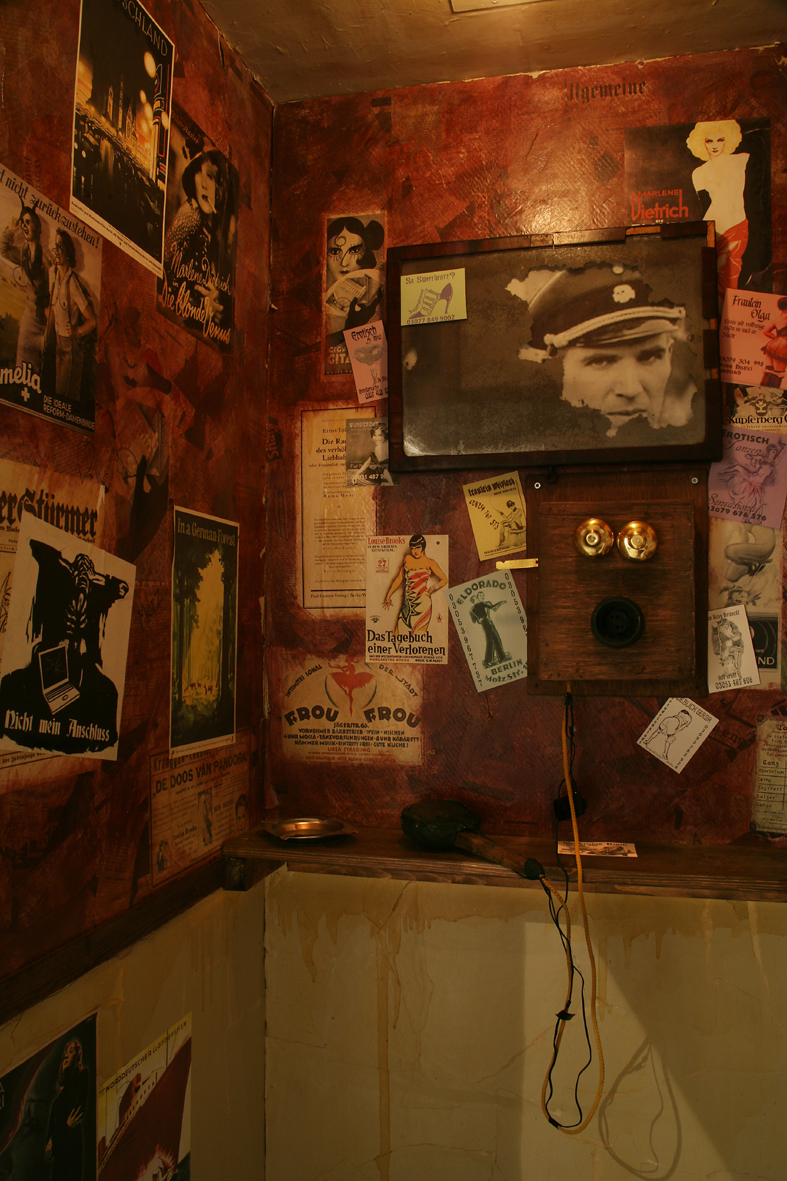 * There will be three free live cabaret nights, on Saturdays
1st, 15th, and 29th June, 6-9pm, and a closing
night of performances, for £5 entry fee (unless suitably attired), on Saturday 13th
July, 5-10pm.
http://www.wilsonwilliamsgallery.com/berlin.htm
Images:
Installation shots © the artists