16/06/13
Steele vs. Freeakpong:
Works by Joseph Steele and Nicola Frimpong AKA Freeakpong
Arbeit Gallery
4 – 23 June 2013
In 2012, Joseph Steele appeared on the BBC's X-Factor for
artists, Show me the Monet, departing
somewhat ingloriously. Nicola Frimpong AKA Freeakpong saw him and his work, and
emailed him, believing that they might have enough in common to work together.
Two years later, and after several intense months of bouncing ideas back and
forth and meeting up for heated discussions, similar to the one I was invited to
witness today, and their collaborative exhibition, albeit made up of individual
works, is on show at Arbeit Gallery, curated by Nimrod Vardi.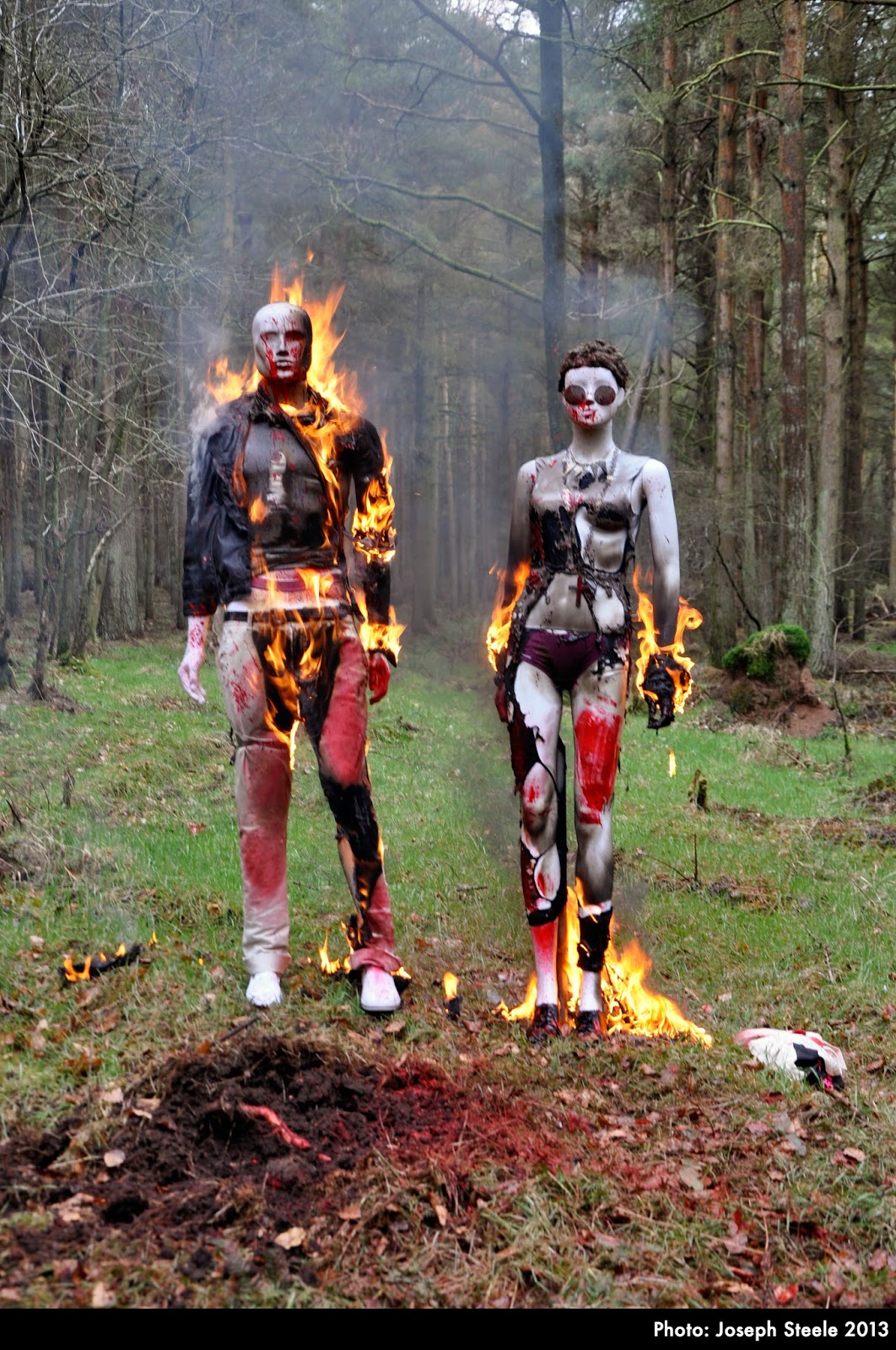 Walking into the gallery, the first thing you're hit by –
and it's a pretty hard hit at that – is Steele's bombastic centrepiece. Two
plastic mannequins, James and Deborah, who have been victims of a "bomb blast",
and whose remains are displayed miscellaneously on a couple of plinths. Deborah,
the "lucky one", is still standing, but stripped of her clothes, with one hand
detached and lying bloodied by her feet, the other blown far away (later to be
discovered in the back room with the free drinks). James has fared worse and
his scorched and bloodied remains lie strewn across his platform, melted and
exposed, as if to the bone. The horror of these pieces is visceral and
nauseating, and my instinct, were I not about to meet the artists by prior
arrangement, would be to turn and run.

Upon arrival, Steele himself is fairly cavalier about it
all. "Originally I wanted a child as well, but the mannequin fell off the back
of the lorry and broke," he laughs, swinging his legs over the edge of James'
plinth to sit down. He began setting fire to things and using explosives
straight out of university as a response to his boredom with painting, inspired
along the way by Jeremy Deller's Baghdad car wreck. For this piece, he was
apparently aiming for a look similar to Phan Thi Kim Phuc's shocking Napalm
image, incorporating into it a comment on the continued use of sweatshops and the
current trend towards artists becoming celebrities or brand names. Steele
doesn't move the detritus, once he has exploded it, since the element of chance
in how it lands is part of the artwork, but, fortuitously, James' Vivienne
Westwood label survived the blast and is stuck fast to his scorched skin, as if
it were, in fact, branded on.
As part of the show, each artist has made a work dedicated
to the other. Steele's for Freeakpong is entitled Zed with the head of the Freeakpong and depicts a disaster movie
apocalypse, with the female heroine, Zed, standing atop the rubble of a bombed
out London, the Shard and other recognisable landmarks looming in the
background, and a red sky being swept through by tidal waves made up of cars, a
homage to Hokusai. Zed, Steele explains, is the lead character from a film he has
been working on for a while now, called Thus,
taken from Thus Spoke Zarathustra.
Set against the Occupy Movement, it quickly turns into a revenge movie, with
destruction to rival Sodom and Gomorrah. By now, this comes as little surprise
to me. Steele, however, maintains that despite all of the violence and harm, "this
[his work] is salvation in contrast to Nicola's suffering."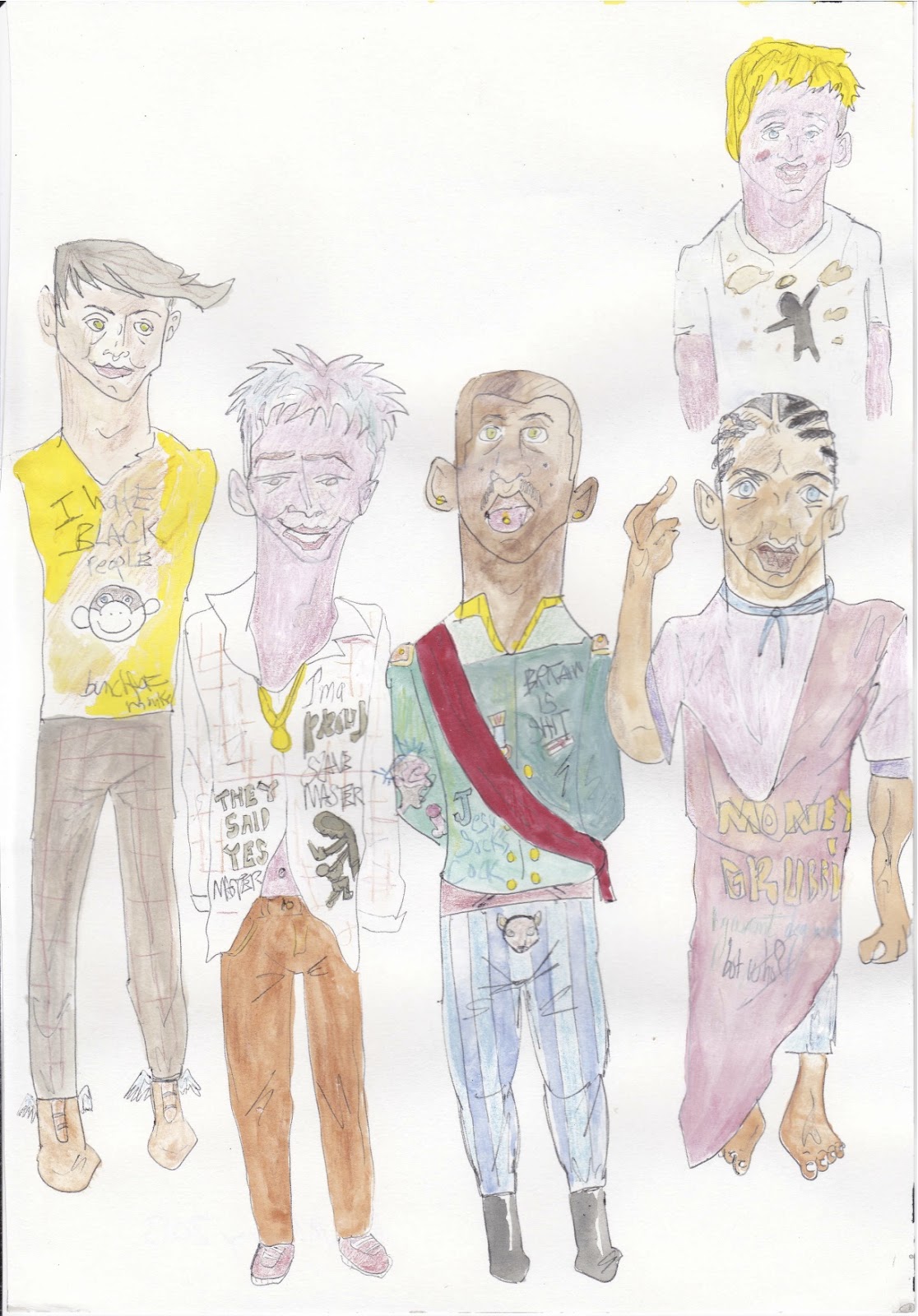 So, what exactly does Freeakpong produce that is more
destructive than Steele's Armageddon? Unlike him, for whom scale and impact
factor seem to rule, Freeakpong's comfort zone is A4-sized paper, on which she
outlines in biro and colours in with watercolour paint, producing childlike –
or might one say childish? –
drawings, full of disturbing and crude detail, offering taboo-breaking,
completely un-PC visions of the bad in society, exaggerated beyond all decency.
She churns these works out hard and fast, spending between two and four hours
per piece, and proudly stating: "Art is just pouring out of my head right now."
On first meeting, Freeakpong is taciturn, admitting to
feeling herself to be "quite repressed" as a person, with her drawings offering
her "a way to let things out." However, as soon as Steele turns up,
"fashionably late," she comes to life, and, upon the mention of the film Caligula, a recommendation from their
previous get together, almost hyperactive, as she bounces about enthralled at
the recollections of its "epic orgies" and "gratuitous violence." With
inspirations such as this, as well as figures including Salvador Dalí and the
Marquis de Sade, it is easy to see where some of her pervertedness comes from.
Her pages are populated by characters wearing t-shirts covered with slogans
such as "I hate black people," "Britain is shit," and "Jesus sucks cock." Gay
body builders, Ku Klux Klan hooded protesters, and butchers severing human body
parts: nothing and no one is left untouched by this orgy of violence and
hatred, not even the artist herself, since in one work, protestors demonstrate
waving placards scrawled with the chant: "We hate Nicola Frimpong. Kill Nicola!"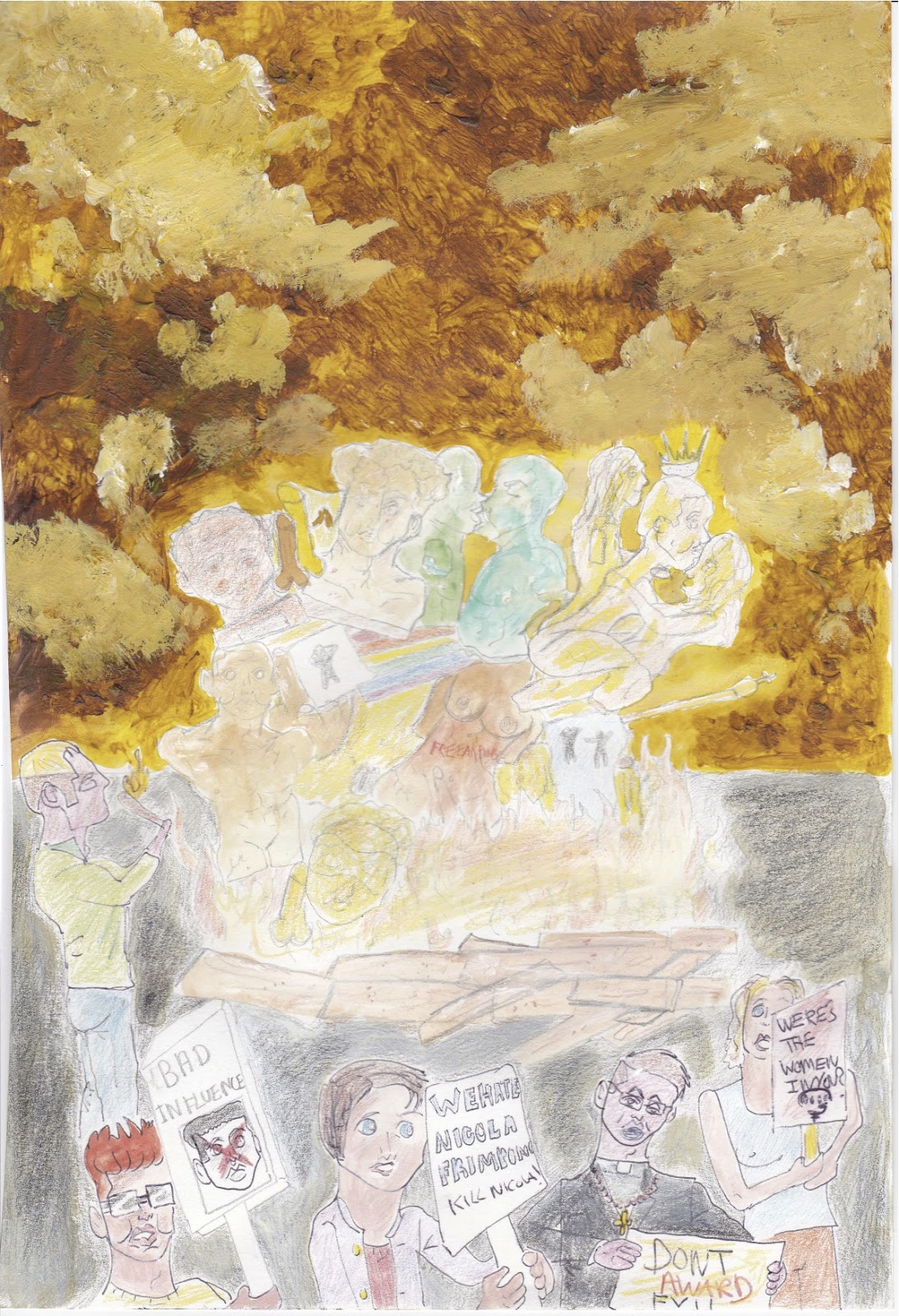 Her piece dedicated to Steele depicts a massacre on Downing
Street, renamed here as Steele Street, with liberal amounts of blood, shot
policemen, and David Cameron holding a sign announcing "I'm a gay prime
minister." One moment Freeakpong says that she aspires to be "inventive and
refreshing," and the next, perhaps more fittingly: "Really I just like to push
and push and push myself and do the most disgusting things I can as a
challenge."
The world she creates is, she announces excitedly, "a world
that I would like to be in if I could." Even Steele seems more than a little
bemused by this. "But why would you want to create these worlds and bring more
pain and atrocity into the world? Do you not think a happy society would be as
much about the repression of emotions as about the expression of emotions?" To
this, Freeakpong guffaws, retorting sarcastically: "A happy society?!" Clearly, in her mind, this is an oxymoron.
"I think I'm quite old-fashioned in the way I work," Steele
concludes. "It's always very serious, whereas Nicola's is much more throwaway. Nicola
creates a world of terror, pain, and suffering, whereas I want to reflect." Indeed,
both artists clearly know their cultural references. But whilst both are
disillusioned with society, both, through their art, are unwittingly adding to
all that is bad about it. Although, I'm tempted to believe that in Steele's case
this might be less unwittingly so, since his works do truly seem to be
deliberately ironic, at least trying to make some comment on it all. "As an
artist, you've got an obligation to make something with real integrity," he
says. And if only through sheer bombast alone, his works are at least impressive.
The information sheet to accompany this exhibition warns
that "negativity is inescapable and flows through every part of us into the
deepest, darkest corners of ourselves, polluting our souls." It certainly feels
like that upon leaving the gallery. Steele's joke that "the best thing about
this show is the plinth" sadly quite accurately sums it all up.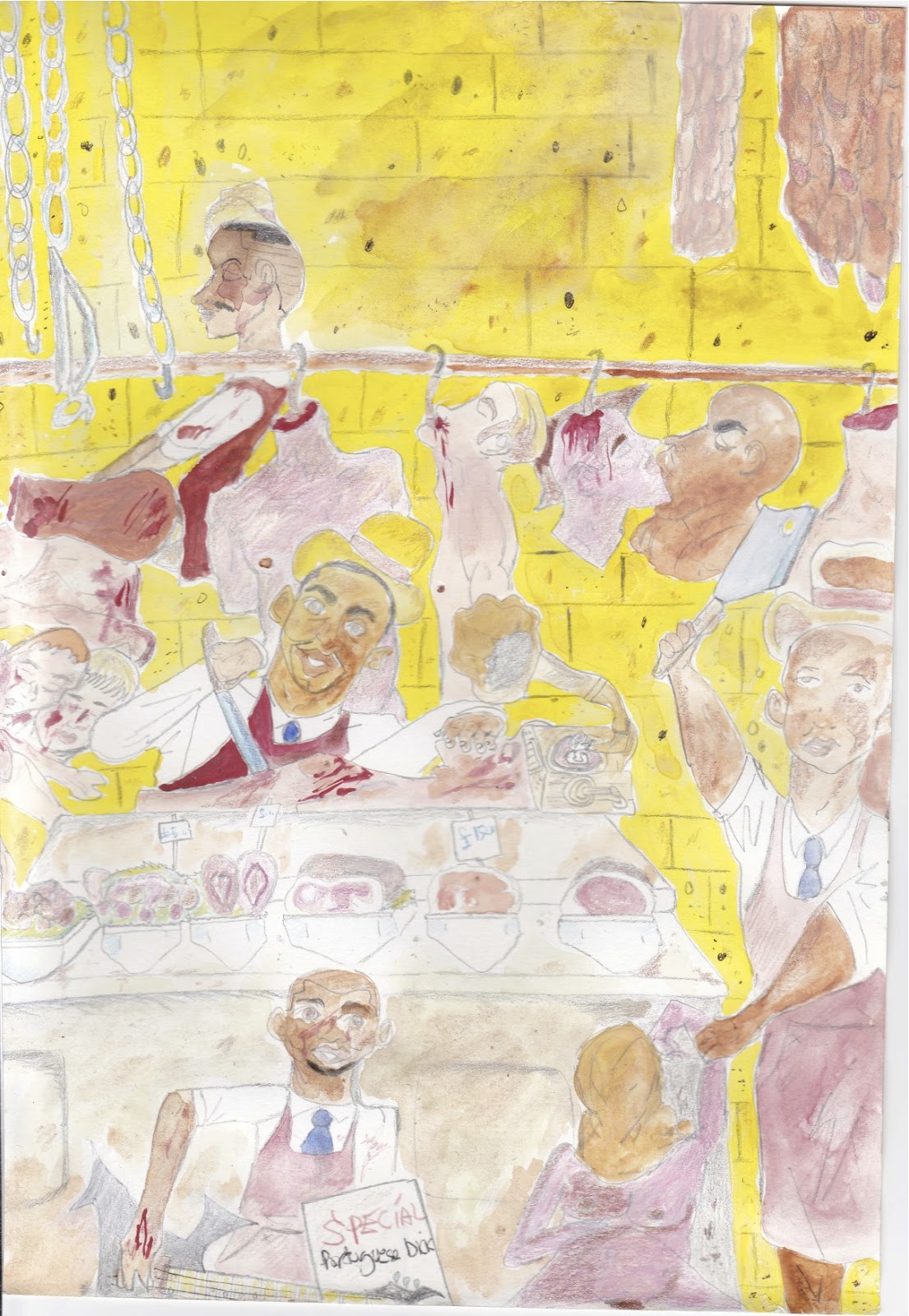 Images:
Joseph Steele
MANNEQUINBLAST documentary photograph
2013
digital print
Nicola Frimpong AKA Freeakpong
Untitled
2013
watercolour on paper
Nicola Frimpong AKA Freeakpong
Untitled
2013
watercolour on paper
Nicola Frimpong AKA Freeakpong
Untitled
2013
watercolour on paper
Also published at: http://www.a-n.co.uk/interface/reviews/single/3487913