16/04/13
Henny Acloque: Life
After Magic
Ceri Hand Gallery
12 April – 11 May
2013
Henny Acloque (born 1979) has just returned from a trip to
Mexico. Whilst there, she visited the Island of the Dolls, a creepy destination
hidden deep amongst the canals of
Xochimico, attainable only via a two-hour punt. All around, decomposing,
mud-covered, limbless, ghoulish dolls hang from the branches of the trees, just
as they were installed by the island's one and only inhabitant, Don Julián
Santana Barrera (died 2001). Despite having a wife and children, Santana
Barrera chose the life of a hermit, living alone on the island. After the
tragic death of a young girl in the canals, some half century ago, he began to fish
the dolls from the water and string them up in an act of exorcism, seeking to
drive away an evil spirit and allow the girl to rest in peace. The place is
haunting and sinister, and clearly left a lasting mark on Acloque.
Acloque's
work has long been concerned with the desire to capture the past, present, and
future simultaneously. Her interest in portals has lent it a haunted (and
haunting) quality. And this new body of work, forming her third solo show with
Ceri Hand, with whom she has been working for five years, explores this
dimension still further.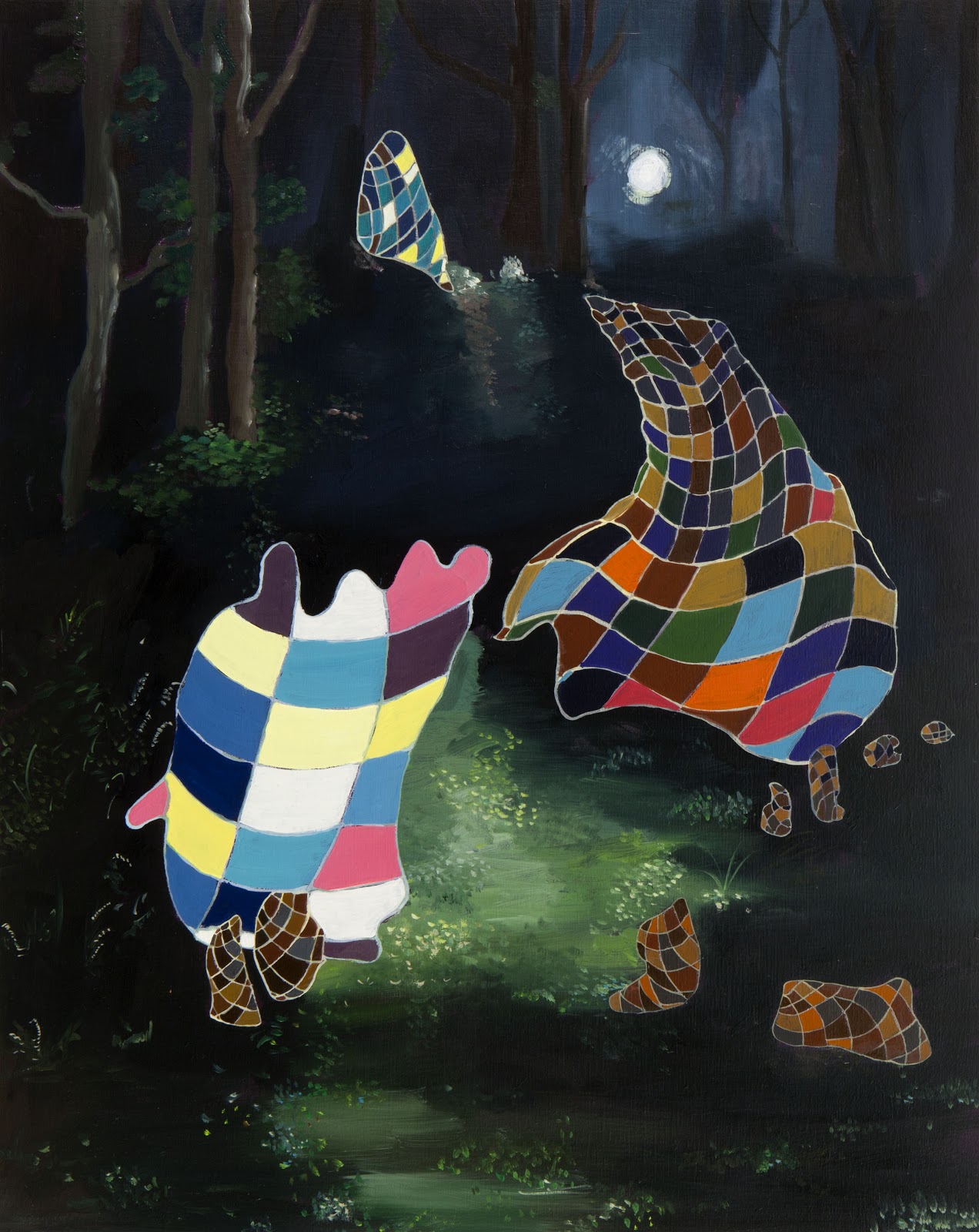 A restorer of
Old Master paintings by day, and having been brought up in the countryside, it
is unsurprising to find the basic substance of Acloque's paintings to be fairly
typical landscape scenes. In fact, the paintings in this exhibition are based
more or less directly on the images from a Victorian book of fairy paintings
she inherited from her father. Using, for the first time, oil on panel, Acloque
then removes the ethereal subjects, replacing them with harlequinesque amorphous
shapes, both implying and obscuring the presence of a subject: faceless and
timeless, these new bodies exist in whichever realm one pleases.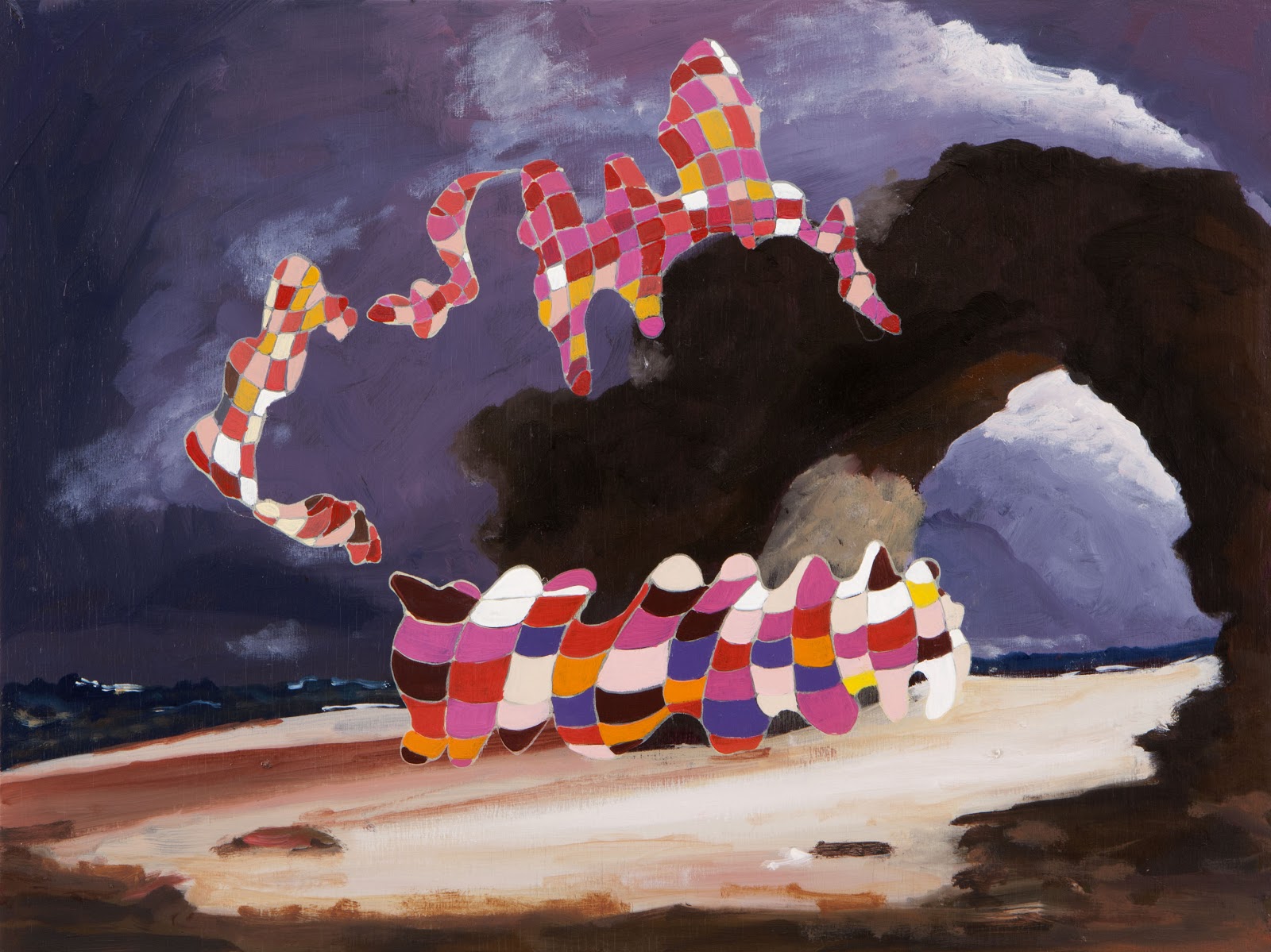 The titles of the works are intriguing also, apparently
bearing no relation to their content. In fact, Acloque explains, they are the
titles of whatever piece of music she was listening to whilst she worked – and
that, she laughs, could be anything from an eclectic playlist ranging from
classical to Fatboy Slim, the rhythms in each case affecting the way in which
the paint hits the board.
Alongside the paint works, the exhibition also showcases a
number of drawings and mixed media pieces forming a series called Quimbaya,
named after the Colombian civilisation, famed for its work with gold. Built up
on top of etched landscape prints, Acloque has turned the skies into harlequin
patterned backdrops for a population of fluorescent and glittery horsemen and
trees. Again, the subjects are rendered eerily indistinct, and there is a
fairytale quality to these magical scenes.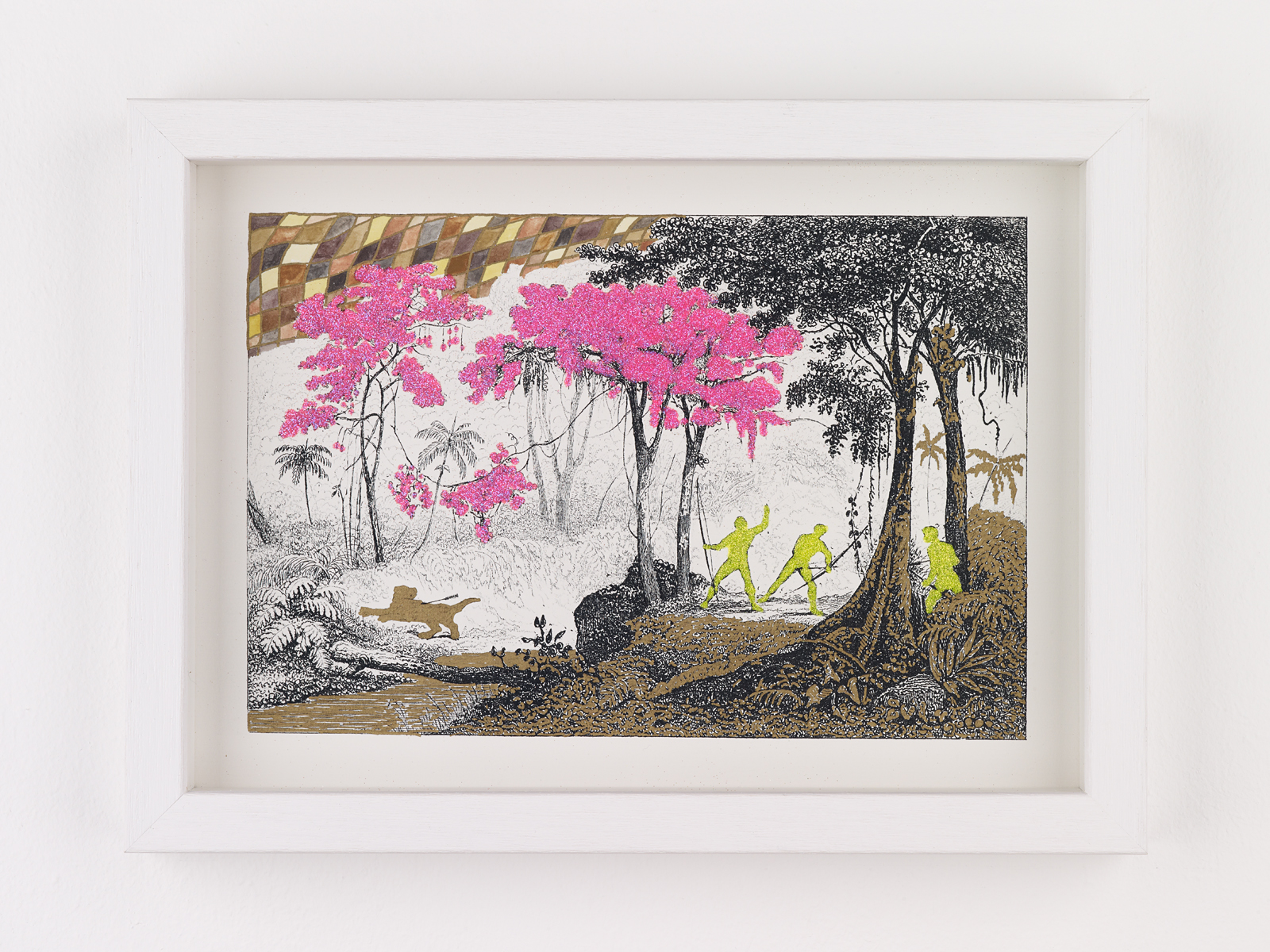 Acloque's pieces are clearly working through extant ideas as
well as the latest input from her travels. Whether or not these themes have now
been fully exorcised, or whether they shall endure and continue to haunt her
forthcoming output, remains to be seen.
Images:
Bendable Poseable
2013
Oil on board
15.7 x 19.6 in. / 40 x 50 cm
Photograph: Niall McDiarmid
Courtesy of the artist and Ceri Hand Gallery
Tarantella
2013
Oil on board
11.8 x 15.7 in. / 30 x 40 cm
Photograph: Niall McDiarmid
Courtesy of the artist and Ceri Hand Gallery
Quimbaya 2
2013
Mixed media on paper
12.5 x 9.4 in. / 32 x 24 cm
Photograph: Anna Arca
Courtesy of the artist and Ceri Hand Gallery