26/03/13
This 'Me' of Mine
curated by Jane Boyer
APT Gallery, Deptford
14 – 31 March 2013
Strange Cargo |
Georges House Gallery, Folkestone
12 April – 7 May 2013
Sevenoaks
Kaleidoscope Gallery, Sevenoaks
10 May – 29 June 2013
Art School Gallery,
Ipswich Museum, Ipswich
Dates t.b.a.
The premise for
this group exhibition, bringing together 15 artists, touring four venues, and curated
by Jane Boyer, was to look at the notion of "the self in relation to context," working
on the assumption that none of us can exist external to some context or other,
be it our social network, our location, our memories and past experiences, our
current circumstances, or our perceptions. The works on display span various
media, including a couple of digital video and sound pieces (Cathy Lomax's Glass Menagerie, Pt 1 & Pt 2, 2011,
and David Riley's Bar EP Blues
(kinetatic), 2011) and a printed scroll of coded and transcribed Twitter
handles (David Riley, Twitter User Names:
coded and transcribed, 2013), alongside some more nostalgic collections of
objects which you might associate with your past as a child, playing with
pinwheels on the beach (Hayley Harrison, Her,
2011), or visiting your grandmother and looking at her thimbles, glass animals,
and coronation memorabilia (Kate Murdoch, It's
The Little Things, 2011).
There is a lot
of grey in this exhibition, and no, that's not just me bringing in the
unseasonal chill from a sleeting Deptford creekside. In David Minton's Peripheral Vision (2010), for example, which
places a falling bird and its shadow on an otherwise empty canvas, the shadow
of the non-contextual space hangs heavier than that of the unidentified bird.
Similarly, the school class of Darren Nixon's Untitled 30-5-11 (2011) scarcely manages to emerge from the lurking
and almost sinisterly enclosing grey-black behind. The sense of transient youth
and the hopeless promise of becoming, the acquisition of identity, and the incidental
creation of memory, is something we can all relate to if we recall this annual
"rite of passage" of posing awkwardly and being captured for posterity, usually
in a most unflattering gurn.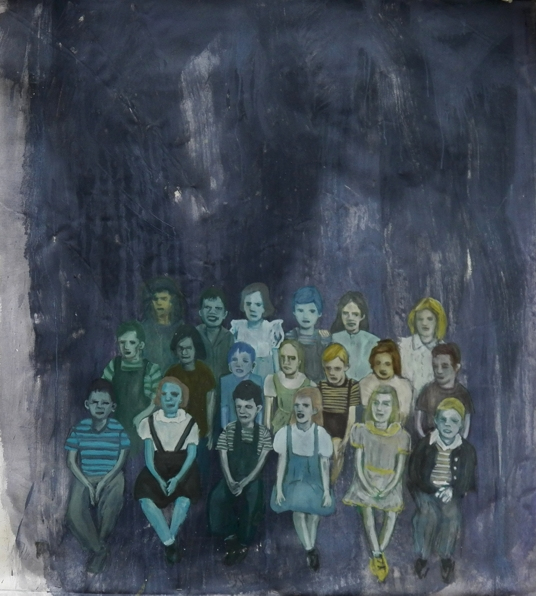 Shadow plays a
role in Shireen Qureshi's Untitled Nude
(2011) too, where the yellow torso fights to escape its oppressive black
ground, perhaps struggling to form an impossible new self, free of context and
binds?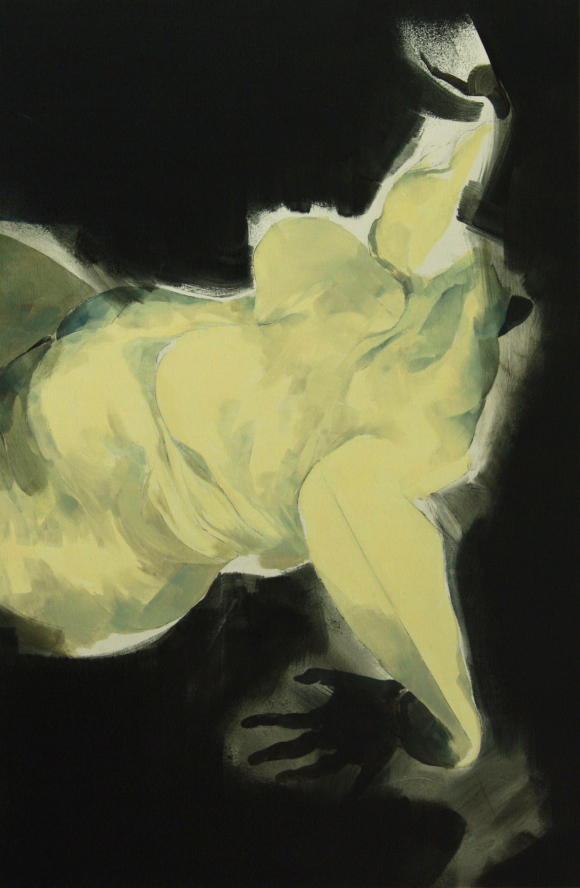 Aly Helyer's two
pieces, Strange Fruit and Happy Family with Sheep (both 2007), look,
to me, almost more like Rorschach tests, questioning the viewer's perception
and probing her psychological identity, whilst Sarah Hervey's sketchy Purple Nude (2011) attempts to capture
and pin this down, uncomfortably framing it in much the same way as Francis
Bacon does his Screaming Popes.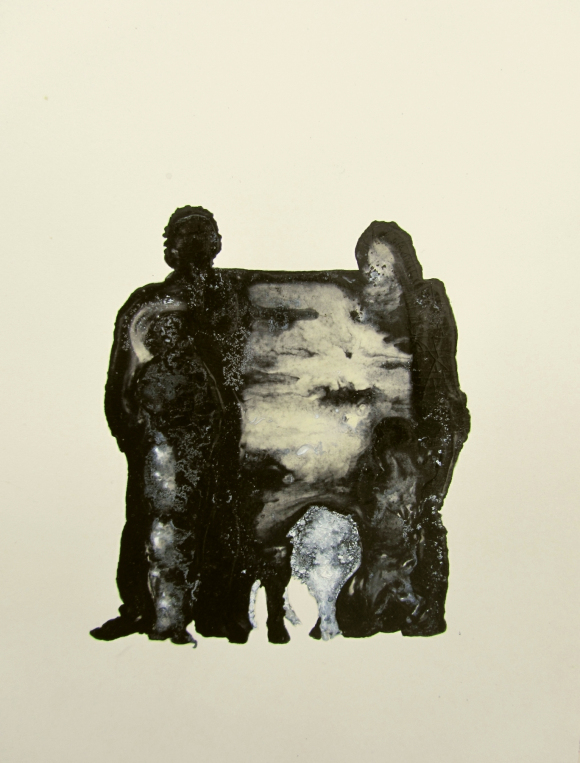 For me, the most
thought-provoking work by far is Anthony Boswell's Time Box (2010), a small open box, with a mirror as its floor, and
a clock in its ceiling/lid, ticking audibly, and reflecting deep down into the
plinth below. The grisaille scene on the back wall provides a strangely
disconcerting stage set, and the inverted grey chair reflects its upright
counterpart, causing us to question which version is more accurate a
representation of reality – the physical construction or its shadow; the
present actuality or its mirrored memory; the way we see ourselves, or the
reflection beheld by others?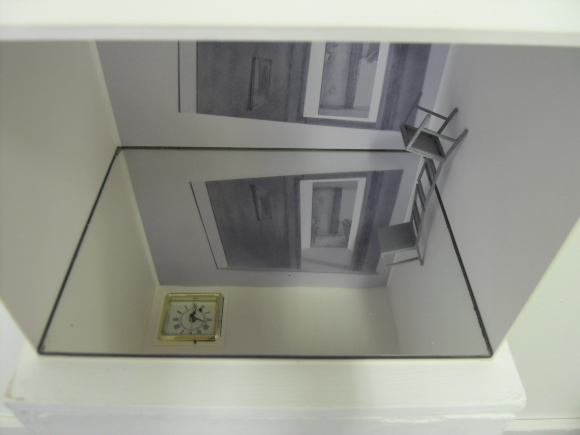 Not all of the
works in this exhibition are brilliant, and some rely more on concept than
execution to pull them through, but, as a whole, the show hangs together well and
indeed raises questions about the self, identity, and ways of seeing and of
being seen. The bright spotlights, at least in venue number one, seem to place
the visitor herself on the stage, and, as Boyer accurately asserts, this
exhibition is very much a snapshot of humanity with ourselves in centre-frame.
For further information, essays, interviews with the
artists, and links, please visit the exhibition's blog at: http://thismeofmine.wordpress.com/
Images:
Kate Murdoch
It's The Little Things
2011
assemblage
50 x 60 cm
Darren Nixon
Untitled 30-5-11
2011
oil on canvas
160 x 105 cm
Shireen Qureshi
Untitled Nude
2011
oil and charcoal on canvas
76 x 50.5 cm
Aly Helyer
Happy Family with Sheep
2007
watercolour and ink on paper
31 x 23 cm
Anthony Boswell
Time Box
2010
mixed media construction
20.3 x 27.9 x 20.3 cm