19/12/12
Judy Chicago: Deflowered
Riflemaker Gallery
12 November – 31 December 2012
and
Judy Chicago
Ben Uri, The London Jewish Museum of Art
13 November 2012 – 10 March 2013
"Feminist art
is all the stages of a woman giving birth to herself. […] It is art that
reaches out and affirms women and validates our experience and makes us feel
good about ourselves." (Judy Chicago, What
is Feminist Art?, 1977)
Judy Chicago (born 1939) is a pioneer of feminist art, who came
to prominence in the late 1960s, and is probably best known for her controversial
installation, The Dinner Party (1979).
Made to celebrate great women throughout history, this was a ground-breaking
work, both as an icon of the feminist art movement, and, more broadly, of
twentieth century American art history. Chicago herself describes the piece as:
"a monumental work of art, triangular in configuration, that employs numerous
media, including ceramics, china-painting, and an array of needle and fibre
techniques." Each of its 39 place settings – plates decorated with variations
on butterfly- and floral-styled vulva – commemorates a goddess, historical
figure, or important woman, and the whole thing stands upon an immense
porcelain floor – the Heritage Floor –
comprising 2304 hand-cast tiles on which the names of 999 other important women
are inscribed.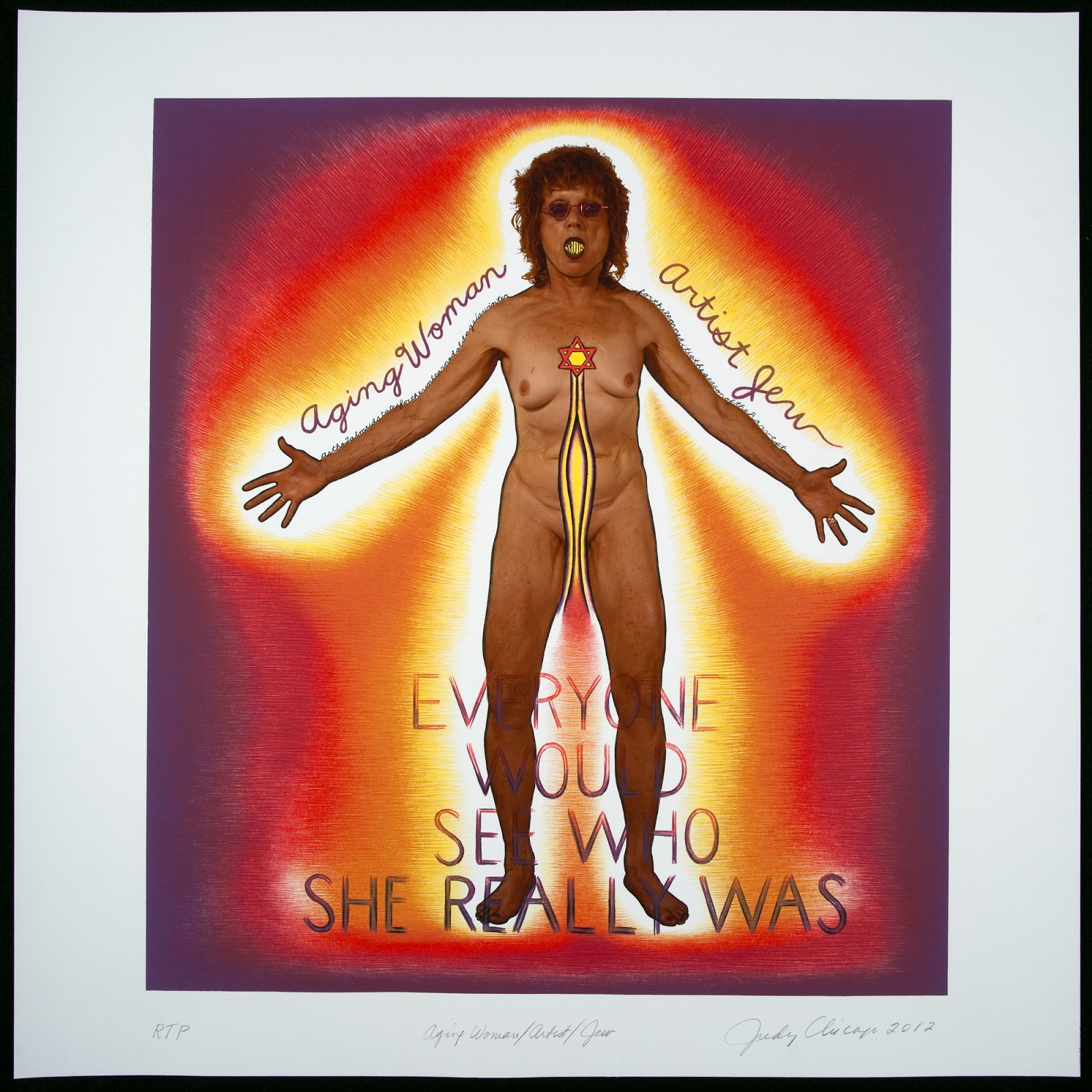 These two parallel exhibitions, hosted by Riflemaker and Ben
Uri, The London Jewish Museum of Art (Chicago was born Judy Cohen, into a
left-wing, politically-active Jewish family in Chicago in 1939, and legally
changed her name in 1970 to escape the perceived male patriarchy), are the first
showing of Chicago's work in London since her installation of The Dinner Party toured to an empty
warehouse in Islington in 1985, and she is pleased to have the opportunity to
introduce her UK audience to aspects of her work beyond this iconic piece,
since, unsurprisingly, in a career spanning five decades, there is much more to
Chicago's oeuvre than widely known. Touching upon her most commonly recurring
themes, which embrace autobiography, art as diary, erotica, feminism, the nude,
self-portraiture, performance, issues of masculine power, birth and motherhood
– and the cat – Riflemaker is primarily showing early paintings, sketches and
sculpture (albeit alongside a rarely seen test plate and runner drawing for The Dinner Party), and Ben Uri is
focusing on the more private and intimate side of her work, with over 170 pieces
on display, contextualised alongside three women artists from this side of the
Atlantic: Louise Bourgeois (1911-2010), Helen Chadwick (1953-1996) and Tracey
Emin (born 1963).
To read the rest of this review, please go to: http://www.divamag.co.uk/category/arts-entertainment/review-artist-judy-chigago's-deflowered-and-ben-uri.aspx