11/07/12
Tracey Emin: She Lay Down Deep Beneath the Sea
Turner Contemporary
26 May – 23 September 2012
If one were to judge an exhibition purely by its popularity, the fact that Tracey Emin's home-coming show at Turner Contemporary, in the seaside resort of Margate, where she infamously grew up, caused a traffic jam into town on the day of its opening, speaks for itself. The show was originally going to be a collection of her Margate works but now contains a varied collection on the themes of love, sex and eroticism, a restaging of The Vanishing Lake (a small exhibition she held last autumn in Fitzroy Square, London), and a room full of new works, bringing the display right up to date, since, as she says, "I wanted to do something new for Margate, to say thank you, really."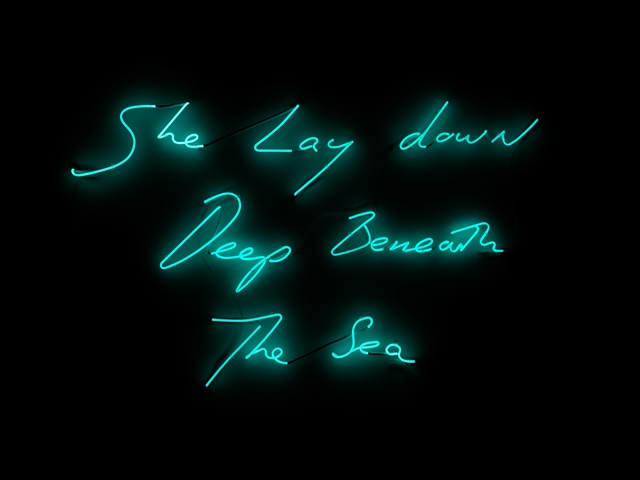 Instructed by gallery assistants, as well as, if you choose to pay the nominal charge for an otherwise free exhibition, by an informative and well-worth-the-money audio- and video-guide featuring, amongst others, Emin herself, the visitor is led around the show in a largely chronological fashion. The large West Gallery is replete with recognisable and repetitively similar female nudes, including the Sex 25-11-07 Sydney series (2007), here comprising 16 sheets of watercolour on paper, as well as a number of likewise monochromatically blue gouache works, dating from a 2011 trip Emin made to Italy. Rather than the colour being deliberately representative of anything, it was simply a case, as the artist explains, of that being the only tube of paint to hand, along with her sketch book, when, one night, in her hotel room above a grotto, she was too excited to sleep. Critics, Emin warns, might complain that her works, with their splayed legs and featureless faces, are "quite base or simplistic", and indeed they are – deliberately so! "It's like cavemen drawings. […] I want to strip back to something that really means something to me," she explains. "It's an attempt to avoid over-intellectualising."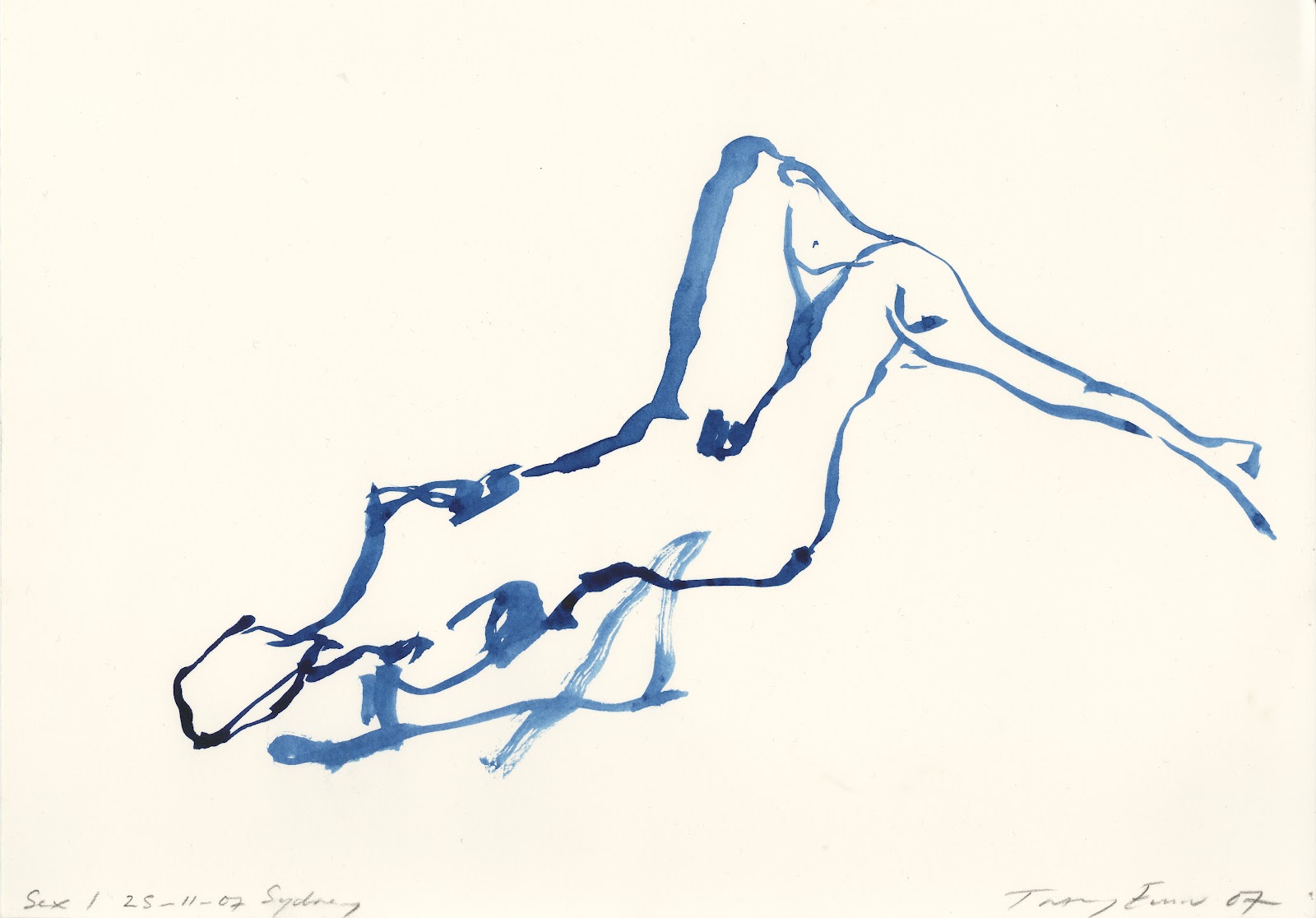 Usually, however, the titles come first. Emin is constantly writing, since this is something which makes her feel safe, as well as being a catalyst for her art. In fact, to her, the words are the art: "It's not text-based work, it's poetry." Equally, she is keen to assure, it's not erotic work, it's about love. Erotica doesn't do it for her; feelings do. "Every time I'm being fucked, I feel like I'm being crucified." Instead, the images suggesting the deepest love depict Docket, her cat. The Big and the Small (2011), for example, is a basic outline of a person and a cat lying on a bed, and Thank You (2011) also depicts a cat, clawing at the sofa on which a female figure is lying.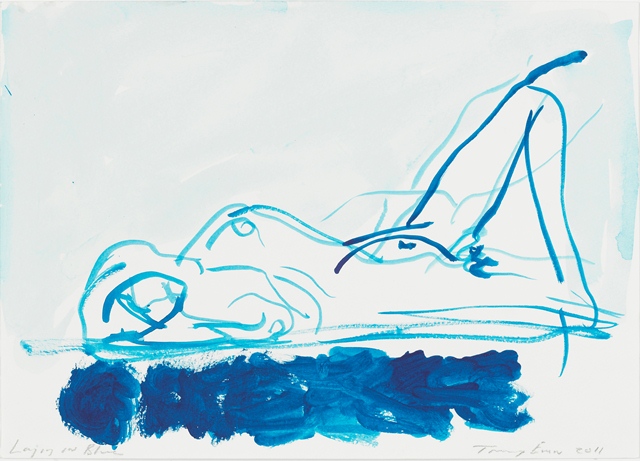 Next door, in the smaller South Gallery, Emin has recreated The Vanishing Lake. This is very much a case in point of the importance she places on creating an entire space, and not just displaying individual works. The title is a reference to her home in France, near to which there is a lake, filled from November to March, when it rains, but barren throughout the dry summer months. The work carrying the same title as the room comprises a rusty bathtub with a crumpled Union Jack inside – a self-portrait and metaphor for how Emin sees her life now. Upon the apple green walls hang portraits based on Picasso's drawings of Marie-Thérèse, alongside numerous further references to love, rather than sex. The beautifully worded Love Letter (2011), for example, declares: "I want to make love with you. Not just in my mind. But in my heart and soul."
Continuing the tour to the narrow Irene Willett Gallery – more a corridor, really – we find a celebration of erotic sketches and female nudes, not just by Emin, but also by Auguste Rodin (1840-1917) and J.M.W. Turner (1775-1851) (it is promise of the gallery to include works by its namesake in each and every exhibition). Emin chose these works because she wanted to show a "loving, sensitive, sensual side to these men," as well as to place herself firmly within the larger tradition: "People can see where I'm coming from – not just Margate, but in terms of art history." Rodin and Turner made their sketches very much in private (Turner's are from when he used to visit Petworth House and, surrounded by louche society, would fill his sketchbook with images of dishevelled beds), which, at first, might seem quite contrary to Emin's public persona, given she has been described by journalist and broadcaster Gordon Burns as "a creature of, by and for the media." Nevertheless, her own works in this space are muted and blurred smudges of very watery watercolour, often nothing more than a simple wash, with images merely suggested. These are a far cry from her louder, much more direct and explicit works for which she is both loved and hated.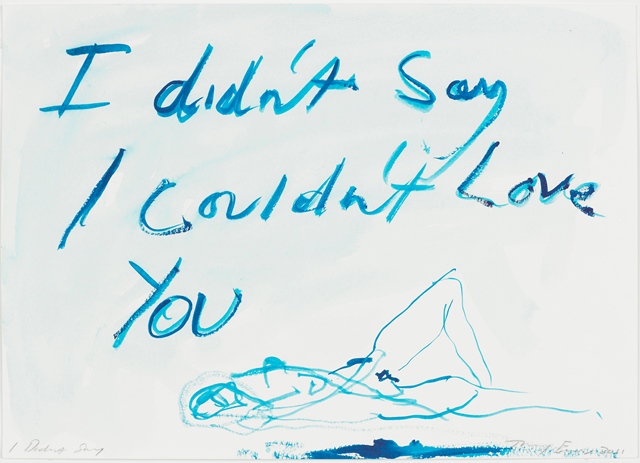 Finally, in the North Gallery, we reach the darker, increasingly mature, new works. Alongside further sculptural self-portraits, we find Dead Sea (2012), an old stained mattress, on the ground, with a bronze branch strewn heavily across it – comparisons with the notorious My Bed (1998) are unavoidable, with this being a withered and worn rendering of the previous motif. The tapestries in this room are woven a stark black, and the words on the print Red Chain Front View (2012) read "I AM AFRAID." Described as bleak and sombre, these works are actually something of a double-edged sword, representative of how Emin feels now, as a woman of nearly 50. "I'm only positive at the moment because I've given up the fight." Nevertheless, asked how she wants to be remembered, her answer is clear: "laughing!" Her work, as "open, direct, and achingly honest" (as Director of Turner Contemporary, Victoria Pomery, describes the show) as ever, has always been full of contradictions, full of love and sex, full of joy and horror. Perhaps, therefore, it is not so far removed when Stephen Fry says of Emin: "You are the living embodiment of what Keats called the 'egoistical sublime'."
Images:
Tracey Emin
She Lay down Deep Beneath The Sea
2012
Neon
© the artist
courtesy White Cube
photo Ben Westoby
Tracey Emin
Sex 1 25-11-07 Sydney
©Tracey Emin / Tracey Emin studio
Tracey Emin
Laying on Blue
2011
Gouache on paper
© the artist
courtesy of White Cube
photo Ben Westoby
Tracey Emin
I Didn't Say
2011
Gouache on paper
© the artist
courtesy of White Cube
photo Ben Westoby
Also published at: http://www.rovesandroams.com/2012/07/tracey-emin-she-lay-down-deep-beneath-the-sea-at-turner-contemporary/