25/05/12
Sarah Lederman: A Notion of Longing
ROLLO Contemporary Art
18 May – 30 June 2012
This may be Sarah Lederman's first London solo show, but she has been a name about town for quite some time now, since being tipped by Kay Saatchi, in 2008, as an "artist to watch", and then winning, over the following couple of years, various prizes, including the prestigious Catlin Art Prize (2009). In 2010, she exhibited alongside Tracey Emin in part two of the three-part travelling exhibition, The Body in Women's Art Now, and, indeed, it is with representations of the female body that her work remains concerned.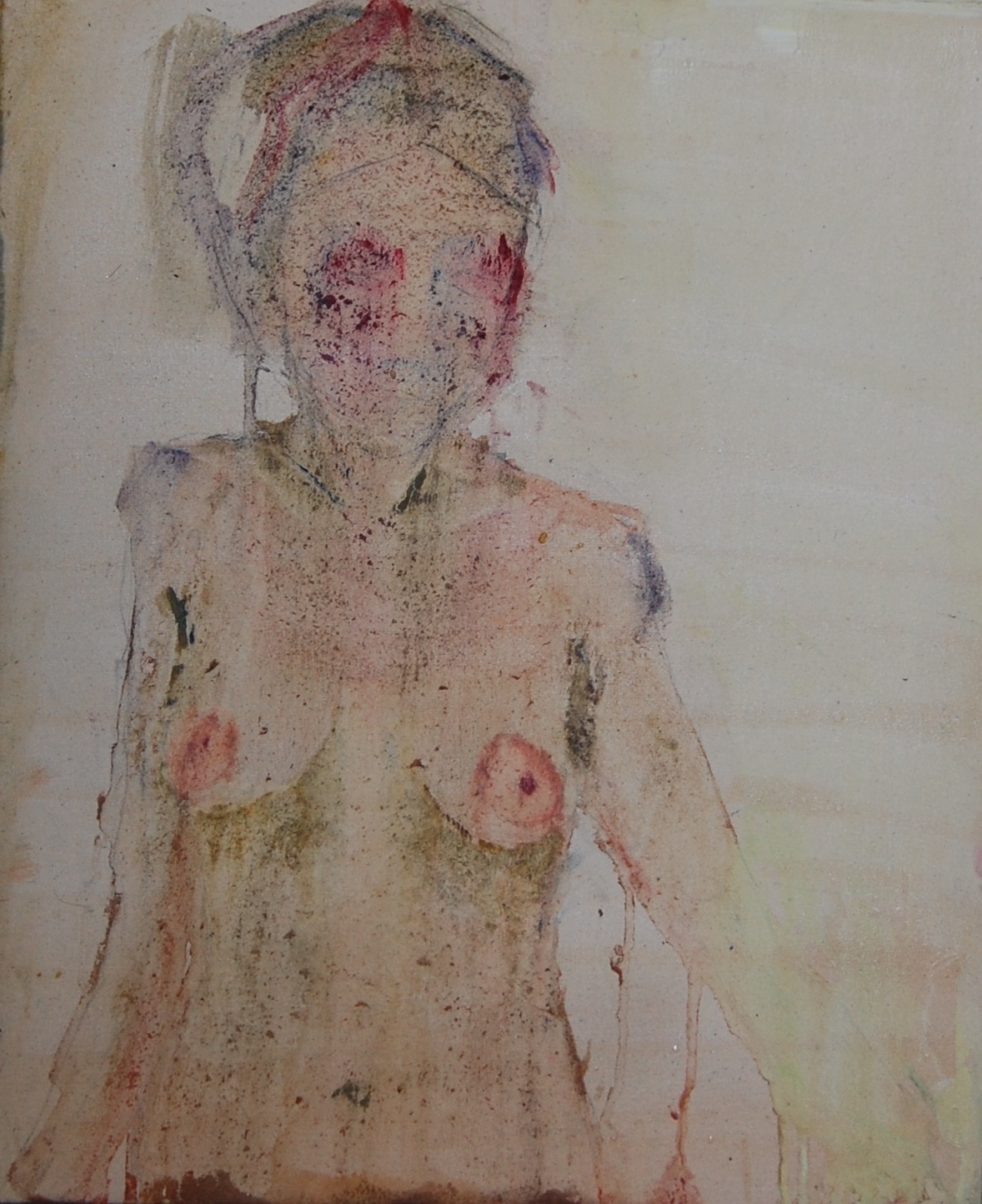 Born in London in 1986, Lederman graduated from Chelsea College of Art and Design in 2008, and is set to return to studying for a Masters at Goldsmith's from October 2012. Although no longer an adolescent herself, her sketchy pubescent figures couldn't be mistaken for anything else. With tentative pencil outlines, suggestive and uncertain, treading the fine line of trial and error, of becoming, her shadowy shapes are then filled in or overlaid with watered down oil paint, so fluid that it drips across the canvas, collecting in pools, and leaving scratchy patches of pigment, like a caterpillar shedding its chrysalis, or the formation of a new skin. Lederman has said: "I use paint to conjure the illusion of skin and containment in the body. For me, paint is a way of building up cells and filth to allude to the surface of the skin. My painting makes the disgusting and repulsive become beautiful. The containable becomes uncontainable. The body becomes fluid, unfixed." Certainly there is something about the dripping and leaking fluids which encourages an abject response, and the abject, as any reader of Kristeva will know, is all about the process of separation, of individuation, of becoming oneself, the subject, separate from the (M)Other. Put simply, it's about growing up, and Lederman's paintings capture this painful process in action, portraying shadowy figures, no longer children, but not quite adults. Angels (2012), for example, with its title suggestive of innocence and purity, depicts two girls, cropped so as to be headless and footless, provocatively clad with sheer black tights, arms semi-interlinked. One is wearing a bra, the other not, thus capturing that moment of discovering and henceforth covering the body.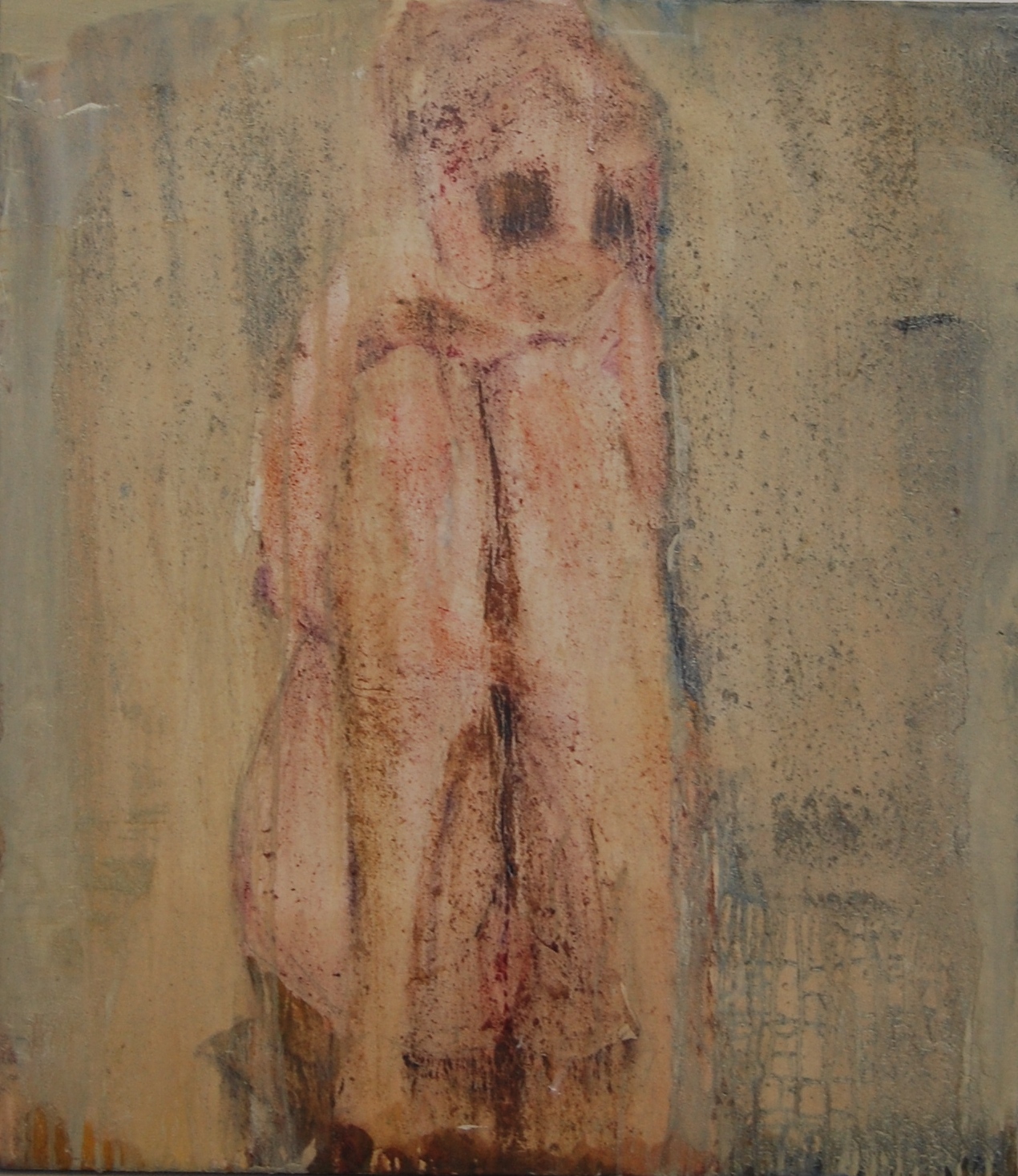 This exhibition also showcases a new body of Lederman's work, inspired by J W Waterhouse, and vibrant in its glistening blues, greens, and yellows. This water nymph series seems to offer a progression from the dark and haunting depiction of adolescence in Lederman's other works, instead hinting at the beginning of a recognition of the power of being a developed adult, sexual female, capable of seduction. These sirens, actively aware of their potency and desirability, are no longer blinded by the innocence of childhood, and all have their eyes wide open, a vivid blue to match the watery background, whereas the unformed, awkward creatures elsewhere have mere daubed blotches where their eyes ought to be.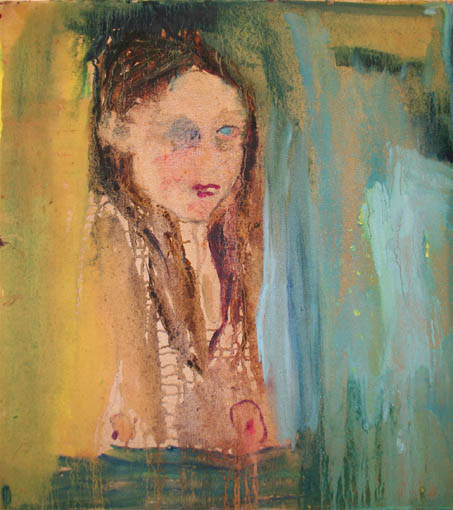 There is something very Spring Awakening about Lederman's works, and, as the artist herself confesses, she continually finds herself returning to her teenage years, "examining the desire to be something that the body won't let itself be." Having passed her first quarter centenary, however, one wonders whether she will remain so ensconced in this developmental era of her life, or whether, and if so how, she might progress, art mirroring life experience of an assured and successful young woman? Whichever way she goes, Kay Saatchi was right to mark out this artist as one to watch.
Images:
Sarah Lederman
Girl
2012
Oil on canvas
60 x 50 cm
Sarah Lederman
Crouching Girl
2012
Oil on canvas
80 x 70 cm
Sarah Lederman
Girl with Blue Eye
2010
Oil on canvas
60 x 55 cm
All images courtesy the artist and ROLLO Contemporary Art.
Also published at: http://www.rovesandroams.com/2012/05/sarah-lederman-a-notion-of-longing-at-rollo-contemporary-art/