06/03/12
Alice Channer: Out of Body
and
Edward Thomasson: Inside
South London Gallery
2 March – 13 May 2012
The South London Gallery is currently staging two separate exhibitions, both by recent young graduates: Alice Channer (born in Oxford in 1977, graduated from Goldsmiths College in 2006, and from the Royal College of Art in 2008) and Edward Thomasson (born in Staffordshire in 1985, and graduated from the Slade School of Fine Art last summer). Although their works are, on the surface, radically different from one another, there are, nonetheless, undercurrents in theme and concept which might be seen to bring the upstairs and downstairs galleries closer together, and, unsurprisingly, these fit neatly with the South London Gallery's commonly recurring emphasis on the exploration of place, space, and boundaries.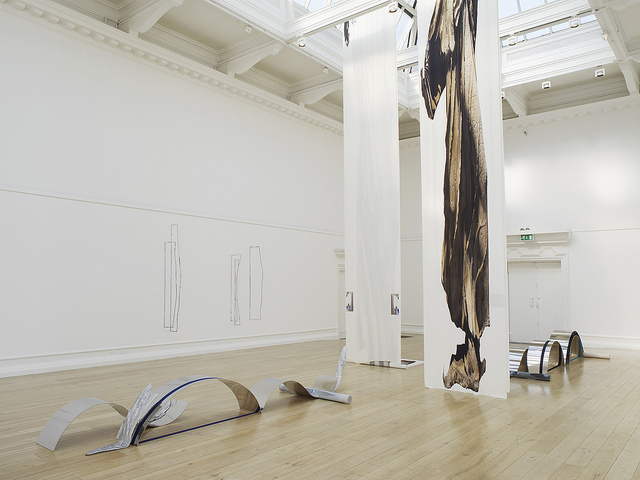 Channer's monumental crepe de chine digital prints, Cold, Large, and Warm Metal Body (respectively, all 2012), which hang the full length of the lofty main gallery, are curiously distorted, and arrest the visitor as he enters. Worked up from prints of stone-carved classical drapery, these images are now scarcely recognisable, and tower above us in a foreboding manner, weighted down by displaced marble limbs. The title of the exhibition is Out of Body, and, indeed, it is as if remnants of the external cladding of modern day mankind have been scattered throughout the gallery space. The walls are lined with rows of rectangular aluminium frames, each one hand-covered in machine-sewn Spandex sleeves, digitally printed with ink impressions of the artist's arm. Inspired by the shape of Yves Saint Laurent's drawings for his famous Le Smoking suits, to me, they sooner recall playground hula hoops, distorted and compressed, but beckoning the visitor towards them, almost teasing him to clamber through. Back again with the arm motif, between these frames, on the right hand side, are two silvered cuffs, protruding from, or disappearing into, the wall, depending on how you interpret it. The theme of clothing is further continued in the large scale floor sculptures, Amphibians and Reptiles (again, both 2012), which wind between the hanging drapes, digitally cut and industrially rolled, shiny mirrored arcs, with aluminium casts of stretch-fit Topshop clothing standing to attention, curving in harmony, as if starched and pressed into a life – or death – of their own.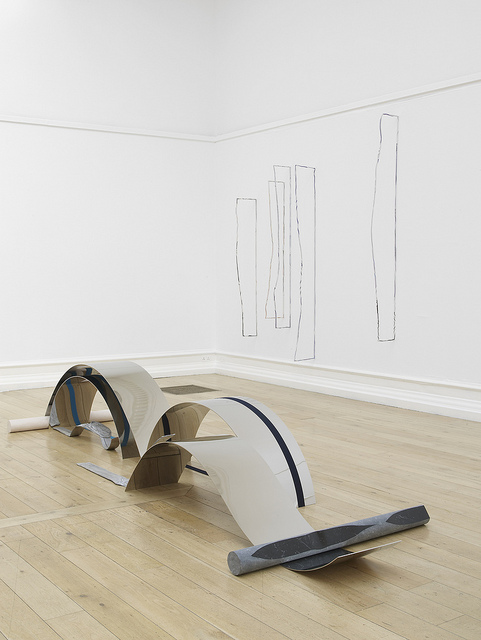 "The work is me," Channer says, "breathing, feeling and thinking with, through and as part of the processes and materials that make up the industrial and post-industrial late-capitalist world that I live in and that constitute my work." The raising of every day objects to the level of works of art, replacing the beautiful, in a world controlled by consumerism. The question would be, are we actually out of our bodies, or far more so trapped within them, and within the fashionable appearances controlled and contrived by the world around us – a world which swallows us in and solidifies, forcing us to remain conformist? The works here capture this external framing of the body and show it, magnified, distorted, and reflected back.
Upstairs, however, Thomasson's video work, Inside (2012), looks in the opposite direction, trying to discover what is going on within the human mind and body, so, instead of the inner eye looking out, we now have an outer eye looking in. Growing out of a series of workshops, in which the artist collaborated with actors, musicians and singers, the 14 minute long video has three narrative strands, each relating to the breaking of boundaries between interior and exterior, or public and private spaces. One is simply footage of an acupuncturist piercing the skin of a client, whilst the other two relate to the improvised performances which came about when participants were asked to respond to newspaper articles about people who had been arrested for killing intruders to their homes. In one, a couple sing a song telling just such a tale; in the other, we observe, fly on the wall, as a group of women prisoners undertake an art therapy session, in which they are asked to close their eyes and draw outlines of their bodies. Again, the idea of the self being represented by this shape, and what is inside being brought to the surface through the process of looking at ourselves as others see us. As one prisoner (conceived and played by an actor) explains: "I was sent to a woman once. When I sat down, she asked me how I felt inside. […] Noticing my discomfort, she said: 'I don't want to intrude,' and I thought to myself: 'Well, you bloody well are!'"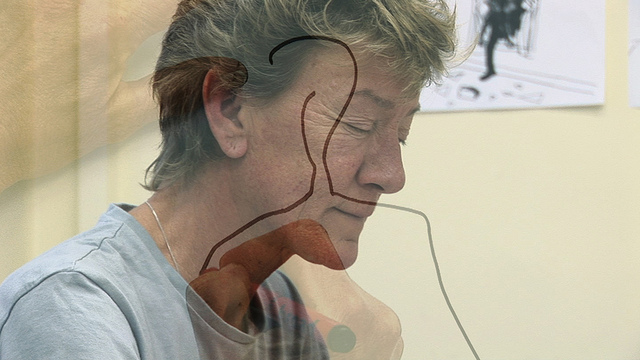 And it is this sense of intrusion which resonates throughout both exhibitions. Intruding on other people's lives, into other people's space, and even into our own inner person, as we are confronted with the reflection of our commodified outer selves within which we so often seek to hide.
Images:
Installation views from Alice Channer: Out of Body at the South London Gallery, 2012.
Photo: Andy Keate.
Image courtesy the artist and the South London Gallery
Video still from Edward Thomasson: Inside, 2012.
Image courtesy the artist.