02/02/12
Daniel Rapley: Covenant
Payne Shurvell
27 January – 3 March 2012
3,116,480 characters
1,189 chapters
783,137 words
31,102 verses
66 books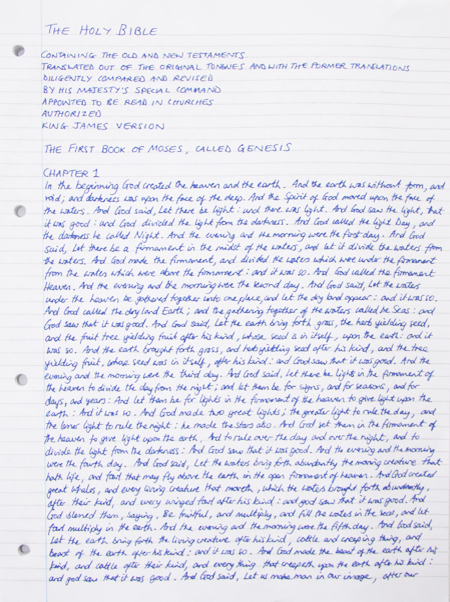 Such is the content of the King James Bible, first printed some 400 years ago, and now the key work in Daniel Rapley's first solo exhibition since graduating from Chelsea College of Art and Design last summer. Entitled Sic, and filling some 1,500 sides of A4 paper, this handwritten copy of the entire text took Rapley nearly 700 hours to complete, spread over more than a year, with his getting up every morning to spend two hours at work. Displayed in a showcase, however, the visitor now only gets to see the first page of his travail, and whether or not he believes that the wad of paper underneath does actually contain the rest of the script is, as it were, a matter of faith.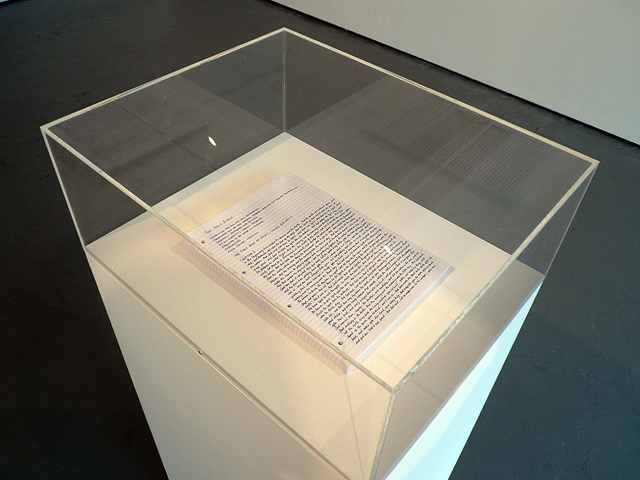 For such is the role of art and the art gallery in contemporary society, as far as Rapley sees it. Brought up with the Bible, but no longer religious, he disregarded this enquiry as irrelevant, saying instead that there is, regardless, an intrinsic relationship between art and religion. Artworks are presented with authority and power in a white-walled gallery, the modern day temple or church.
The title of the exhibition is Covenant, an agreement based on trust, and many of the works in the show grew out of this initial concept. Forty (a Biblical metaphor for any long period of time), for example, is a stack of 40 identical pencil drawings, reading 'I did not want to make this drawing 40 times but I did anyway,' again with only the front frame visible to the visitor.
Each of Rapley's works is a labour intensive task, but yet his goal is also to conceal much of this effort, with what remains on view often appearing almost simplistic. In Poiesis, for example, a delicate collage of flowers cut out individually from a popular field guide to British plants, reference is made to the Heideggerian usage of the term to refer to a 'bringing forth', and a sharing of ideas and knowledge between an artist and his audience. And Rapley's works are also demanding of their viewers, requiring time to be read and digested. Exigencies 1-7, for example, (the title chosen again for its connotation as the religious term for the interpretation of a text), consists of seven large pages (approximately A1 in size) of writing, or, as Rapley terms them, pencil drawings, relating, in a diary entry style, events and coincidences which occurred during the time he was working on Sic. Each one is drawn freehand, although they are so neat and exact that one might easily be mistaken into believing that they were prints. (Rapley will not reveal the secret of his method!) One story tells of how, as he developed RSI in his right wrist, he came to copy 2 Chronicles ch.15 v.7, which states: 'Be ye strong therefore, and let not your hands be weak for your work shall be rewarded', and, how, accordingly, over the next few days, his wrist strain subsided. Another discloses how, upon transcribing Job ch.15 v.23, 'He wandereth abroad for bread…', Rapley was reminded of his having forgotten to buy his own favourite bread whilst out shopping the previous day, and how now, upon returning to Sainsbury's, he found it out of stock, and was forced to travel 'abroad' to an Iceland store. The coincidences abound, and, again, the faith of the reader is put to the test. Is this actually possible, or is it all too far fetched? And, of course, if it is to be believed, well then, surely this series offers some evidence for the verity of the Bible transcription project itself?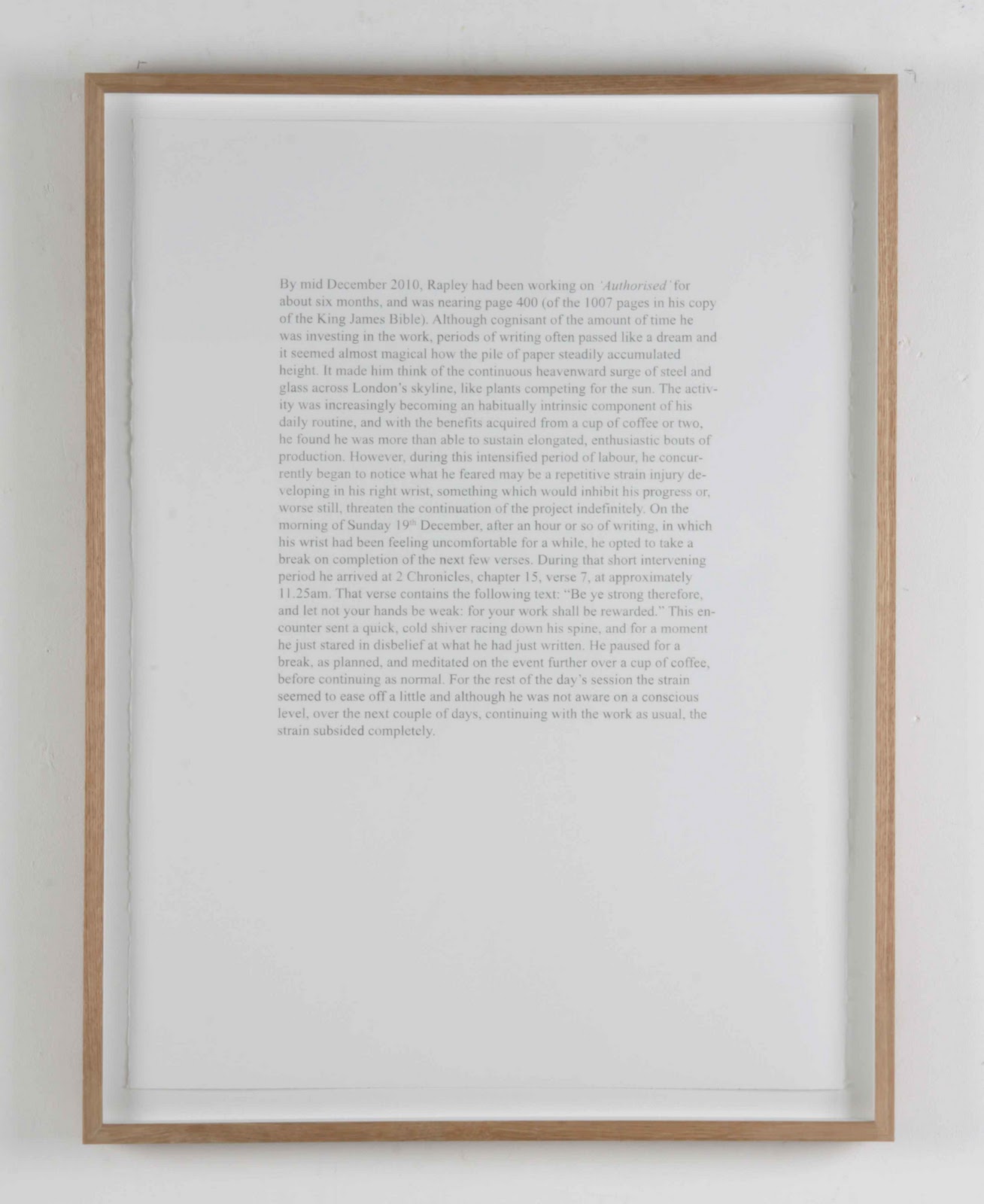 Throughout the tales, Rapley uses the third person, referring to himself as 'the artist'. He does the same in Totem, a different, dark coloured work, hanging separately in the gallery's entrance hall, and produced as a limited edition print. Based on the tombstone of Martin of Tours (who died in 397AD), one of the first saints whose remains were venerated as a holy site, the varnished print also incorporates some of Rapley's blood. Apparently he rather liked the idea of putting something quite so personal into an edition, a train of thought stemming perhaps from his MA thesis in which he compared the presence of the saint in a holy relic to the presence of the artist in an artwork. Naturally, however, there are also resonances with the religious themes of sacrifice and the Last Supper.
Rapley describes his works as performative, but only in suggestion. There is something deadly serious, but yet also undeniably comic about this exhibition, and the stories related in Exigencies 1-7 cannot help but elicit a smile (about which Rapley himself also smiled). Nevertheless, the sincerity with which he explains his work and ethos are enough to engender faith both in him and in what it is he is trying to sell us – more than can be said for many a commercially-oriented artist these days. Go along and see for yourself, and take the time to read the tales and invest back some effort in return for the many laborious hours taken (if you choose so to believe) to produce the work on show.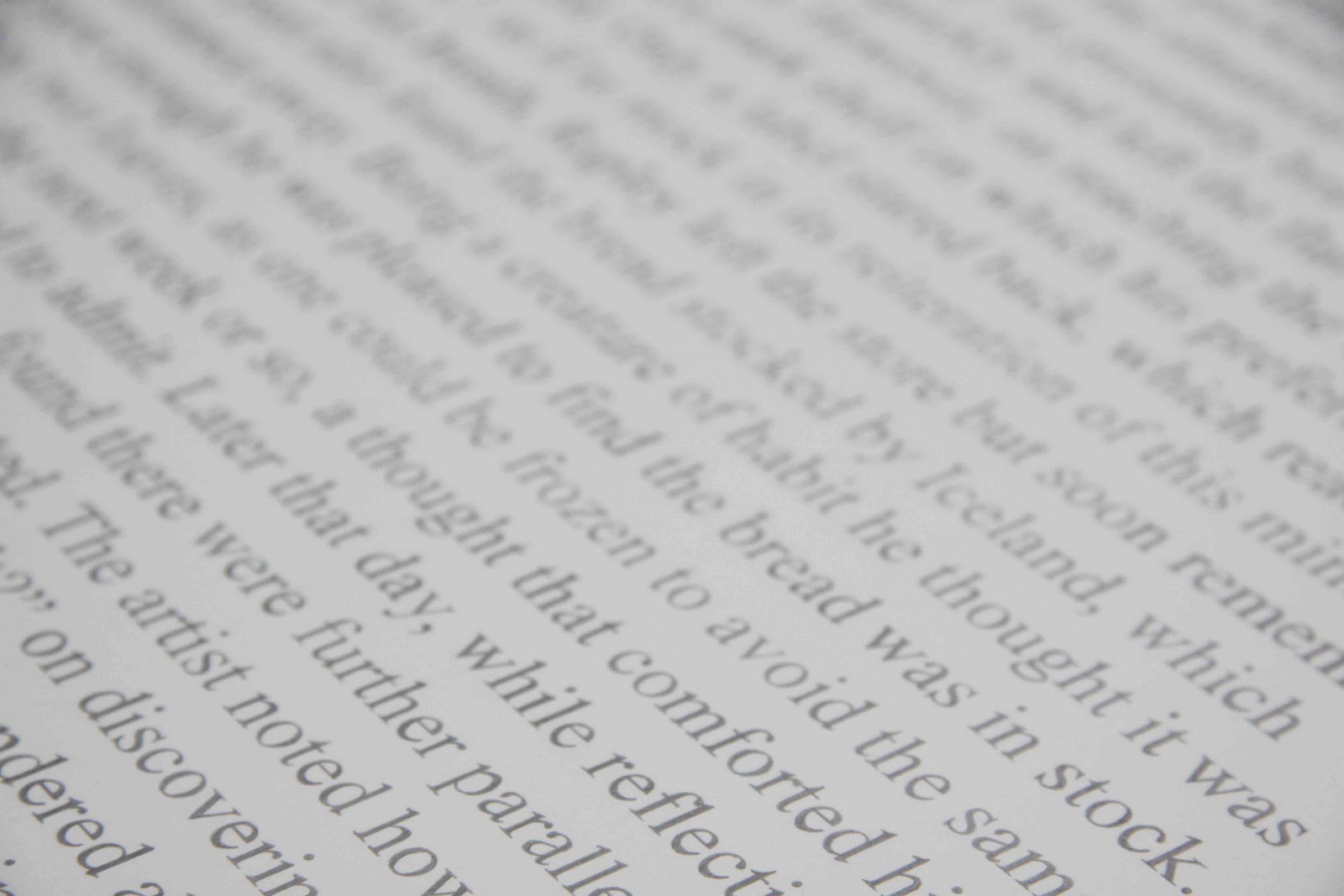 Images:
Sic (detail)
Ballpoint on A4 ruled paper
67 x 59 x 115cam (Plinth unit)
Sic
Ballpoint on A4 ruled paper
67 x 59 x 115cam (Plinth unit)
Exigency 1
Pencil drawing on heavyweight paper
63 x 83.5 cm
Exigencies 1-7 (detail)
Pencil drawing on heavyweight paper
63 x 83.5 cm
All images courtesy of the artist, Daniel Rapley, and Payne Shurvell Gallery
Also published at http://www.a-n.co.uk/interface/reviews/single/1946979