20/02/12
Alternative Loudest Whispers 2012
The Conference Centre, St. Pancras Hospital
2 February – 26 March 2012
I'm an FtM transman.
After I transitioned, a non-trans person commented to me:
"You're very convincing."
"Thank you, so are you," I replied.
(Simon Croft, wall text to accompany Convincing, 2012)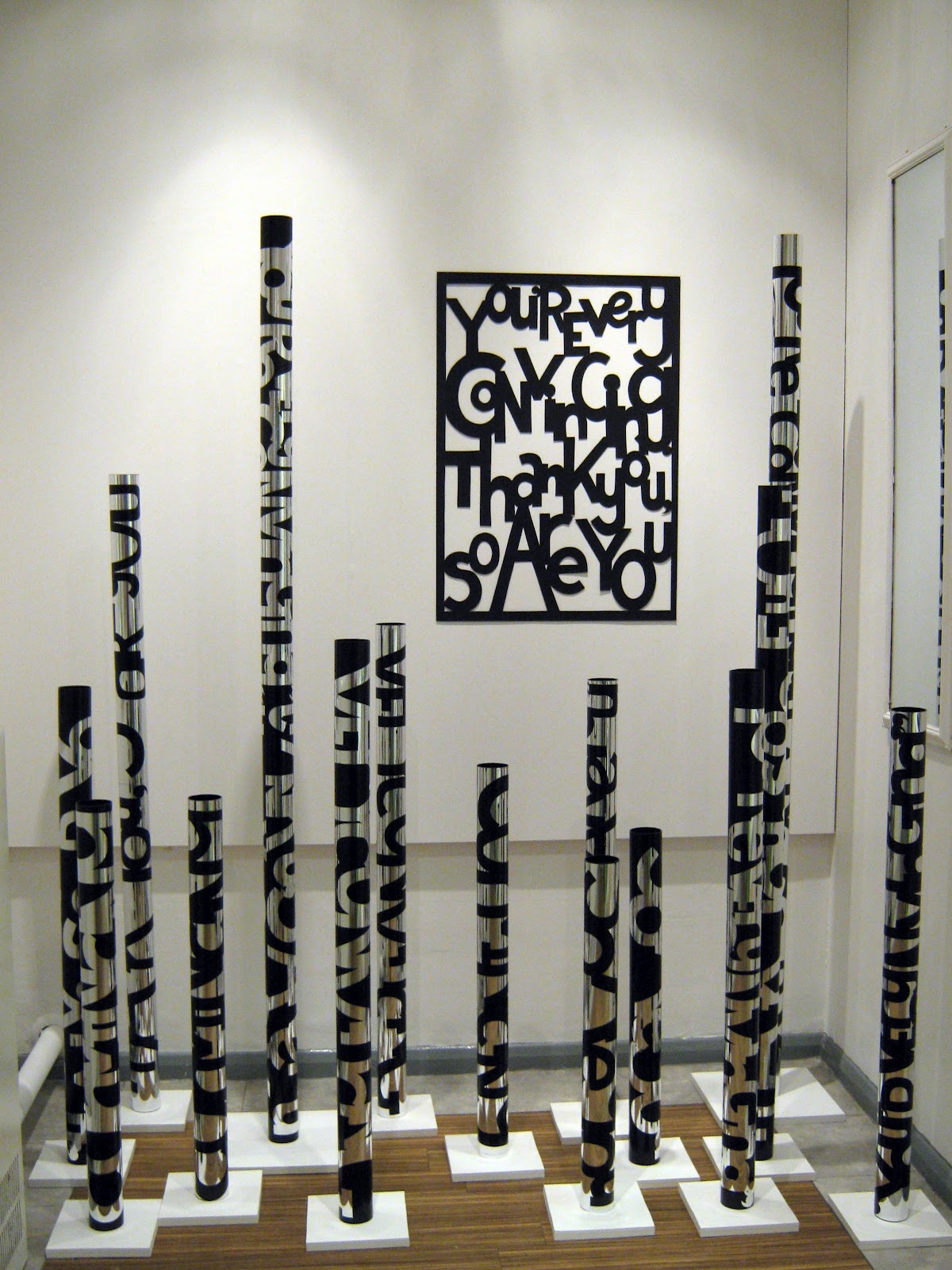 What does it mean to be convincing, to shape one's identity so as to fit into society's mould, to find a sense of belonging? These are themes which are explored in some depth in Alternative Loudest Whispers 2012, a multimedia art exhibition showcasing works by 11 London-based LGBT artists, both trained and self-taught, as part of the nationwide LGBT History Month.
Croft's work greets you as you enter the long and brightly lit corridor gallery at the Conference Centre, St. Pancras Hospital, a space curated by Peter Herbert of The Arts Project. A grouping of drainpipes, some only knee-high, others as tall as an adult, stand proud, wrapped in carefully cut out black and foil lettering, repeating, over and over, "You're very convincing," representative perhaps of the crowd that forms society at large, looming tall (and threatening?) around the individual, seemingly uniform in shape and posture. Mirrors on either side of the installation serve to multiply the effect, as well as to draw the visitor in to look at himself, thereby also questioning his own appearance. As it happens, these mirrors were already in place when Croft came to install his work, but serendipity can sometimes be kind.
Issues of externalised identity are further highlighted in Daryl White's various portraits, mixed in both media and style, several of which incorporate masks, be they gas masks, ones akin to Pulp Fiction's gimp, or merely the made up face of a performer, the subject also of a number of Pascal Ancel Bartholdi's ethereal silver gelatine prints, capturing friends and strangers against a smoky stage set backdrop.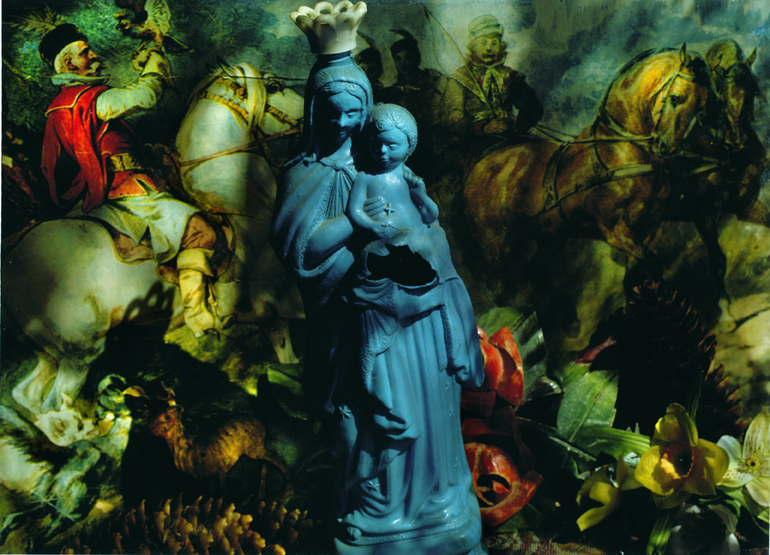 Marion Hack's Man with Earing [sic] (2011), sketched in charcoal and chalk, depicts a shadowy face, with eyebrows slightly drawn, and, aside from a hint of red on the lips, overwhelmingly dark and downcast. Brighter in colour, but equally questioning with regards to where one belongs, is First Out (2012), a nostalgic portrayal of the recently closed café-bar, but seen from the outside looking in, filled with happy faces, a crowd of which the onlooker is not a part. Historical documentation is also brought to play in Hack's Suffragette 1912 (2011), A.T.S. (2007), and Reclaim the Night (2010), which look back at and celebrate those who have played a part in the battle to bring us to where we are, and to gain us the relative freedoms we enjoy today.
Space and place are themes picked up on by Titus Davies in A Room of My Own One, A Room of My Own Two, and Travels Under My Sink (all 2009), series of photographs, depicting the artist lying beneath and beside a bed, and uncomfortably contorted to fit into the small 'cupboard' space beneath a kitchen sink. Again, questions are raised regarding belonging – not only the matter of where, but perhaps also to whom, and as who?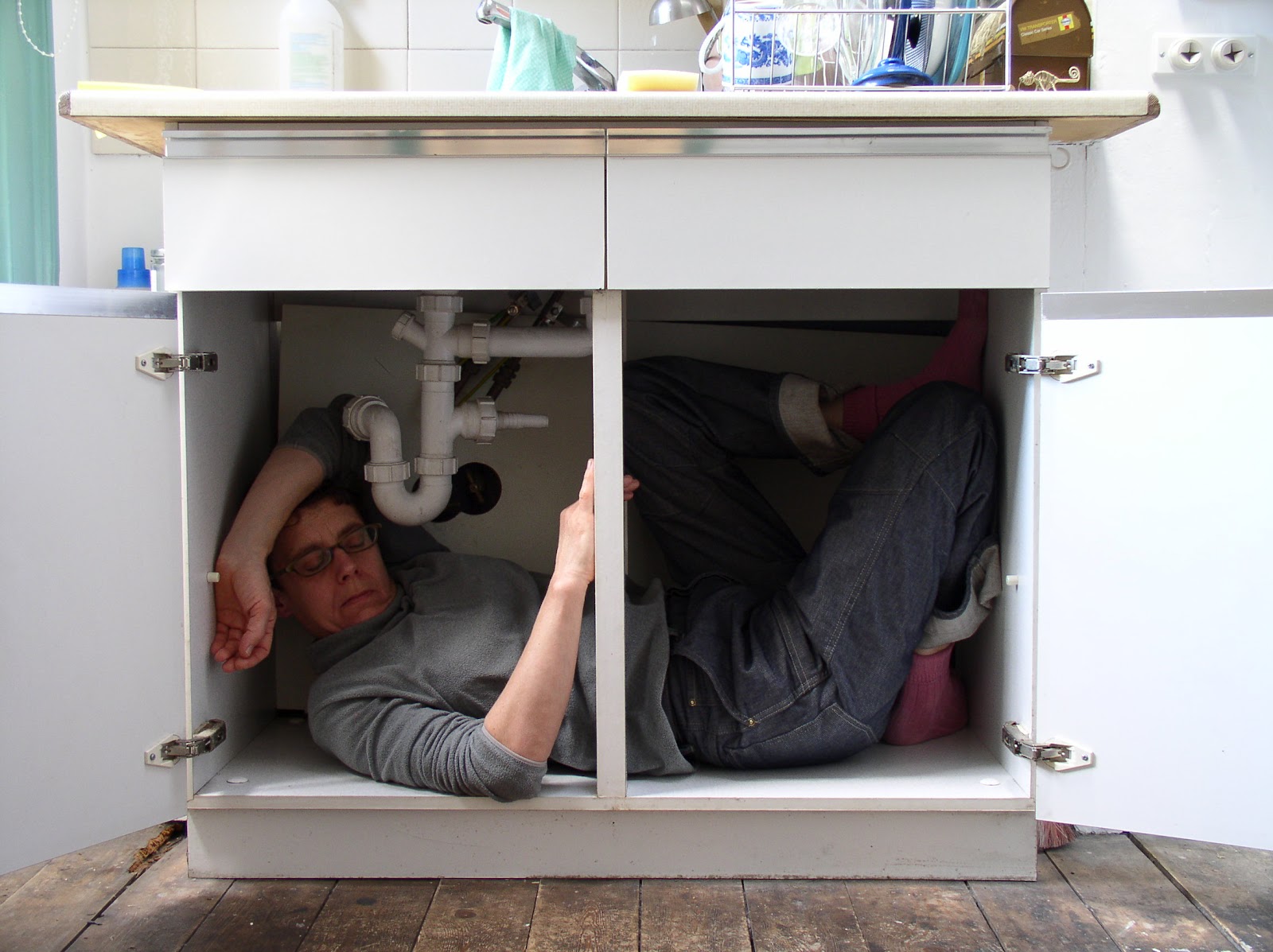 This is something that can well be questioned in art, as further shown by Caroline Halliday's sculptural works, including The Artist's Hat (2001), a swing made out of hair, wood, and wire, which came out of a project of the same name, and, to her, represents 'a place where the artist in all of us can be free to dream' and to wear his or her 'artist's hat' (perhaps another take on the mask?). Also by Halliday, Secret Lives (2008), comprises a long work bench decorated with a number of paper houses, in descending height order like a set of Russian dolls, made out of pages of her journals. Deconstructing personal secrets and turning them into dwellings themselves, rather than thoughts which dwell inside us, we return, once again, to the notion of words and language as a medium for expression and a portrayal of who and what we are. From Croft's consideration of the impact of throw away comments, to Halliday's use of the considered and contemplative written documentation of our deepest thoughts, these ideas are conclusively brought together by the exhibition's title, Loudest Whispers, which captures perfectly the desire of the artists to use their work to explore and in some cases proclaim, both privately and publicly, loudly and at a whisper, who they are, and how they see themselves.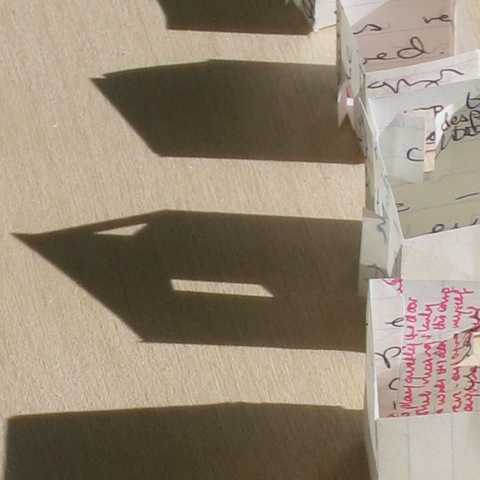 Images:
Simon Croft
Convincing (installation shot)
2012
Pascal Ancel Bartholdi
War and Peace
Titus Davies
Travels Under My Sink (detail)
2009
Caroline Halliday
Secret Lives (detail)
2008