13/12/11
Irrational Marks: Bacon and Rembrandt
Ordovas
7 October – 16 December 2011
Francis Bacon (1909-1992) and Rembrandt Harmensz. van Rijn (1606-1669) lived over 300 years apart, and, on the surface, there is not much similarity between their work, so one might well wonder why Pilar Ordovas has chosen to inaugurate her new gallery on Savile Row with an exhibition looking at the connections between the two artists. A small show, comprising just six Bacon paintings (amongst them, two triptychs and one diptych), one Rembrandt, and then a number of working documents and related items, it is, nevertheless, worth a visit, and her well reasoned premise for the link is not actually as tenuous as it might at first seem.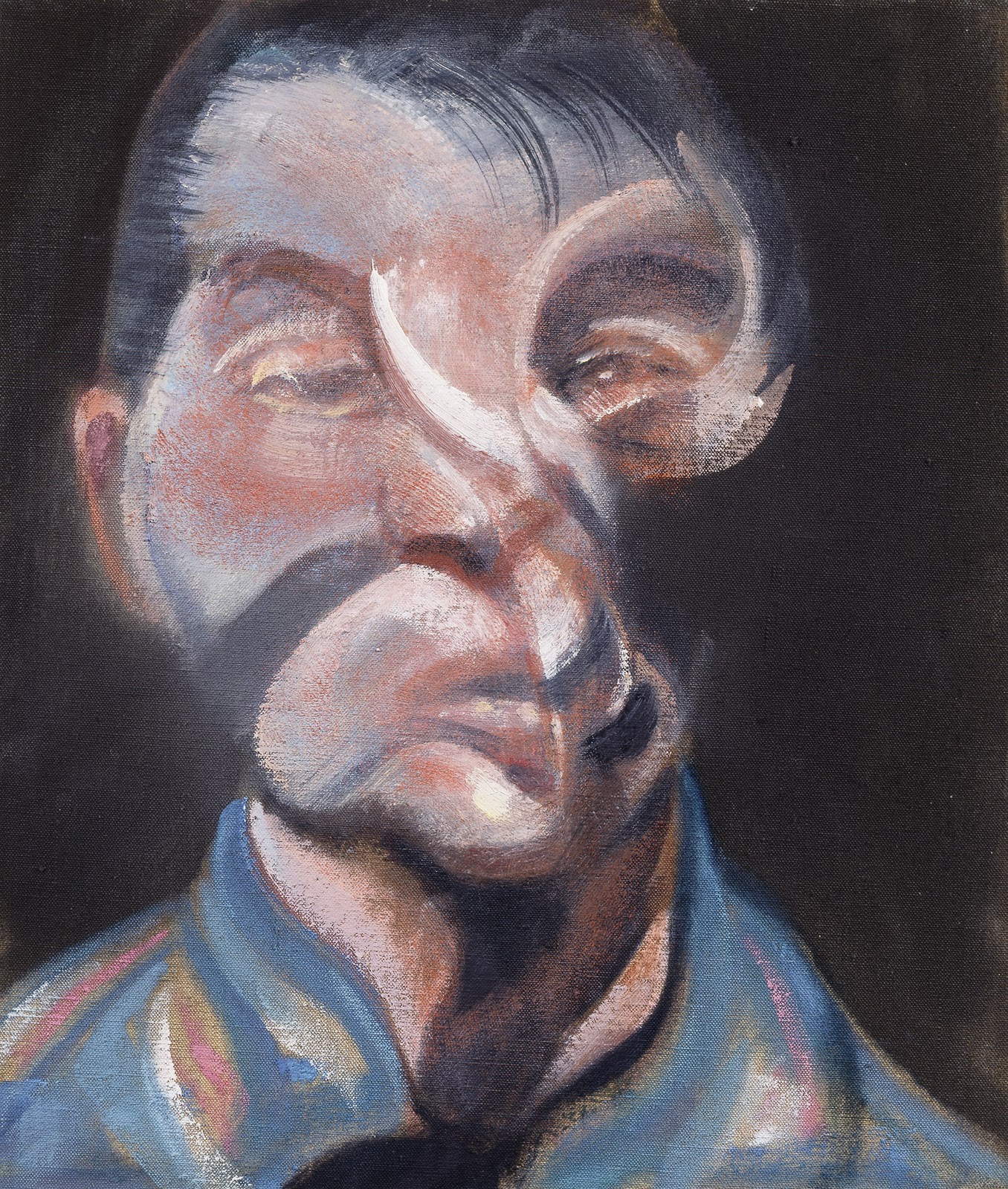 The inspiration for the exhibition came back in 2006 when Ordovas was handling the estate of Valerie Beston, who had looked after Bacon during his time with the Marlborough Gallery. Amongst the items, Ordovas found a photograph, a facsimile of which is included in this show, taken by Irving Penn in June 1962, and depicting Bacon in his studio, with a pinned up, crumpled, and paint-spattered image of Rembrandt's Self Portrait with Beret (ca. 1659) in the background.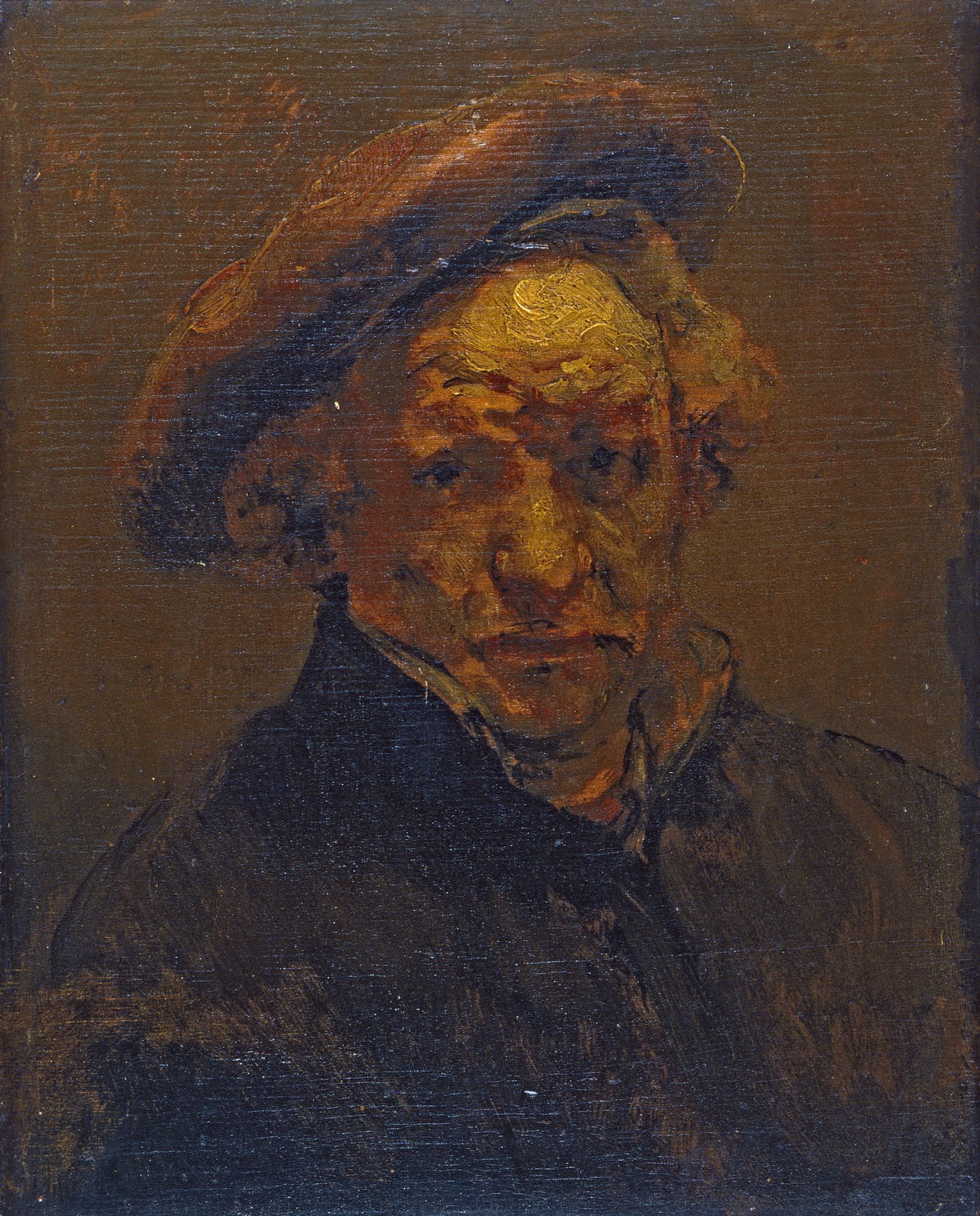 It is well known that Bacon took a lot of inspiration, sometimes quite directly, from a number of his artistic predecessors (perhaps most notably Velázquez's Portrait of Pope Innocent X, ca. 1650), and his collection of books, photographs, and reproductions filled his studio like a treasure trove. In his interviews with David Sylvester, recorded between 1962-1985, Bacon discusses his art historical interests quite candidly. Martin Harrison, in his essay in the catalogue to accompany this exhibition[1], suggests, however, that the opinions and preferences expressed in this source might well be interpreted in a distorted manner, since Bacon was often looking back in retrospect, rather than expressing his attitude from the time. His admiration for one artist, though, can be seen to remain constant – and this artist is Rembrandt.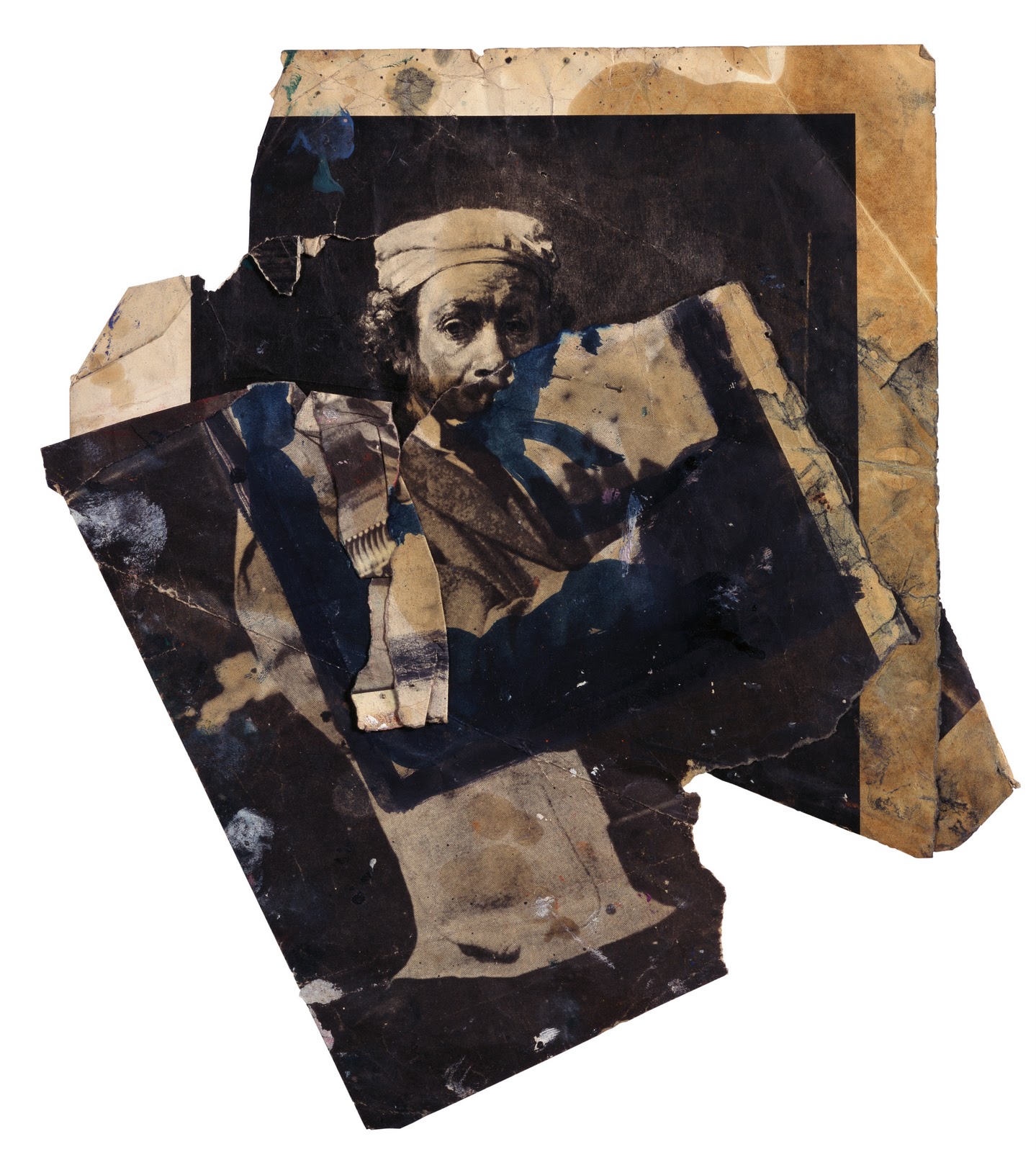 Bacon held Rembrandt's self-portraits, of which there are around sixty, shared between the media of paint and etching, in especially high regard, and spoke in depth about the Self Portrait with Beret in particular, extolling the fleeting application of paint, lack of intricate detail (the work is thought to be unfinished), and what he termed the "anti-illustrational" aspects, such as the deep shading around the eye-sockets, making it appear as if there were none. According to Sylvester, it was from looking at Rembrandt that Bacon learned "how to use an extremely restricted range of colour, how to dissolve forms into space and how to destroy the picture-plane."[2] In his own words, Bacon praises the late portraits of Rembrandt for being those in which "he made a tightrope walk between appearance and caricature." [3] In the film clip from an interview with Sylvester[4] being shown in the gallery, Bacon goes on to describe Rembrandt's style in the beret-clad portrait as "the same as Abstract Expressionism [but] much more exciting and much more profound" because he is trying to record an actual fact, namely, that of self appearance. Certainly, his dark palate, thick brushstrokes, and gestural use of colour to highlight contours, are far from the naturalistic precision of his ancestors. Although the concept of a psychological portrait is not contemporaneous with Rembrandt, it would seem that Bacon would like to attribute something deeper than a pure physical likeness to the Old Master's work, and, certainly, this attempt to capture something of the true character of the sitter was a goal of Bacon himself.
Notoriously antagonistic towards the prevailing tendencies towards Abstraction and Expressionism, Bacon was dedicated to the figurative in content, if not typically in style. His portraits are mere sketchy suggestions, with distorted figures, areas of bare canvas, strange box-like objects, and a vividly non-naturalistic palate. Indeed there is an undeniable likeness between his paintings and their subjects – perhaps more so than in some photographic style images – but, to my mind at least, this is achieved more through his abstraction and distillation of character than through any careful and planned mark making. Irrational marks they may be, but how else could the irrational character of these artists be so succinctly portrayed?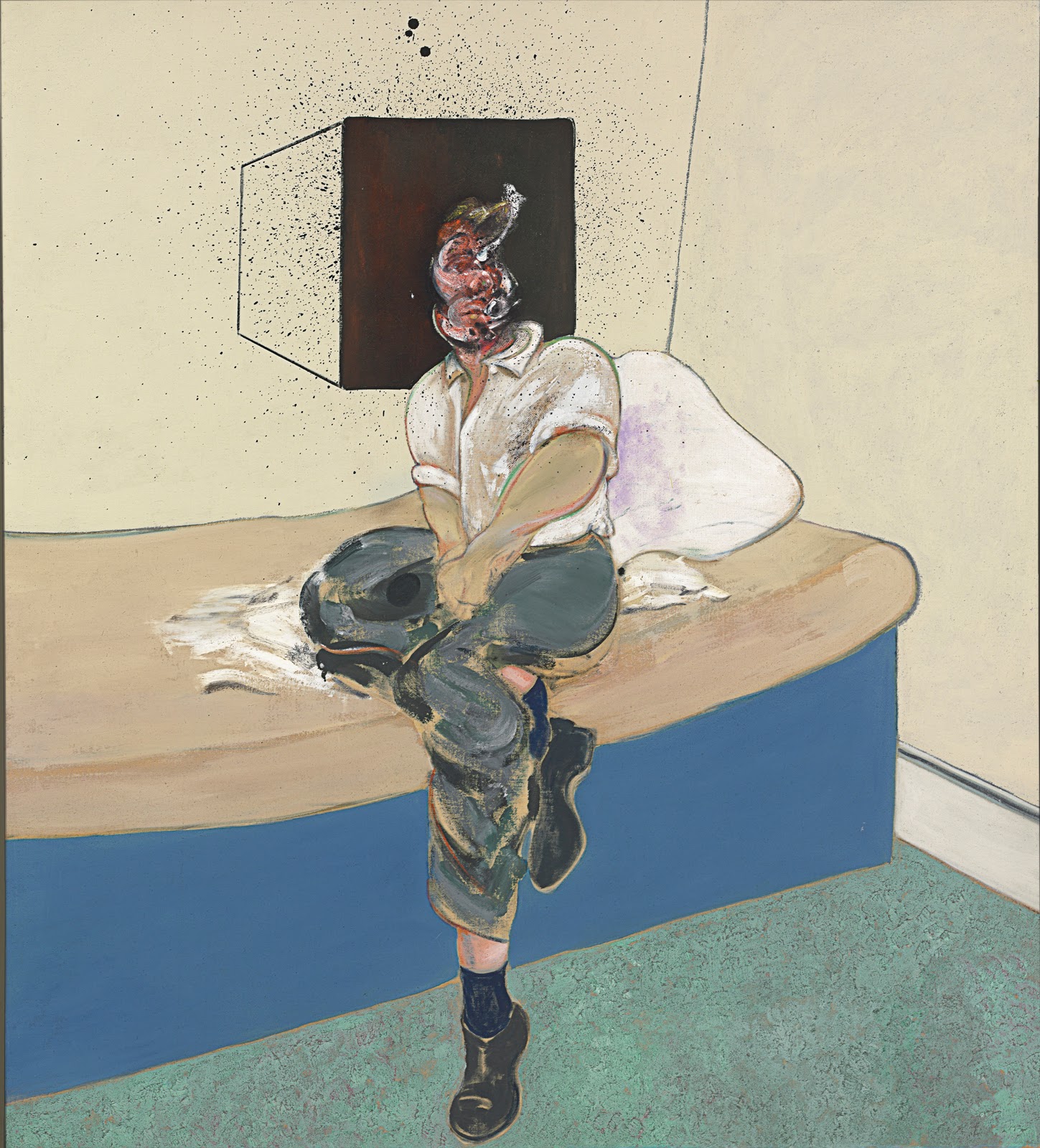 Whilst one cannot attempt to draw too many conclusions from this small comparison, and whilst it would certainly be out of place to attempt to infer too great a likeness between the two artists' works, the many photographs and reproductions of Rembrandt's work that Bacon had in his studio, various of which are on show here, and the obvious attention he paid to them, evidenced by the paint smudges and finger prints with which they are besmirched, do suggest that there is a connection which, until now, has been largely overlooked. As such, as well as simply to enjoy the contorted and agonised Bacon self-portraits and, of course, the glory of there being a Rembrandt hanging amongst them, a visit to this new Mayfair gallery space is to be recommended.
---
Francis Bacon (1909-1992)
Self-Portrait
oil on canvas
35.5 x 30.5 cm.
Painted in 1972
Private Collection
© The Estate of Francis Bacon. All rights reserved. DACS 2011
Rembrandt Harmenz. van Rijn (1606-1669)
Self-Portrait with Beret
oil on panel
30.7 x 24.3 cm.
Painted circa 1659
Musée Granet, Communauté du pays d'Aix-en-Provence
© CPA, Musée Granet.
Working document: Fragments of Rembrandt, Self-Portrait at the Easel, 1660, from the book Rembrandt by Tancred Borenius, London: Phaidon Press, 1952 and leaf from book, A Pictorial History of Jazz by Orrin Keepnews and Bill Grauer Jnr, London: Robert Hale Limited,1955 (pp.79/80)
Dublin City Gallery, The Hugh Lane, Francis Bacon Archive (Reg. RM98F1A:79)
© The Estate of Francis Bacon. All rights reserved. DACS 2011
Francis Bacon (1909-1992)
Study for Self-Portrait
oil on canvas
152.4 x 140 cm.
Painted in 1964
Private Collection
© The Estate of Francis Bacon. All rights reserved. DACS 2011