21/11/11
Gesamtkunstwerk: New Art from Germany
Saatchi Gallery
18 November 2011 – 30 April 2012
With Germany's ever increasing strength as the political and economic powerhouse of Europe, it is perhaps timely that the Saatchi Gallery's latest offering should be a survey of contemporary German art, showcasing some 24 artists from or based in Germany, who, although perhaps little known in the UK, are making it big on the continental European arts stage. The title of the exhibition, Gesamtkunstwerk, can be translated as a "total, ideal, or universal work of art", or as a "synthesis of different art forms into one all-encompassing masterpiece". The term, first used by the German writer and philosopher K. F. E. Trahndorff in 1827, has been assimilated into the study of aesthetics, although it is perhaps best known for its Wagnerian associations, after the composer used the term to describe his ideals of artistic integration. Accordingly, an underlying theme of this show is the ongoing academic battle between a narrow concentration on art history and a wider, if somewhat undefined, field of visual culture, whereby the distinction between high and low art forms is lost, and anything image-based becomes worthy as an object of study. German post-war culture and society, politics and the media, consumerism, gender – all of these topical themes bear their mark on the show's contents, which, in short, offers a rollercoaster ride (in the case of Zhivago Duncan's Pretentious Crap (2010), quite literally) through the broken images and discarded scraps of every day life.
Upon entering the exhibition in gallery one, you might well be forgiven for thinking, however, you had mistakenly arrived elsewhere. This is a quiet room, at odds with rest of the gallery. Dimly lit, it is filled with wooden carvings and plaster sculptures by Markus Selg, displayed on plinths, and recalling the imagery of the classical era. Trauernde (2008) would not be out of place in a church, and Betender (2009), a kneeling white plaster figure, has a crib-like air to it, not just from its backbone of straw.
Proceeding through into gallery two, however, you remember where you are – this is, after all, the Saatchi Gallery, not the British Museum! Met with a cacophony of colour and pattern, André Butzer's large canvases of street art style imagery depict highly impasto, hollow-eyed amoeba, recognisable icons of modern day life, or, as Butzer himself describes them, just "the kind of things Donald Duck would do when he paints"?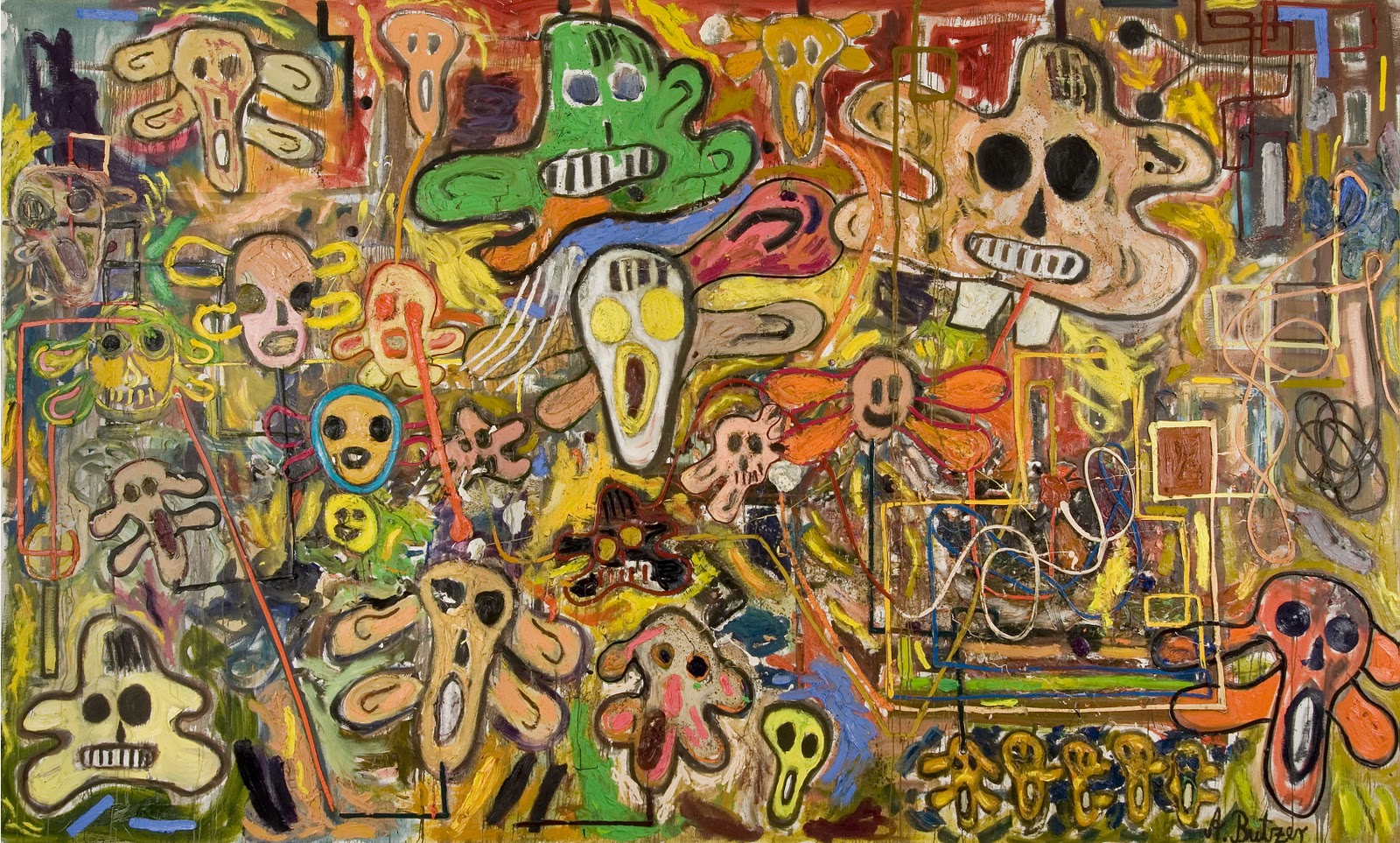 Another artist who plays with the concept of iconology is Julian Rosefeldt in his Global Soap (2000-1). A series of four headshot composites, taken from international TV soap operas and compiled according to expression, these studies of modern day melodrama reference German art historian Aby Warburg's (1866-1929) systematic investigation of religious painting, and, Rosefeldt hopes, present the contemporary counterpart in an age where "soaps have taken over the function of the church."
Celebrity life is further picked up by Kirstine Roepstorff in All Possible Experiences (2006), a collage in which she intersperses foil stars and newsreel images to create a map of the modern day media constellation. Another work by the same artist, You Are Being Lied To (2002), which, from a distance resembles an idyllic Garden of Eden scene, with trees, grass, water, flowers, and glitter, is, upon closer study, a rambunctious display of masculinity, with motorbikes, boats, fighter jets, sports and barbecue paraphernalia.
Josephine Meckseper counters this androcentric display with her politically engaged, feminist installations, confronting and reappropriating consumerist advertising imagery relating to the role and place of women. Shoes, stockings, fashion magazine adverts: a true 1950s woman's closet, but, diffused with critical commentary, including a photograph from a demonstration with placards bearing "Fight the new Colonialism" and a toilet brush, her non-complicit standpoint becomes quite clear.
Charred remains feature heavily throughout the exhibition as well. In Dirk Bell's Abgrund (Abyss) (2008), a gently painted grisaille of a naked figure, lit by a real neon light, the subject is half hidden behind a charred net curtain, and stands upon a ledge with shards of broken mirror and charred human bones. On the opposite wall, Friedrich Kunath's First Life Takes Time Then Time Takes Life (2010), presents seven frames of ostensibly the same still life composition, consisting of a piece of toast leaning against a pineapple-shaped ceramic vase, albeit with the toast becoming progressively burnt from image to image – perhaps a warning of the continual destruction that so easily goes unnoticed in the world when you do not keep a close eye out? Finally, Thomas Helbig's Jungfrau (2005) and Vater (2005) are riotous sculptures built from all manner of found (and burnt) materials: animal jaws and teeth, an eagle's head and wings, an elephant's trunk, and various delicately beautiful legs and arms, remains from classical antiquity. These works are so disturbing that I left the gallery hallucinating such monstrosities were emerging from the underground escalators to drag me down to their world!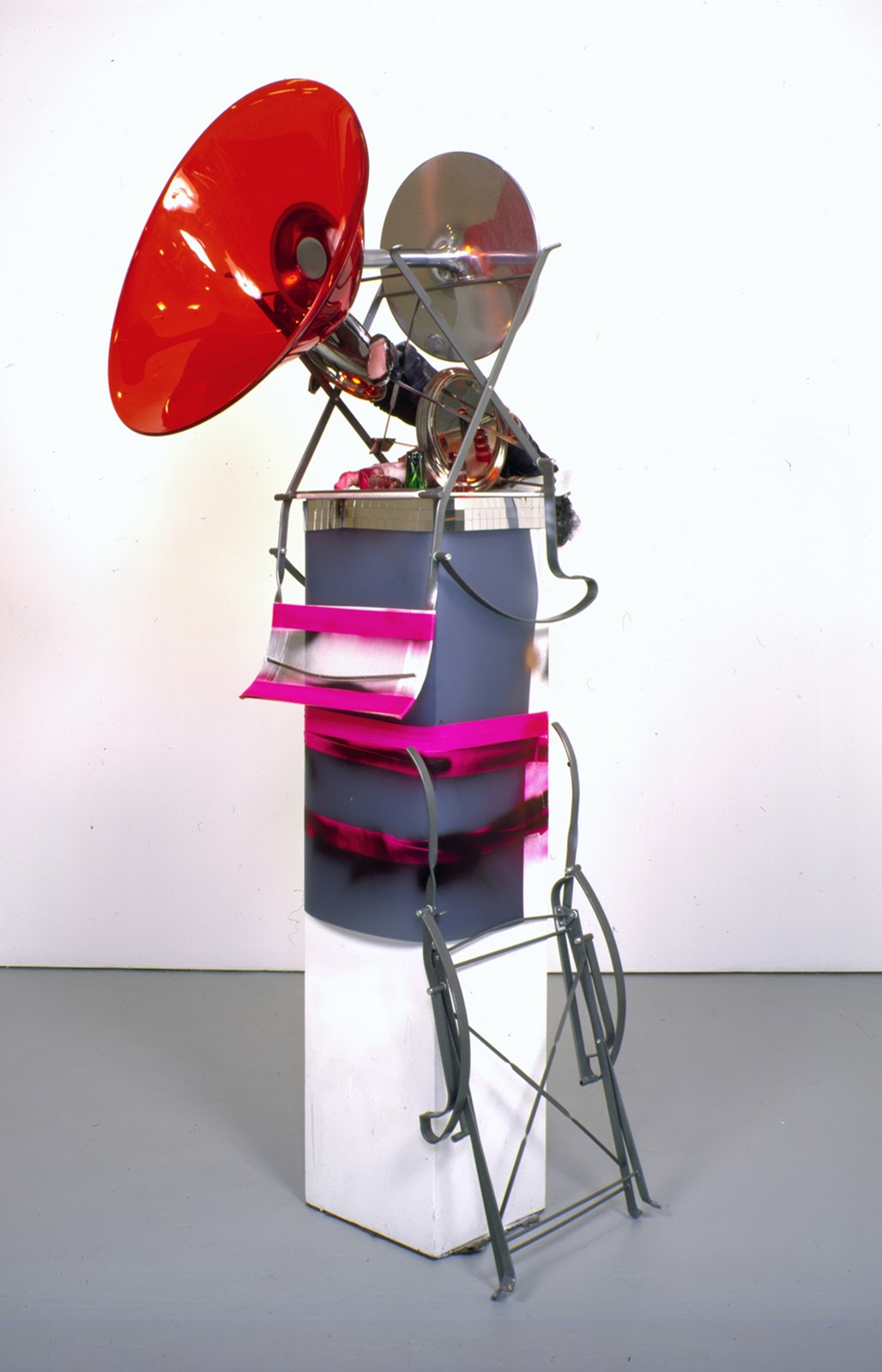 More every day detritus is utilised by Ida Ekblad, who embeds "the discarded remains of contemporary culture" into wet panels of concrete. Isa Genzken, on the other hand, turns her castaway items into totemic sculptures, incorporating snapshots of her own and others' pasts: toy cowboys and Indians, retro chairs, dolls, Christmas decorations… It is her polyptych, Kinder Filmen I (2005), with its mirrors, coloured strips, holograms and warning tape, all overlaying exquisite Renaissance images, which might, however, be seen as a summation of the whole exhibition. Colour, vibrancy, image, modern media and classical beauty, it epitomises the question of what precisely is the object (and subject) of art today. You will certainly leave this show with something to think about.
Images:
André Butzer Ahnenbild 2411 (2006)
Oil on canvas
280 x 460cm
Isa Genzken Geschwister (2004)
Plastic, lacquer, mirror foil, glass, metal, wood, fabric
220 x 60 x 100 cm
Courtesy the Saatchi Gallery, London