15/11/11
Bruce Risdon: Contemporiz
Xavier White's, Blackheath
29 August – 24 November 2011
Despite the gloomy autumnal day outside, it is far from glum inside Xavier White's spacious Blackheath townhouse-cum-gallery. Well lit through its large bay window, looking out over the heath, the front room is filled with the saturated tones of Swansea-based painter Bruce Risdon's ardent canvases, a higgledy piggledy hang spanning his ten years as a professional artist, including both landscapes and portraits, and his own distinctive blend of the two.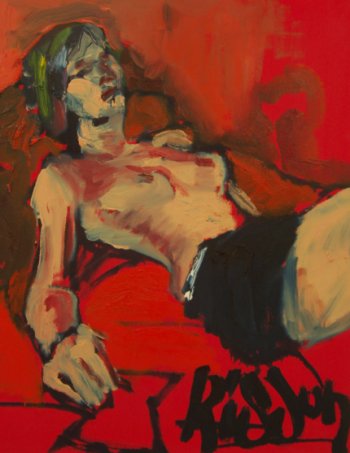 "In my work I try to juxtapose the old and the new, by taking a classical nude pose and painting it in a modern, vibrant way," says Risdon in his artist's statement.[1] "With landscape studies I take a similar approach […]. I like to place [a] figure in the landscape as a record of the experience of the surroundings."
Thus we find the series Park Life, depicting figures lounging about in the sun, alongside recognisably Welsh scenes, such as On Top of Llangollen, where a girl sits atop the ruins of Castell Dinas Bran, and Sheep on the Edge, an imposingly large canvas with a heavily impasto rock face, overgrown with luminous lime green grass, and set against a brilliant blue sea and sky, capturing the sense of freshness, crispness, dampness and seaside air, unique to the Welsh coast. Another large seascape, quite different in tone, is the primary coloured Beach Nocturne, an altogether darker affair, with large, brash brushstrokes, red sand and buildings, both standing forth from the dark blue night sky, and reflecting into the equally foreboding sea, broken up with yellow dabs lighting up the windows and streets.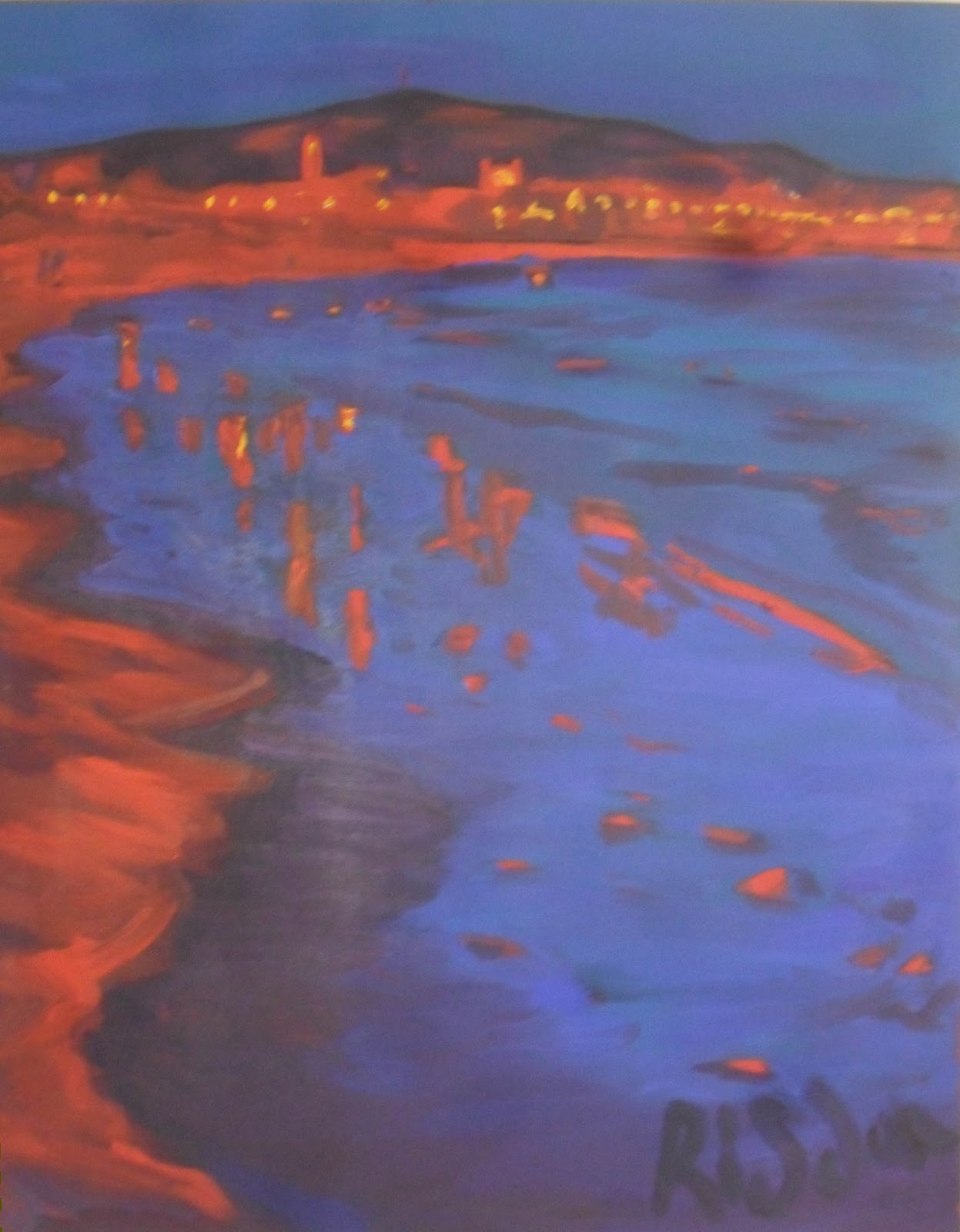 Ironbridge with Turbine could almost be described as a diptych. Portrait in orientation, this landscape scene sharply juxtaposes the technologies of the present day and yesteryear. The lower third depicts the bridge, traditional and more naturalistic than Risdon's other works, whilst the upper two thirds, separated by a layer of cloud, show an almost surreal, detached and floating wind turbine, as unintegrated into its compositional surroundings as the structure itself into nature's setting.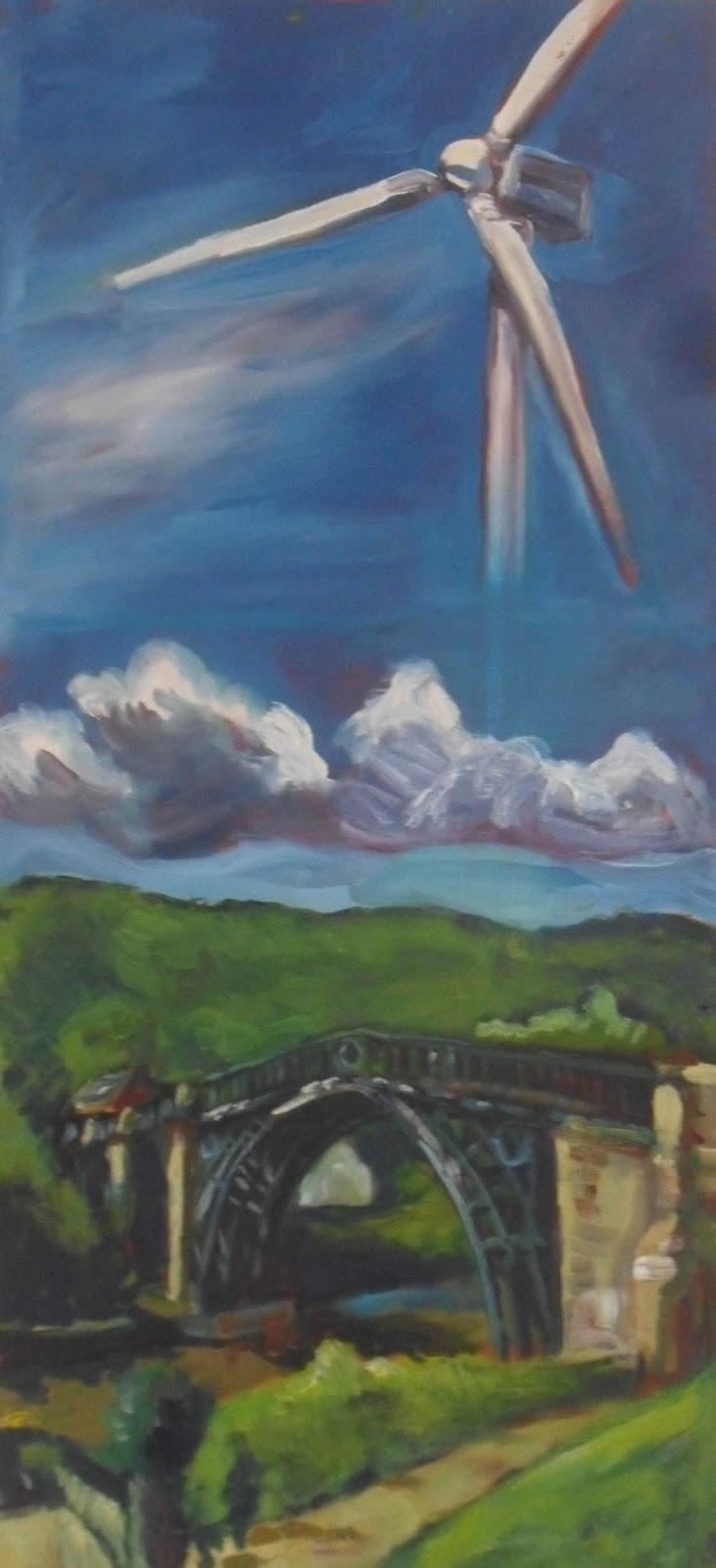 For me, however, it is Risdon's portraits which are the stars of the show. Classical life model poses, reclining on a couch or chair, but contemporary in their use of the brightest and purest colours, these women either stare back defiantly at the onlooker, or remain anonymous through the obfuscation of their facial features. Albeit preserving some modesty by being clad in underwear, there is a distinct erotic undertone in the addition of stockings, gloves, and high heels, and the choice of red as the prevailing background colour. The tiny Lil Fairy is echoic of both Schiele and Degas, a young girl dressed in a purple fairy tutu and wings, leaning forward to do up her pumps, but, again, clad in black nylon stockings against a dramatic red backdrop.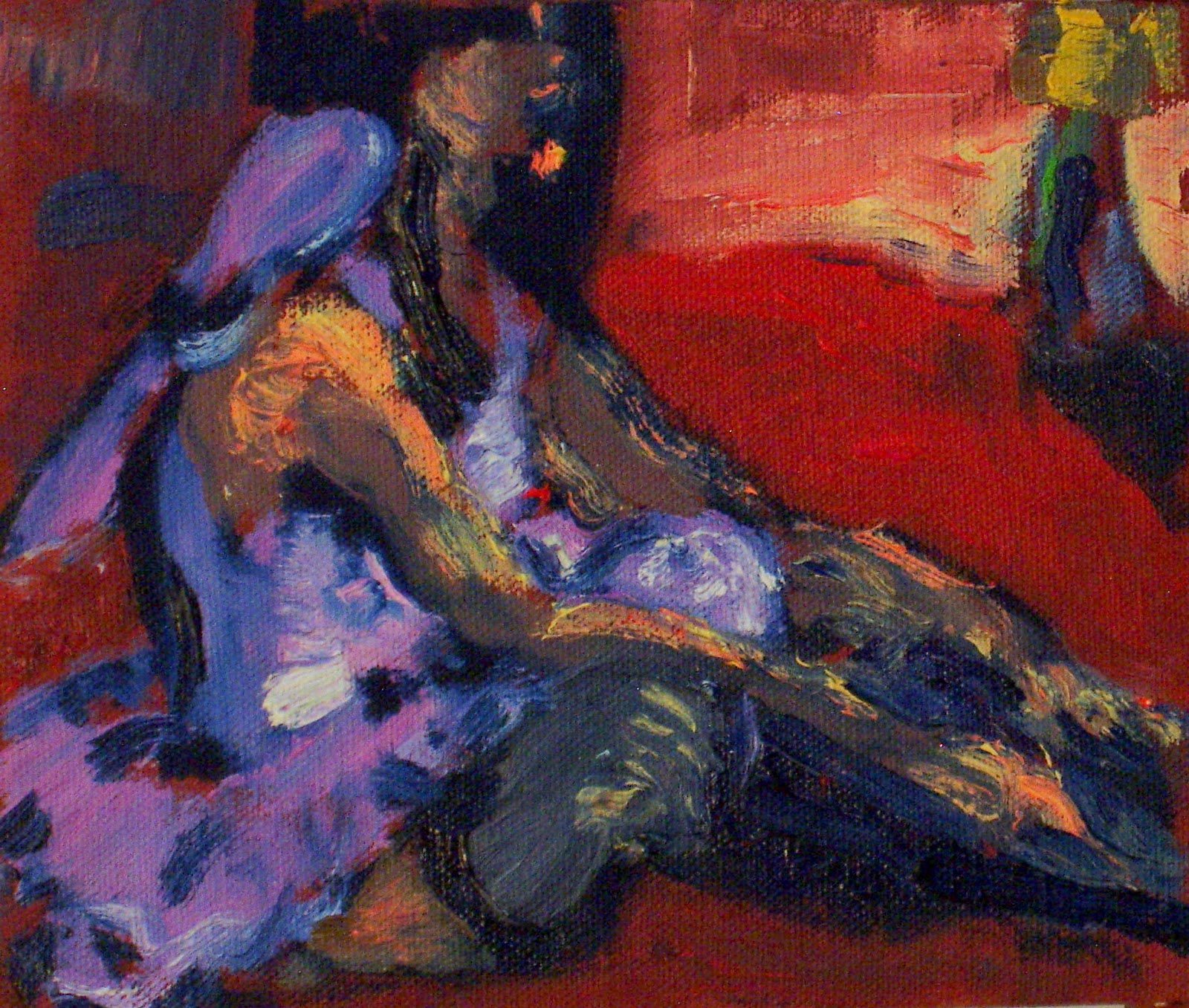 Speaking of his work with models, Risdon explains that the majority of people who offer to pose are women, so, when he has an idea for a painting that requires a male model, he will often do the pose himself, "putting myself in the picture, not so much as a self portrait, more assuming a role in the painting." And, indeed, his presence is felt, either explicitly or implicitly, in most of these scenes. In Sofa Study, a woman lies in her underwear, hand across stomach, on a yellow cushioned couch. To the left, a mirror reflects the artist, palette in hand, at work painting her, but seemingly also in a state of undress. One cannot help but let the imagination wander: What is the scene? What has just happened? Is she reclining in a post-coital state? Similarly, in Ariel with Wings, a woman lies on her bed, arms folded behind her head. Her head itself is tipped back so that you see her throat and chin, her full breasts heaving, and her legs crossed at the ankle, leaving us scope to almost, but not quite, glimpse up the skirt of her dishevelled red dress. If we take the viewing point of the artist, it seems we are looming down upon her, as if about to pounce, mid act.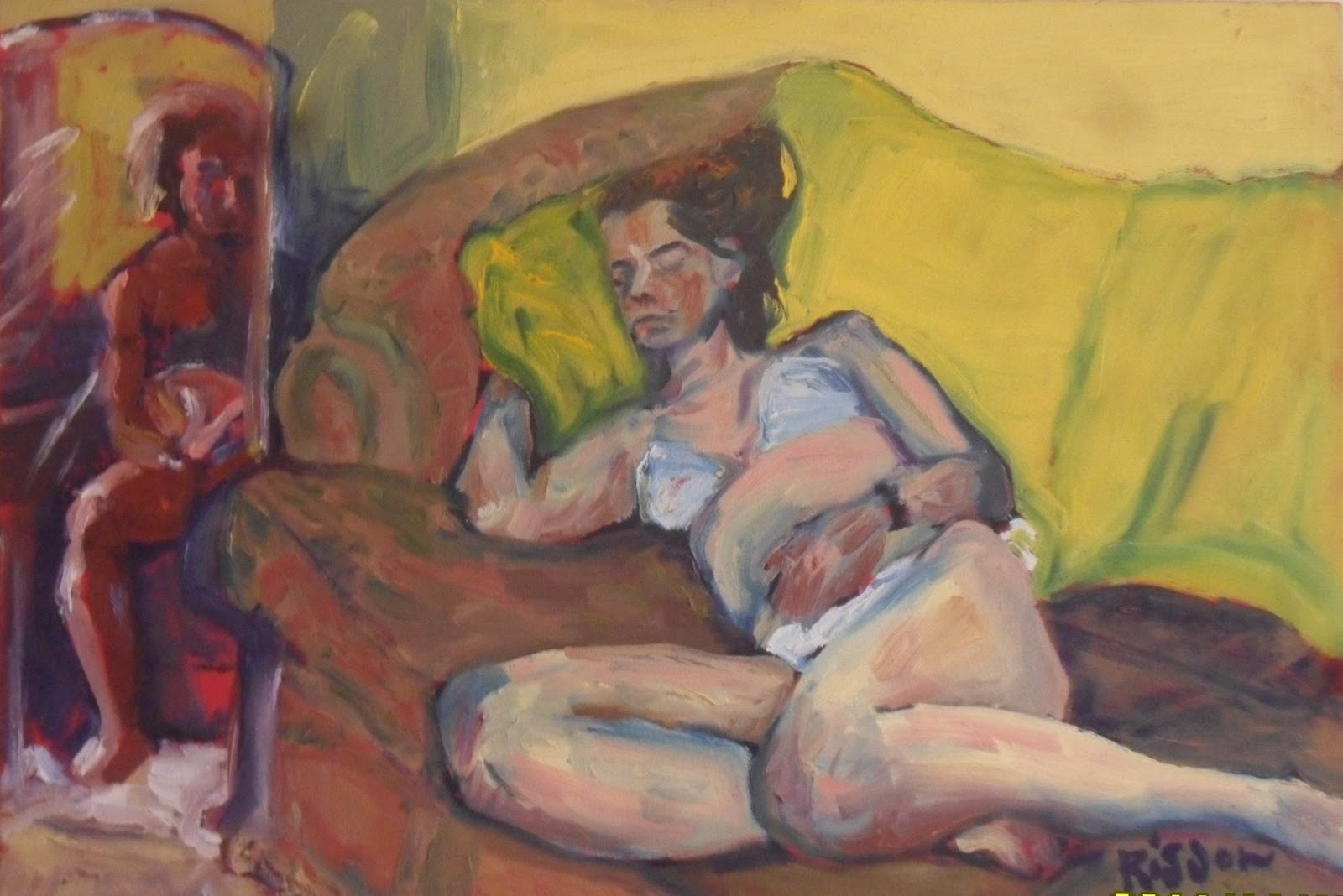 Risdon's paintings are highly suggestive, both in terms of their large, loose brushstrokes and gestural style, giving a mere hint as to the image being portrayed, and also in terms of their underlying eroticism and raw narrative. He argues against the objectification of his models, and, indeed, I concur, for as much as they are part of any imaginable scene, so too are we, as onlookers.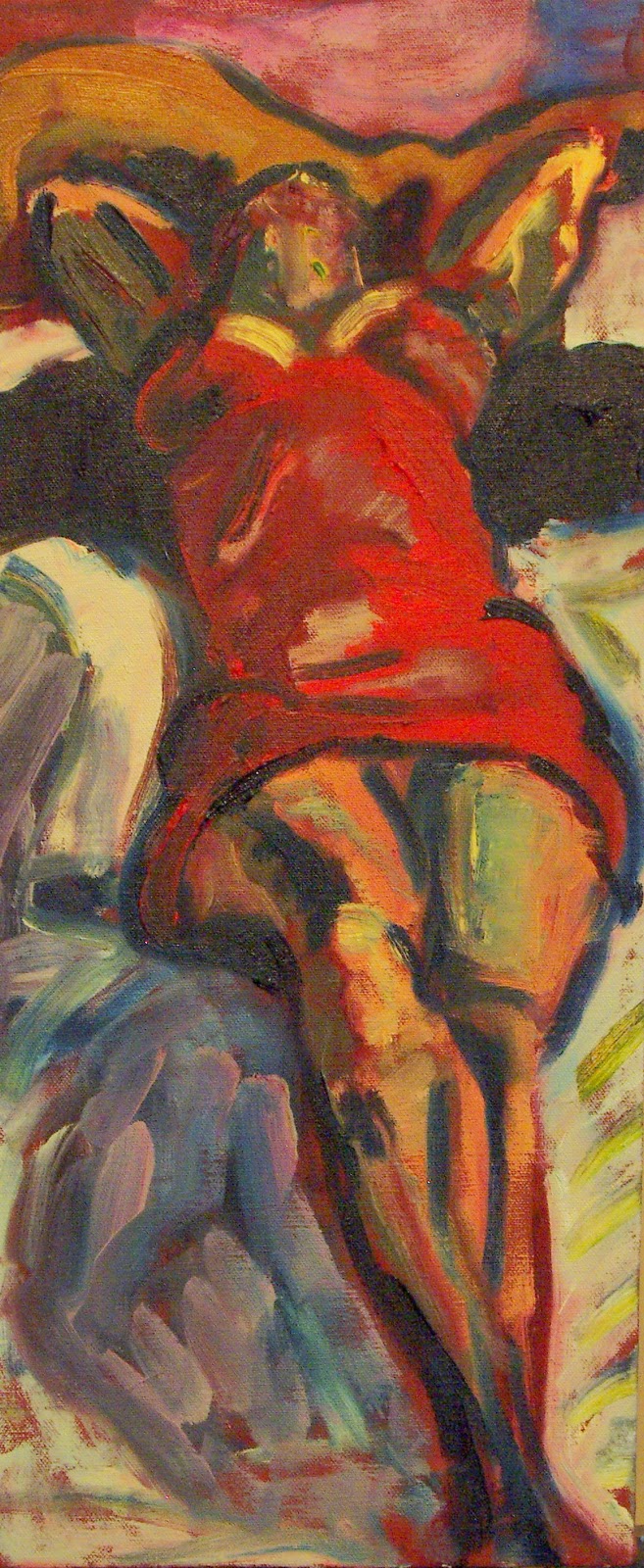 ---
Lil Fairy