16/11/11
Barry Flanagan: Early Works 1965 – 1982
Tate Britain
27 September 2011 – 2 January 2012
Barry Flanagan (1941-2009) can be said to have leapt on to the international art stage in 1982 when his Large Leaping Hare was exhibited in Documenta 7, Kassel, after which he went on to represent Britain in the Venice Biennale of the same year. Indeed, it is for this and his many other bronze hares for which Flanagan is widely known, but his earlier career, spanning nearly 20 years, ought not to be overlooked. An equally prolific, if somewhat more private period, it is this era which is the subject of Tate Britain's current retrospective. Although six of the works included belong in the Tate's permanent collection, curators Clarrie Wallis and Andrew Wilson lament the fact that they are not often able to be shown in context. The aim of this exhibition then, is to introduce visitors to Flanagan's lesser-known works, alongside drawings, diagrams, and writing, to give an insight into his interests and beliefs, and to show the logical progression of this key figure in the development of British and international sculpture's work.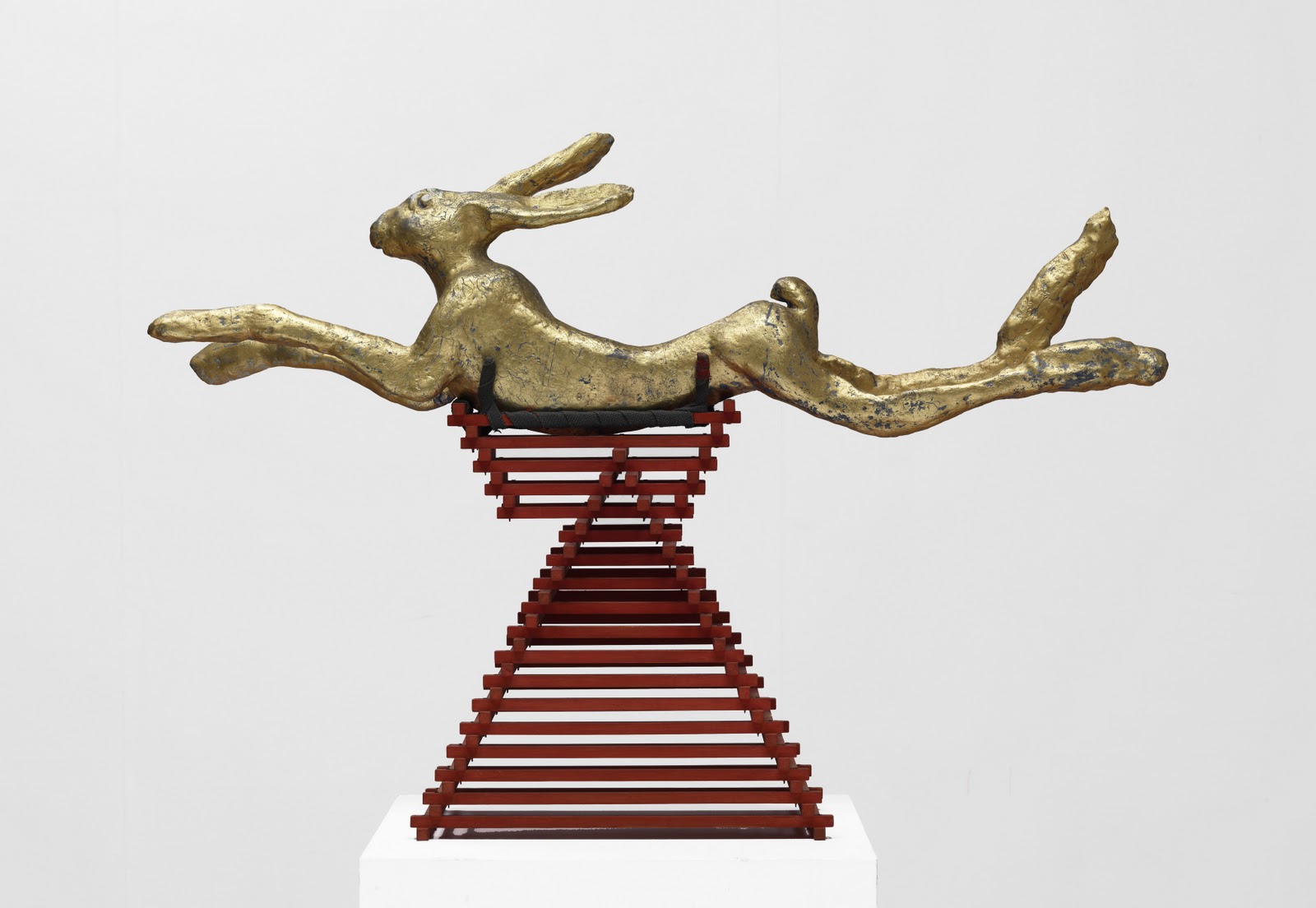 Flanagan's early work shows a clear influence of Arte Povera and American Minimalism. It is as much conceptual as it is visual, and his link between art and language is seen not only in his titles, which denote what the sculpture is doing and how it is formed – e.g. al casb 4 '67 (1967), which is accordingly constructed out of aluminium, canvas, and sandbags – but also in his larger vision of sculpture as a form of visual poetry. He works with basic raw materials, such as sticks, sand, rocks, hessian sacking and rope, allowing biomorphic forms to emerge. Process is prioritised over structure, and Flanagan attempts, insofar as it is possible, to take a step back from active involvement in this process, instead preferring to witness the effects of physics on the materials themselves. His work questions the idea of permanence, and both confronts and simultaneously exploits the sculptural orthodoxy of the time.
During his time at St Martin's School of Art (1964-66), Flanagan discovered the work of the French playwright Alfred Jarry (1873-1907), with his logic of the absurd, or 'Pataphysics. Defined by Jarry as "the science of imaginary solutions, which symbolically attributes the properties of objects, described by their virtuality, to their lineaments," its influence is evident in Flanagan's reference to his sculptures as "shapes", not "forms", and, in particular, in works such as rope (gr2sp60) 6 '67 and ringl 1 '67 (both 1967), where, respectively, a length of rope and a ring of linoleum are used to demarcate space on the floor, themselves being understood as variations on a drawn line. Furthermore, although they were originally created as separate works, here they are displayed overlapping and interwoven as one, a continuation of Flanagan's experimentation and focus on the process and transience of material products.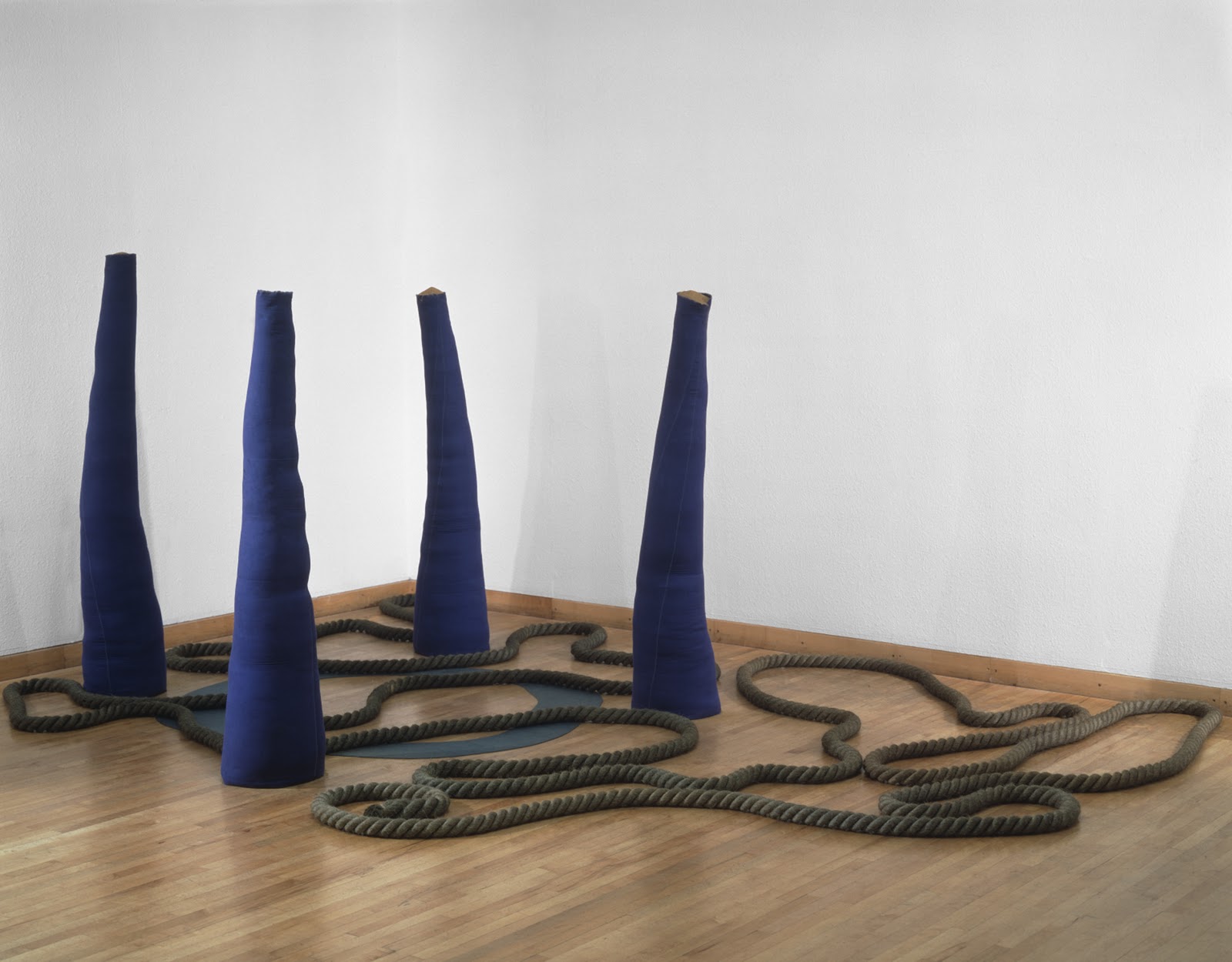 Another extension of the concept of drawing can be found in Flanagan's cut out painted metal "sculptures", VII 78 the corn's up, VII 78 as night and VII 78 moon thatch (all 1978), where he plays with the distinction between 2- and 3D objects. light on light on sacks (1969), a mass of sandbags piled up in the corner, lit by spotlights, and casting heavy shadows both on themselves and the surrounding floor, likewise explores the sculptural properties of something usually regarded as a plane.
Developing from his earliest works of piles of sand and hanging or folded piles of cloth, no. 5 '71 (1971) comprises a carefully constructed crisscross pyre of twigs, tied together by ropes in two corners, and interwoven with strips of purple, rust, and red felt. There is something almost ritualistic about this structure, not least reinforced by the choice of Church colours. Other works, such as the hanging canvas "pages" of and then among Celts N. W. '77 and and then among Celts '77 (both 1977), are more pagan, and perhaps a reference to his own place of birth, Prestatyn in North Wales. Similarly Celtic, Cornish BuB (1979), and various other stone works, incorporate spirals, echoing simultaneously the spiral on Ubu Roi's belly (the anti-hero of Jarry's plays), as well as the talismanic powers of ritual objects and magic in its wider sense.
It should come as no surprise then that Flanagan's infatuation with the hare motif derived, in part, from a book exploring the mythical attributes of this mercurial creature throughout history.[1] His shift to working in bronze followed an invitation, in 1979, to try it out at A & A Sculpture Casting Ltd (now AB Fine Foundry Ltd) in the East End, a step which furthered his fascination with the role of the craftsman, borne of his visit to the marble quarries at Pietrasanta, northern Italy, in 1973. It is equally no great wonder that Flanagan should use the heaviest material available to depict an animal with such light, fast movement, balance, and poise. He is, after all, a man full of contradictions: 2D vs. 3D, artist vs. artisan, tradition vs. anti-tradition, orthodoxy vs. subversion – all of these oppositions had been touched upon in his foundational years, and each is clearly evidenced in the works on display here. Thus, having proceeded chronologically through the show, the visitor will not only have viewed some refreshing and playful art, but should also have reached a new understanding of the process, not just of the materials themselves, but of the artist and his concepts alongside, realising that his arrival at the hares in 1982 was not such a new departure after all. The curators should be proud not only to have put the early works themselves in context with one another, but also to have contextualised the later and better-known bronzes of this luminary artist.
---