25 August 2011
Ron Arad's Curtain Call
Roundhouse, London
9 – 29 August 2011
Sponsored by Bloomberg – pay what you can admission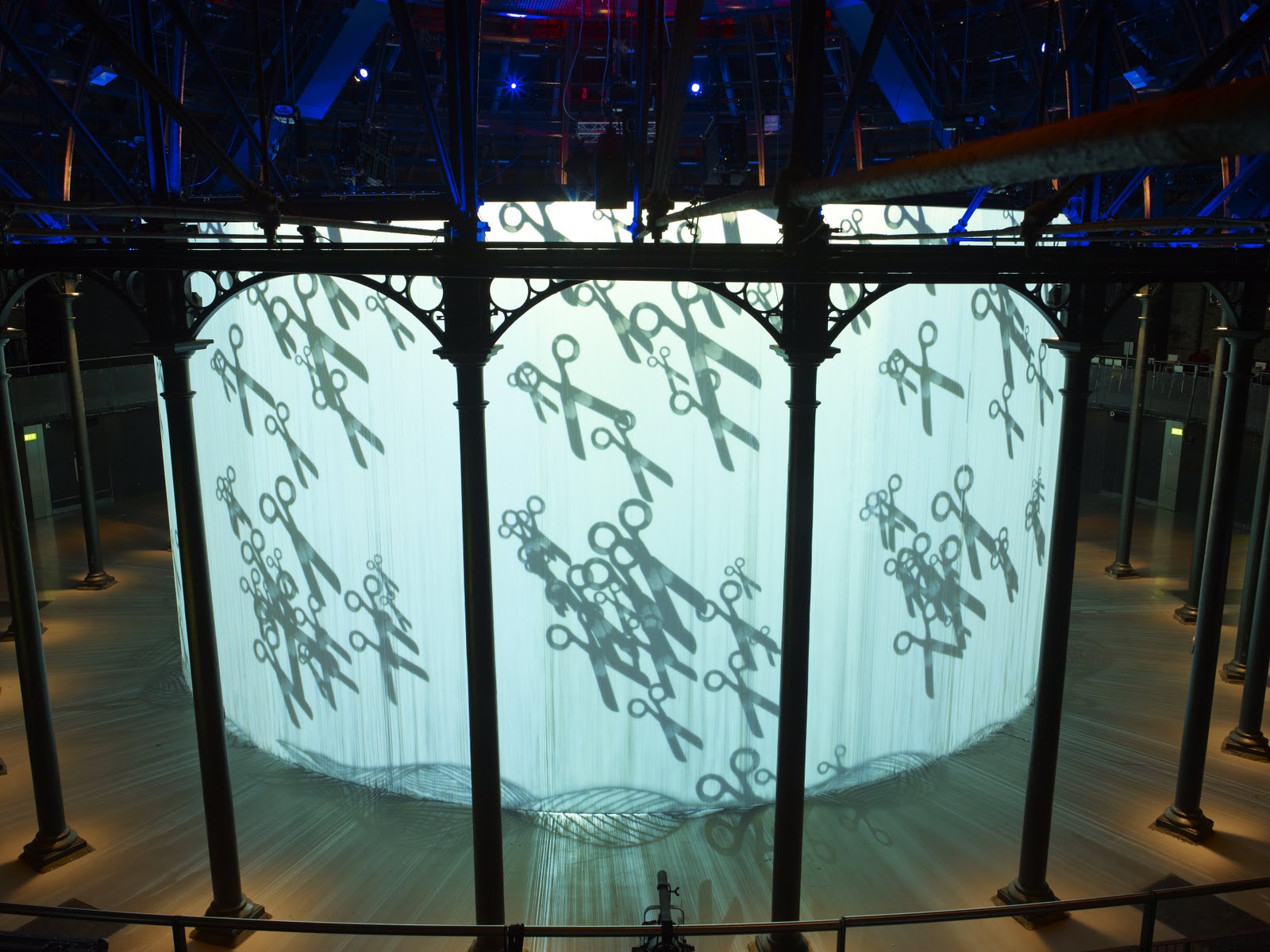 The Roundhouse, which was initially built in 1846 as a steam train repair shed and became known in the sixties as a happening music venue, is currently celebrating its fifth birthday since reopening, in its current incarnation as a theatre and creative hub for young people, in 2006, following major redevelopment. To celebrate in style, Israeli-born architect, artist, and designer, Ron Arad, whose studio is conveniently located just opposite the Chalk Farm venue, was asked to come up with an installation piece for the month of August. Luckily Arad, who is usually holidaying in the Mediterranean at this time of year, is fan enough of the Roundhouse that he was happy to cancel his vacation for its – and the visiting public's – benefit.
"The minute [I was] asked, I knew it had to be something big and round in the middle. The idea of having the curtain with a 360˚ projection and allowing people to walk through a moving image came just like that," says Arad, snapping his fingers. The actual implementation, however, was more of a challenge. Consisting of 5600 eight metre tall silicon rods, hung from a ring with an 18 metre diameter, the translucent curtain, static with electricity, is in perpetual motion as visitors pass through to enter and exit the round.
"After the idea for the curtain came, I thought we could do a spectacular thing ourselves on it. But then I thought, it's such an amazing once-in-a-lifetime opportunity that I would invite other artists to do something too. […] Most of them are friends and non-one said, 'No no, I can't I'm sorry.' Everyone got excited about it."
As a visitor to the finished installation, it is easy to see why. Going through the curtain is like venturing backstage, and yet you simultaneously find yourself centre stage and a part of the action. Free to come and go and move around ad lib throughout the two hour loop of twelve films, the audience mills around, stands, sits, and even lies on the ground; children run and jump, fascinated by the way the curtain makes their hair stand on end. Sitting there, I become dizzy. What exactly is it that is moving? Me? The curtain and images? Just the images? The ceiling and projection system above? The surround sound is overwhelming, and I feel as if I am being swallowed into a vortex. Yet, at the same time, I am all too aware where I am. There is something almost Brechtian about the way the images are broken as people come and go, casting their shadow on to the curtain and across the floor, and, simultaneously, themselves becoming a screen for the projection. Likewise, the occasional pause between films – sometimes filled with advertising for the sponsors, Bloomberg, other times just silent and dark with only the small spotlights from the ceiling aglow, lighting up the scaffolding – remind us of where we are, and, moreover, of the fact that the Roundhouse is indeed primarily a theatre, not a gallery.
The twelve video works all vary dramatically from one another. "When I invited people, in the back of my mind I imagined what they might do there. What they actually did was different every time. That's the best thing," says Arad, who, whilst I am there, himself pops his head – in its signature hat – through the curtain to check on how things are running.
Greenaway and Greenaway, in RH˚, work most closely with the location and its structure. Their kaleidoscopic show, in black, white, and red, uses the Roundhouse itself as its subject matter. Architectural drawings and graphics use the curtain to mirror what is inside and out, making the building part of the installation within its own walls.
Gabriel & Shira Klasmer, on the other hand, offer a more abstract collaboration (uniting their media of photography and painting), and present something akin to sound waves rippling around the curtain, rising and falling, overwriting themselves, criss-crossing, folding in upon themselves, and all the while producing pure mathematical beauty. Towards the end of the piece, discrete images follow one another in rapid succession, as if moments captured from the endless screed have been cut out and frozen into their own timeless memories.
This could not be more different from David Shrigley's Walker animation, where a naked man in black boots paces heavily around the curtain, stopping only to belch, groan, grunt and sigh, creating his own soundtrack without recourse to music.
Mat Collishaw's Sordid Earth transports us next to a tropical rainforest in the middle of a storm. This unsettling, apocalyptic extension of his well known earlier series Infectious Flowers is accompanied by the sound of waterfalls and the buzzing of insects which infest and destroy the otherwise beautiful blooms. White drops of water gush down the curtain, and, as it gets darker and increasingly sinister, thunder and lightning crash and flash as the storm arrives overhead.
Equally dramatic, Ori Gerscht's Offering places us in the middle of a bullring. His documentary footage simultaneously watches the crowd as they impatiently await the start of the fight, and the matador as he is dressed in his room. The sound of clapping and trumpets adds to the build up of tension, and this is reflected on the matador's increasingly serious face as he prays to assorted devotional artefacts, crosses himself, and smokes what one might readily believe to be his last cigarette. Crescendo is reached with the sound of a bull entering the ring in an angry scuffle, at which point our pictures disappear, and we transition straight into Christian Marclay's Pianorama, an audiovisual composition with a keyboard stretched all around the curtain, played by many hands, and accompanied by a honky tonk soundtrack, courtesy of pianist Steve Beresford.
Next follows the surreal sequence, Waking Dream, by SDNA, a digital artwork studio based in London. Images of commuters and a background rumble of trains and clickety clack of footsteps places us recognisably in the rush hour, but, as our journey continues, things become ever more distorted, as figures become suddenly limp and zombie-like, flopping and hanging lifelessly, before jolting awake and beginning to spin and leap across the curtain, dancing in and out of silver birches, as the soundtrack switches to that of a haunted forest.
Babis Alexiadis' animations, taken from the Roundhouse's acclaimed 2011 production The Fat Girl Gets a Haircut and Other Stories, illustrating the experiences of 11 teenagers, is mesmeric, melancholic, and heart rending all at once. The soft vocal and piano soundtrack, and images of birds, wings, leaves, and flowers, converge as a girl emerges from a daffodil bud, flies through the sky, and cries pink tears. These tears turn to rain drops across the curtains, which, in turn, form a sea so deep it drowns her prince. The epitome of the bittersweet age of adolescence.
Back to reality, and Hussein Chalayan's Kaikoku is the striking documentation of his AW2011 Collection, in collaboration with Swarovski. It makes beautiful use of silhouettes, light, and shadow.
The remaining films are all quite short. The RCA offers four contributions, the most noteworthy of which, IM METERIAL by Seongyong Lee, incorporates dance, colour and shape, as a figure in a nude leotard rolls and contorts to drum beats and music ,wrapped in a flowing blue cloth. Joe Hardy's animated greyhound race, Range, is so fast one might almost blink and miss it – presumably deliberate to capture the speed of such an event.
Finally, Javier Mariscal's four medleys bring us to a lively denouement with a South American soundtrack and drawings of faces mutating seamlessly one to another, like a cartoon strip that's being filmed to make an animation, with minute changes from one image to the next – an eye closing or opening, a mouth corner raising to a smile, a hat lifting… Another of his interludes is yellow and sunny, animated characters on holiday at a beach resort, laughing, and enjoying themselves: an invigorating and feel good climax to this two hour rollercoaster ride around the globe. Indeed, who needs to go away on holiday when it can all be experienced here, for whatever admission price you choose to pay, in North London? Curtain Call provides an unforgettable experience, and even if you can only pop in briefly, I highly recommend you join in the birthday celebrations of this worthy establishment. Happy birthday to the Roundhouse!
Originally published at: http://www.rovesandroams.com/2011/08/review-curtain-call-at-the-roundhouse/