31 July 2011
Kolkata Books
Documentary film by Rani Khanna
Review by Anna McNay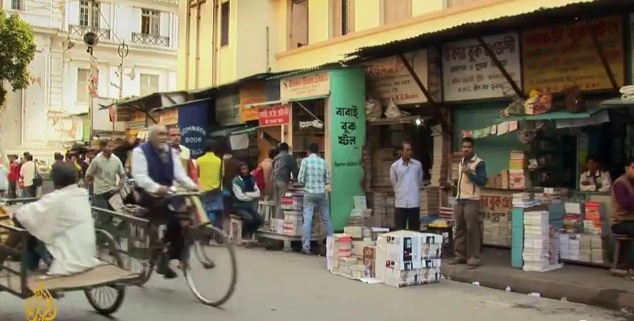 Kolkata has been described as a city in love with the printed word, perhaps not something altogether surprising given that it is home to the world's largest second-hand book market, located in College Street. This narrow stretch of road, which runs between Bowbazar and Mahatma Gandhi Road in the north of the city, is bisected by a tramline, and crowded on either side by makeshift bookstalls made of bamboo, corrugated tin sheets, and canvas. The neighbourhood, also the location of Kolkata's most renowned academic institutions, as well as a coffee house, which has, for centuries, attracted the city's intelligentsia for long hours of debate, is often referred to as Boi Para ("book neighbourhood" in Bengali). In 2007, it made it on to Time Magazine's "Best of Asia" list, and a local reviewer, on tripadvisor.com, describes the district with loving nostalgia: "i don't know if there is any other place in the world which is filled with books and educations institutes like College street. there are books at every nook and corner. the aroma of old pages will fill your nostrils the moment you enter the area."[sic][i] Even Mahatma Gandhi himself is said to have visited and bought a book from the market, declaring it "a fantastic place that should never disappear."
But now the market is, indeed, at risk. Varna Parichay, a seven-storey, 780,000 sq ft mall, designed by Hafeez Contractor, is under construction on the very same street. It is an ambitious project, intended to incorporate an auction house, library, theatre, cinema, coffee house, and multi-storey car park. A statement from the construction firm describes the venture as providing "the most happening place in north Kolkata", but not everyone is convinced. Sandip, a local teacher and stallholder, whose collection of little magazines encompasses some 60,000, puts it quite succinctly: "in Bengali language mall means 'shit'."
This is the debate picked up in the half hour documentary, Kolkata Books, made for Al Jazeera UK by Rani Khanna. Born in France to a French mother and an Indian father, Khanna studied at the University of the Arts, London, for a degree in film and video, and, since her graduation in 1995, has made a number of documentaries and experimental films. "Documentaries are for me a way […] of representing those who have no voice," says Khanna, and that is precisely what this atmospheric short film does. Speaking to Arabinda, who runs his family's bookshop, Sandip, the aforementioned teacher and collector, and Jayita, a student, Khanna transports her viewers into the very heart of the Boi Para and offers an insight into the ambivalence felt by locals about the arrival of this new mall.
For Arabinda, running a bookshop is not a job, but a calling: "I love books more than my wife!" His shop, Dasgupta & Co., was established by his great grandfather, and his own father worked there for over 60 years. Happily, it was recently declared the country's first heritage bookshop. Today, Arabinda lives behind the shop with his 20 strong family, and begins each day with the traditional puja (prayer ceremony) to prepare the shop for his visiting students and book lovers. For him, it is not just about selling the books, but much more about creating a place for people to gather, learn, and nurture their love of books, not only for the words they contain, but also for their own objecthood. The place is stacked high with leather-bound volumes, old and new, both on the shelves and the floor, but ask him whether he has something in stock, and he can answer immediately.
Arabinda remains open-minded about the arrival of the mall. Although the rents are way too high for local sellers like him to move there permanently, the developers are offering to permit the locals to go in and sell their books for a couple of hours each Sunday. This will allow Arabinda and his friends to extend their stock. At the same time, however, he fears something important will be lost, a certain nostalgia: it will become purely about buying and selling, nothing more. It will be for rich businessmen, not book lovers: "[There is] no love to each other. [They are] only after the money." He bewails how students today are only using books for material purposes, to pass exams and earn more money. This is a sentiment Sandip shares: "The education system has become very career-oriented." His students prefer English to Bengali, and traditional literature, as celebrated in his beloved little magazines, is being forgotten.
But Jayita, an eloquent and intelligent young student, offers a more positive outlook: "Book mall is more of a hang-out place. Mall culture is sprouting up these days to a great extent. It's in vogue in this present generation. […] It provides a complete package." Many people are, she says, losing their roots, going abroad, abandoning Kolkata for better infrastructure and jobs, but she is happy there in the Boi Para – she will never leave, she promises. I suppose, as with the success or failure of the mall, and its effect on the street stalls, this is something only time will tell.
---
[i] Review by s_sarkard…, 30 May 2011, athttp://www.tripadvisor.com/Travel-g304558-d311654/Kolkata-Calcutta-:India:College.Street.Boi.Para..html